US Youth Soccer National League P.R.O. 15U-19U Girls conclude play in Arizona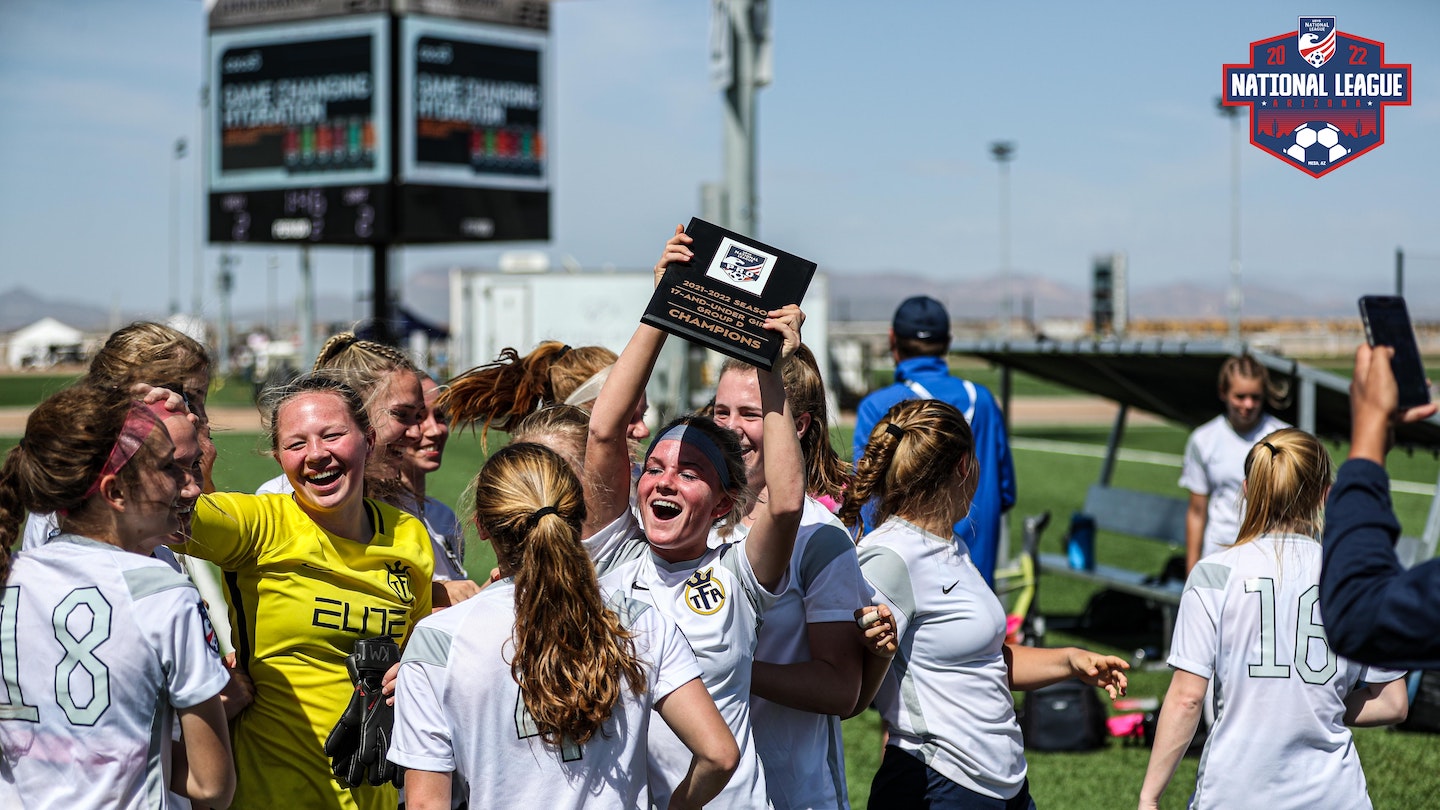 Photo Gallery | Follow the Action
MESA, Ariz. — National League Florida wrapped up on Monday, as the National League P.R.O. teams in the 15U-19U Girls age groups played their final games of the event at Bell Bank Park, Powered by Legacy Sports USA in Mesa, Ariz.
Top-finishing National League P.R.O. teams (12 per gender age group) earn direct advancement to the USYS National Championships, and many of the results in Arizona proved to be crucial in determining which teams punched their tickets.
The competitive level of National League P.R.O. was on full display this weekend, as numerous exciting and energetic games resulted in 19 berths to Nationals being decided, along with seven National League P.R.O. titles.
Wasatch SC 07G ZB (UT) coach Brandon Wright, whose team won the 15U Group C title, echoed several youth and club coaches from the weekend by saying that the National League P.R.O. environment brings out the heart and determination in the players.
"We're extremely excited. It's a goal of ours to compete at the highest levels," Wright said. "I think National League P.R.O. gives us the opportunity to play great competition, and it prepares us for that National Championship."
There are still several berths to Nationals to be determined during National League P.R.O. seventh games, but the teams who have already punched their tickets can now focus on preparing to play for youth soccer's ultimate prize.
For the teams that have qualified through National League P.R.O., the competition this season has provided them a first-hand look at what to expect when they travel to Orlando, Fla., for the National Championships.
"We know no matter who we encounter [at Nationals], it's going to be a good game. There are no freebies or cupcakes once you get there," said Andy Vollmar, coach of 18U Group D winner Kings Hammer Academy North 2004G Red (OH). "I think that this [National League P.R.O. title] is a form of validation that allows us to go there with a little bit of confidence. If you make it through this league you can play with just about anybody if you put your mind to it. I think these players are ready. They want to succeed and have worked very hard to get here."
Take a brief look at where the National League P.R.O. girls teams stand after NL Arizona…
15U Group C
Wasatch SC 07G ZB (UT) secured a shutout victory on Monday to win the Group C title and book its spot at Nationals. A 1-0 win on Monday also helped 07 Lady Lobos Rush Premier (TN) secure a top-two finish and earn a berth to Nationals.
15U Group D
After clinching the group title over the weekend, GTFC Impact Girls 07 Premier (OH) capped an unbeaten season with a 4-0 win on Monday. CUP 07 Gold (OH) came out on top in its final game of the season to finish in second place and take the group's second ticket to Nationals.
15U Group E
With a win on Monday, Idaho Rush 07 Premier (ID) claimed the Group E title. Utah Surf 07 JC (UT) is currently in second place, but Club Ohio Dayton G07 Green (OH) is just one point back and has a game left to play.
16U Group D
TFA G06 Elite (OH) picked up a key shutout win on Monday that — coupled with other results — guarantees it a top-two finish and ticket to Nationals. Its seventh game against CUP 06G Gold (OH) will determine the group winner and whether CUP or SDA 06G Orange (NY-W) finish in the top-two.
16U Group E
SOMD Rush 06G (MD) earned a bit 1-0 win against Clarkstsown SC 06/07G Elite (NY-E) on the final day in Arizona to punch its ticket to Nationals. The group title will be decided by SOMD plays RUSA FC G06 Gold (NJ) in their seventh game, while 06 Lady Lobos Rush Premier (TN) is also still alive for a top-two finish.
16U Group F
After the results in Arizona, FC Copa Academy G06 Black (NJ) and NY Surf G06 Academy (NY-E) are safely in the top-two. FC Copa is currently in first, but they play each other in their final game to decide the group winner.
17U Group D
TFA G05 Elite (OH) held on for a 2-2 draw against NY Surf G05 Academy Blue (NY-E) to earn the point it needed to claim the Group D title. CUP 05 Gold (OH) is currently in second place, but NY Surf can surpass it with a win in the group's lone remaining game.
17U Group E
With 18 points from its seven games, Avalanche 05 Black DW (UT) secured at least a top-two finish in the group. Tonka Fusion Elite 05 Girls (MN) is also safely in the top two, but it can claim the Group E title with a win in its seventh game.
18U Group D
Kings Hammer Academy North 2004G Red (OH) emerged on top in a tightly-contested Group D title race thanks to a 2-0 win against LGN United (NY-E) on Monday. The seventh game between LGN United and current second-place side Alleycats 2004G NL Red (NY-E) will determine which team finishes in second place.
18U Group E
After clinching the group title earlier in Arizona, LASC G04 Bradbury (CA-S) won on Monday to complete a 7-0-0 season. Team Boca SABR 04 Girls White (FL) also won on Monday to clinch a second-place finish and spot at Nationals.
19U Group C
Utah Celtic G03 (UT) finished its season unbeaten, with five wins and two draws, to win Group C. TFA G03 Elite (OH), SMSC Elite (MS) and United PDX 03G Premier Black (OR) finished second through fourth to secure the group's other tickets to Nationals.
National League P.R.O.'s event are now complete and remaining seventh games will determine any remaining group titles and berths to Nationals.