US Youth Soccer National League 14U Girls complete Day 3 in Boca Raton, Fla.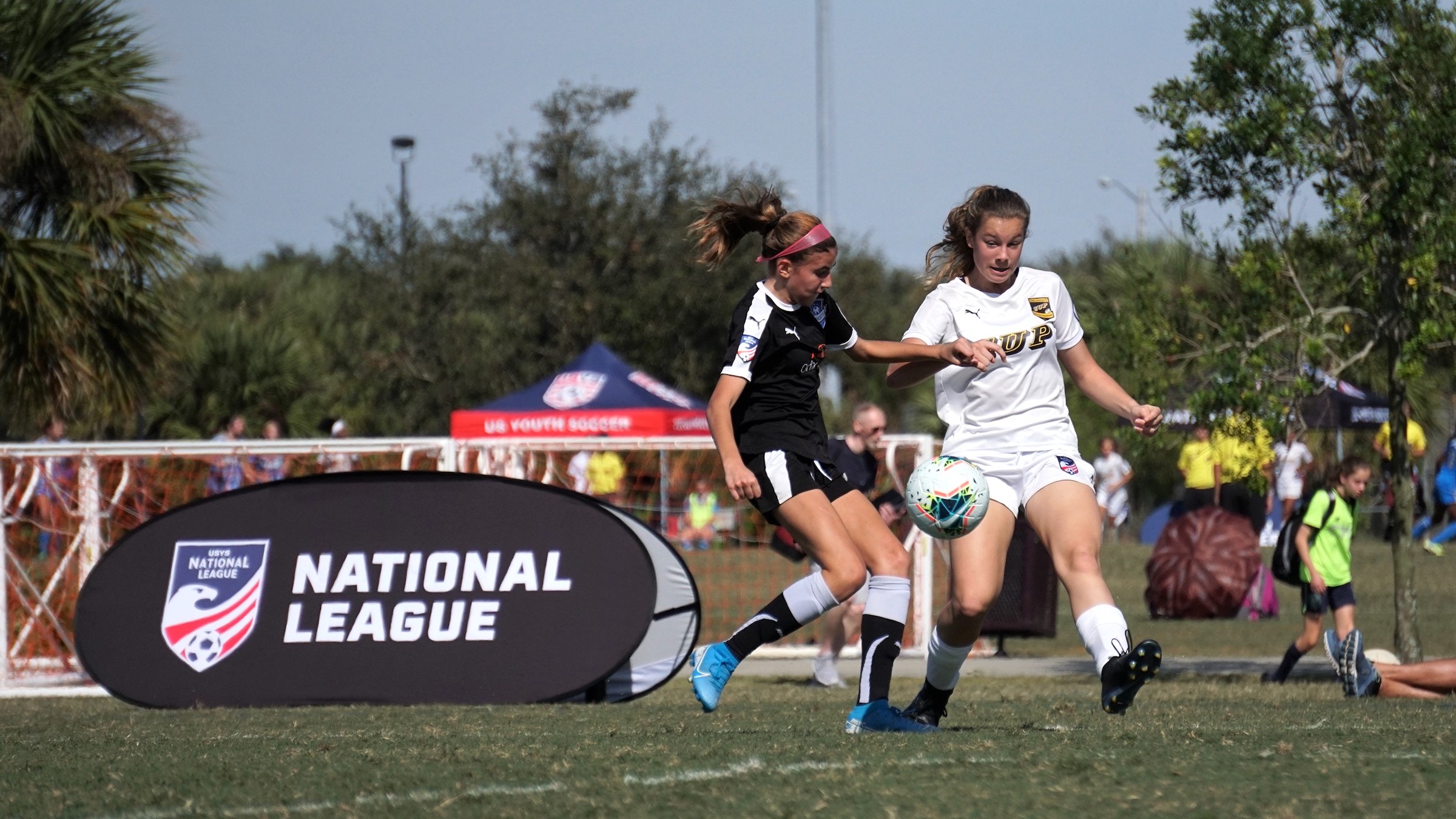 Day 3 of 4 complete
TUESDAY PHOTOS
Follow the National League Season…
Scores and Schedule | National League Home | Video
Twitter | Facebook | Instagram | #EarnYourPlace
BOCA RATON, Fla. — Just one more day remains in the opening week of the 2019-20 US Youth Soccer National League 14U Girls season, with Wednesday's matches solidifying team standings in the age group until all the 14U Girls teams resume play March 20-22 in Las Vegas, Nev.
The third day of the league play tends to separate the field, as teams settle in after an anxious start to the season. While several teams have begun to make strides in the group standings, there are still numerous potential challengers for each division title.
Those teams that have managed to create some separation at the top of the division standings have done so by earning results in individual games in which little has separated the teams. That was the case in the 14U Girls Blue Division, where CEFC Cleveland FC Royal 06 (OH-N) earned a 1-0 victory against LVSA 06 Girls National League (NV) on Tuesday in a matchup of previously unbeaten sides. The win helped CEFC to remain at the top of the standings, tied at seven points with CFJ South 06 Premier (IL).
"The National League is pretty much the hardest competition we've had all year," said CEFC forward Lilly Boebel, who scored the lone goal in her team's win on Tuesday. "The fact we can stay up to par with these teams is a great testament to us. We know we've got to keep working hard and keep pushing to represent Cleveland."
Following this opening 14U Girls event, two National League Fall Showcase events will see the 15U-19U Girls (Dec. 5-8 in Wilson, N.C., and Goldsboro, N.C.) and the 15U-19U Boys (Dec. 11-15 in Panama City Beach, Fla.) begin their seasons. The 14U Boys will play their first games Dec. 27-30 in Tampa, Fla.
The National League features teams in the 14U-19U Boys and Girls age groups, each of whom earn their place in the league based on a proven track record of success in US Youth Soccer's top competitive programs and are among the nation's best. Competing for a league title and a spot in the US Youth Soccer National Championships, each and every game will play into who represents the National League this coming summer in Overland Park, Kan.
National League action will continue Wednesday, Nov. 27, as the 14U Girls teams each play their fourth game of the season. Complete standings, scores and schedules, including goal scorers and match information, can be found at the results page here. Click on the score of each game for more information.
Some notes from Tuesday's matches…
Nine of 14 games on Tuesday were decided by one goal or less.
Just one game was decided by more than two goals — a 3-0 win by Sporting STL 2006 Academy (MO).
Morgan Kotch scored both goals in a 2-0 win by Real JFC 06 (NJ) to remain the group scoring leader — now with five goals through three games.
Tuesday featured one matchup between previously unbeaten and untied teams. FC Dallas 06 (TX-N) secured a 2-1 win over FC Copa Academy G06 NL Black (NJ) in that game to move to 3-0-0 on the season — putting it on top of the 14U Girls Black Division.
Just three 3-0-0 teams remain after three days of play — FC Dallas 06 (TX-N), FC Dallas 06 West (TX-N) and Real JFC 06 (NJ).
The 14U Girls Blue Division features three unbeaten teams who have yet to concede a goal. CEFC Cleveland FC Royal 06 (OH-N) and CFJ South 06 Premier (IL) are tied at the top of the group with two wins and a draw apiece. Nationals Union 06 Girls Black (MI) is close behind after picking up a win and two draws.
FC Dallas 06G West (TX-N) leads the 14U Girls Red Division by three points over CUP 06 Gold (OH-S). Third-place Chicago Inter Soccer 2006 Red (IL) is unbeaten and has yet to concede a goal.
Despite opening its 14U Girls White Division campaign with three straight wins, Real JFC 06 (NJ) has a narrow lead atop the standings. Sporting STL 2006 Academy (MO) and GSC Prima Green 06G (NE) are on Real JFC's heels, as both sides are unbeaten with two wins and a draw.