US Youth Soccer National League 14U Girls continue play on Day 2 in Boca Raton, Fla.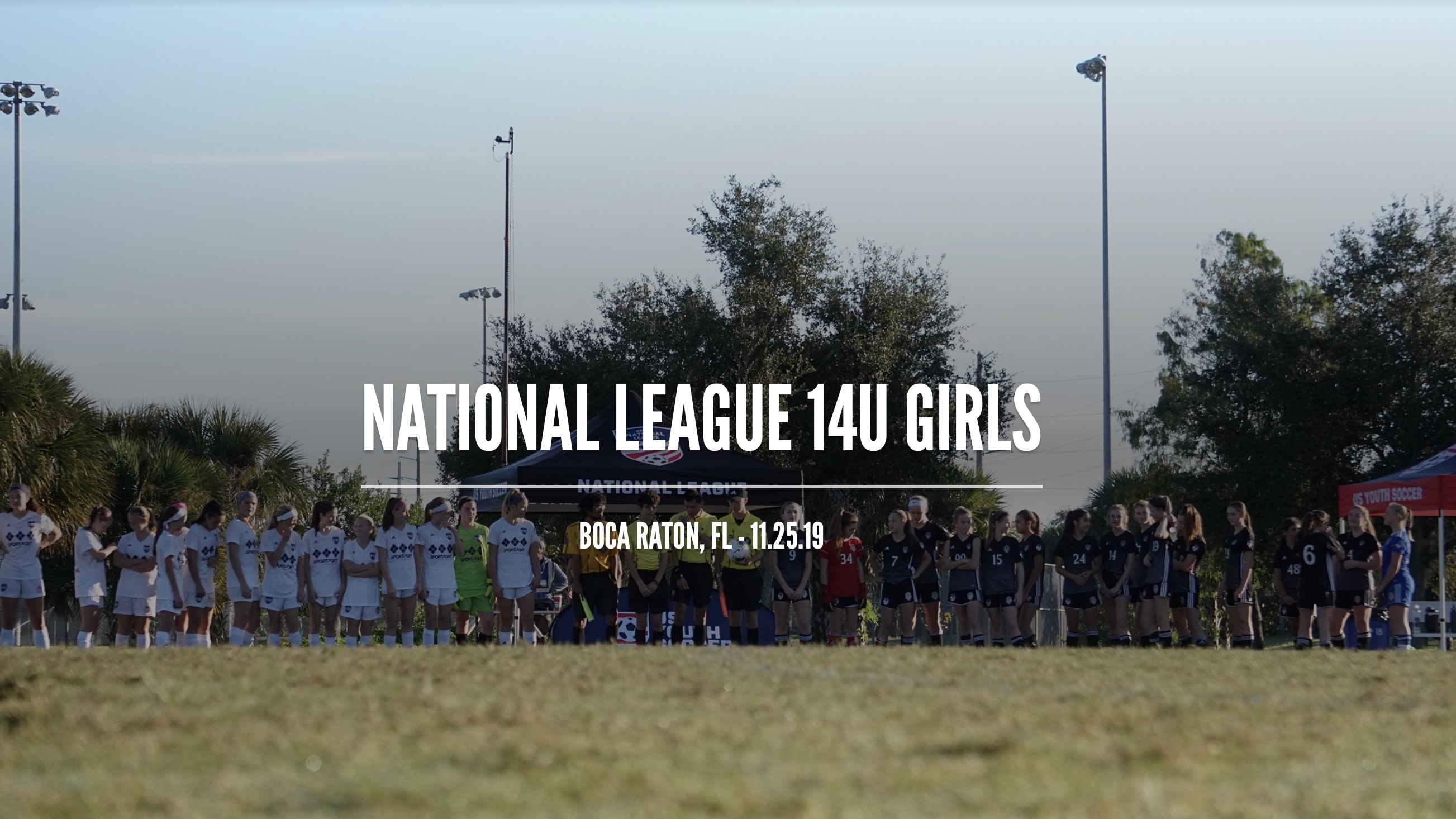 Day 2 of 4 complete
MONDAY PHOTOS
Follow the National League Season…
Scores and Schedule | National League Home | Video
Twitter | Facebook | Instagram | #EarnYourPlace
BOCA RATON, Fla. (Nov. 25, 2019) — The 14U Girls teams each played their second games of the 2019-20 US Youth Soccer National League season on Monday at the Spanish River Athletic Park in Boca Raton, Fla. This week will feature only 14U Girls games, as those National League teams compete in Boca Raton, where the US Youth Soccer ODP Girls Interregional is also taking place.
The season is shaping up to be a long fight for the divisional titles and automatic entries to the US Youth Soccer National Championships, and Tuesday's games should play a big role in separating the 14U Girls teams in the standings.
After two days of play, just five of the 28 teams competing in Boca Raton have picked up two wins, while 25 total teams have earned at least one point in the standings.
On Monday, a matchup of two winners from day one saw FC Copa Academy 06 NL Black (NJ) hold on for a 1-0 win against MRM Academy Coyotes Blue 06 (MD). FC Copa coach Matty Berman said the win was a huge early result for his team against a quality opponent that challenged his players and forced them to play a disciplined game from start to finish.
"It took a lot of tactical soundness and unselfishness to follow the game plan. We defended a decent amount, and it took some kids to swallow their offensive pride and do a job for the team," Berman said.
"On top of that, it took a moment of brilliance from our striker today. She settled a whipped in ball on her thigh, held off three defenders and smashed it into the side netting. In these games, where both teams are so tightly competitive, it takes those moments."
Following this opening 14U Girls event, two National League Fall Showcase events will see the 15U-19U Girls (Dec. 5-8 in Wilson, N.C., and Goldsboro, N.C.) and the 15U-19U Boys (Dec. 11-15 in Panama City Beach, Fla.) begin their seasons. The 14U Boys will play their first games Dec. 27-30 in Tampa, Fla.
The National League features teams in the 14U-19U Boys and Girls age groups, each of whom earn their place in the league based on a proven track record of success in US Youth Soccer's top competitive programs and are among the nation's best. Competing for a league title and a spot in the US Youth Soccer National Championships, each and every game will play into who represents the National League this coming summer in Overland Park, Kan.
National League action will continue Tuesday, Nov. 26, as the 14U Girls teams each play their third game of the season. Complete standings, scores and schedules, including goal scorers and match information, can be found at the results page here. Click on the score of each game for more information.
Some notes from Monday's matches…
Monday saw just two matches featuring two teams that won their opening match, and each of those contests were decided by one goal. FC Dallas 06 (TX-N) defeated 06 Lady Lobos Rush Premier (TN), 2-1, and FC Copa Academy 06 NL Black (NJ) held off MRM Academy Coyotes Blue 06 (MD) for a 1-0 win.
Tuesday's schedule features one match between teams with 2-0-0 records, as FC Copa Academy 06 NL Black (NJ) and FC Dallas 06 (TX-N) will meet to determine who secures an initial advantage in the 14U Girls Black Division.
Morgan Kotch netted a hat trick on Monday to help Real JFC 06 (NJ) to its second win of the week — both in shutout fashion. Kotch's three goals are currently the most by one player in the age group.
Nine of 14 games were decided by one goal or less on Monday.
Strong defensive efforts led to 14 teams holding their opponent to zero goals during Monday's games.
The 14U Girls Blue Division is separated by just three points from top to bottom. CEFC Cleveland FC Royal 06 (OH-N), LVSA 06 Girls NL (NV) and CFJ South 06 Premier (IL) each have a group-leading four points, and all three teams have yet to concede a goal.
FC Dallas 06G West (TX-N) is alone atop the 14U Girls Red Division after a pair of shutout wins.
Real JFC 06 (NJ) and GSC Prima Green 06G (NE) each have six points to top the 14U Girls White Division.