US Youth Soccer National League 14U Girls wrap up opening week of 2019-2020 season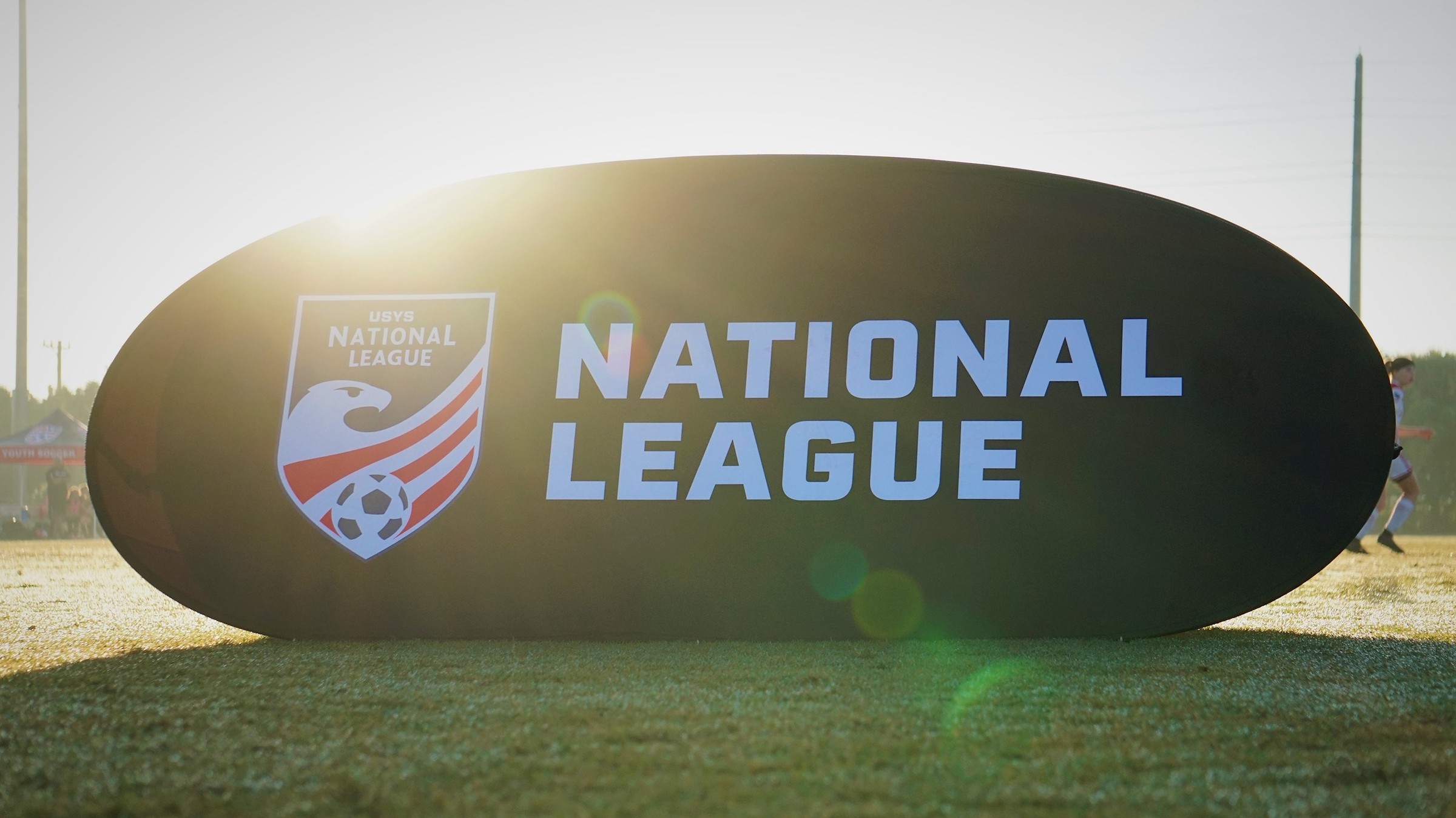 Day 4 of 4 complete
WEDNESDAY PHOTOS
Follow the National League Season…
Scores and Schedule | National League Home | Video
Twitter | Facebook | Instagram | #EarnYourPlace
BOCA RATON, Fla. (Nov. 27, 2019) — After four days of play, the US Youth Soccer National League 14U Girls teams have solidified their spots in the standings until all of the sides resume play March 20-22 in Las Vegas, Nev., where they will continue competing for a league title and a ticket to the 2020 US Youth Soccer National Championships.
The competition at the Spanish River Athletic Park in Boca Raton, Fla., has seen many close races develop in the 14U Girls age group. The first place team's lead is no more than two points in any of the four 14U Girls divisions, and two groups have ties atop the standings.
Just one team — Real JFC 06 (NJ) — managed to win all four of its games in Boca Raton. That hot start has given Real JFC a two-point lead over Sporting STL 2006 Academy (MO) in the 14U Girls White Division. The Missouri side remained within striking distance thanks to a big win against GSC Prima Green 06G (NE) in a matchup of previously unbeaten teams on Wednesday.
"Any points are important in this league," Sporting STL coach Jeff Stevens said following Wednesday's win. "Four games in four days — I'm happy with what the girls did here… Every team you play is here for a reason. They're all good teams. As long as we keep getting better and build off the game before, that's all we're looking to do."
All four 14U Girls division races will be decided when the teams play their final three games of the season in Las Vegas. In addition to finishing first in the league, the teams know they have a chance to secure a berth to the 2020 National Championships. Stevens said that is the goal for his team, and the players, coaches and parents all understand the commitment needed to pursue it.
"That's what's great about the National League," Stevens said. "You have a chance to compete and play against great teams. You can get a berth into the National Championships. That's what we're all fighting for."
The National League features teams in the 14U-19U Boys and Girls age groups, each of whom earn their place in the league based on a proven track record of success in US Youth Soccer's top competitive programs and are among the nation's best. Competing for a league title and a spot in the US Youth Soccer National Championships, each and every game will play into who represents the National League this coming summer in Overland Park, Kan.
Following this opening 14U Girls event, two National League Fall Showcase events will see the 15U-19U Girls (Dec. 5-8 in Wilson, N.C., and Goldsboro, N.C.) and the 15U-19U Boys (Dec. 11-15 in Panama City Beach, Fla.) begin their seasons. The 14U Boys will play their first games Dec. 27-30 in Tampa, Fla.
Complete standings, scores and schedules, including goal scorers and match information, can be found at the results page here. Click on the score of each game for more information.
Some notes from Wednesday's matches…
Eight of the 14 games on Wednesday were decided by one goal or less.
Defense fueled many of the winning efforts, as nine teams earned shutout victories.
CUP 06 Gold (OH-S) and Real JFC 06 (NJ) each finished the opening week with 15 goals scored — the most of any team.
Real JFC also conceded zero goals, one of three teams to do so, along with Chicago Inter Soccer 2006 Red (IL) and CEFC Cleveland FC Royal 06 (OH-N).
Morgan Kotch of Real JFC continues to lead the age group in goals scored, as she notched her second hat trick of the week to push her total to eight.
FC Dallas 06 (TX-N) dropped its first game of the season in a 2-1 defeat to Century Gold 06 Girls (PA-W), but the North Texas side still leads the 14U Girls Black Division by two points.
CEFC Cleveland FC Royal 06 (OH-N) and CFJ South 06 Premier (IL) each picked up one-goal wins on Wednesday to remain tied at the top of the 14U Girls Blue Division.
CUP 06 Gold (OH-S) earned a big win over previously unbeaten FC Dallas 06G West (TX-N). The victory allowed CUP to pull even with FC Dallas West at nine points in the 14U Girls Red Division, and the Ohio South side sits on top of the standings thanks to the head-to-head win.
Real JFC 06 (NJ) holds a two-point edge over Sporting STL 2006 Academy (MO) in the 14U Girls White Division.
Games from all four days in Boca Raton were decided by an average margin of 1.55 goals.