University of Florida adds Atlantic 10 assists leader Ansley Frazier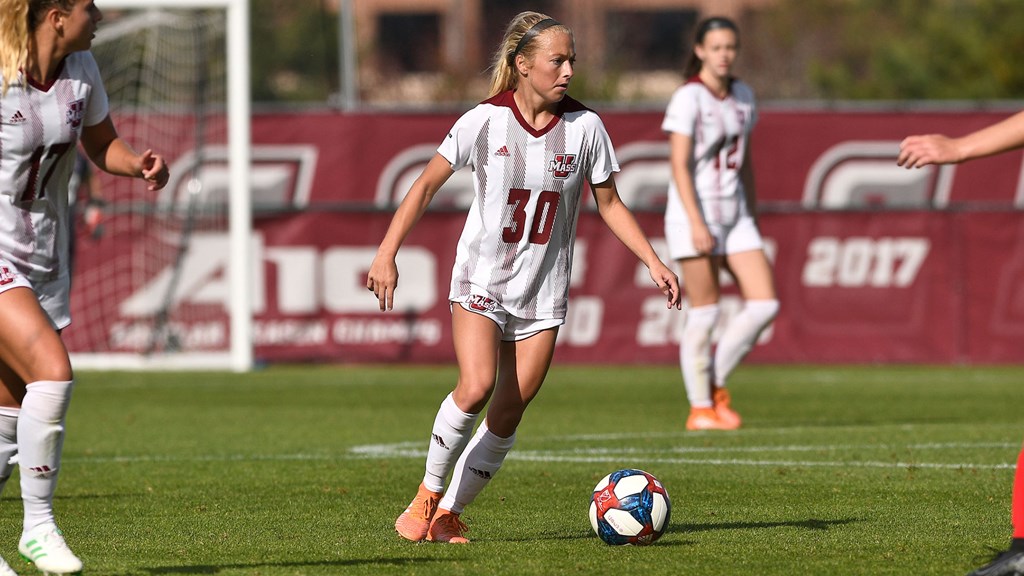 GAINESVILLE, Fla. – The Atlantic 10 Conference's 2019 assists leader joins the Gator soccer team next fall as Massachusetts' midfielder Ansley Frazier transfers to the University of Florida.
Frazier will be a sophomore this fall and is the second transfer. Midfielder Shaye Seyffart transfers from Villanova and will be a junior on the upcoming UF team. In addition to the two transfers, 11 freshmen join the Gators in 2020.
More on Frazier:
Ansley Frazier @ansleyfrazier
Position: Midfielder
High School: Winter Park H.S. (Coach: Jimmy Angeles)
Hometown: Winter Park, Fla.
Club Team: Orlando City ECNL (Coach: Craig Melton)
Info

At Massachusetts (2019)
High School

Advanced to 2019 Florida High School Athletic Association (FHSAA) 5A regional final
2019 Orlando Sentinel All-Area first team and conference first-team after scoring 33 goals and turning in 15 assists.
Represented Orange County in annual Orange County vs Seminole County senior all-star match
Two-time Winter Park H.S. offensive player of year

 Club

Four-year member of Orlando City ECNL; One year with Development Academy
Part of two-time ECNL nationals champions league bracket with Orlando City
u17 Best XI ECNL nationals
2018 Development Academy Weekly standout on TDS

Did You Know?

Ansley's older sister, Morgan, was a member of Florida's 2013-16 gymnastics teams
Becky Burleigh says:
"We are so excited for Ansley to join our team. She had a remarkable freshman year with a great program but we are happy she decided to return closer to home to finish her collegiate career and continue the legacy of Gators in the Frazier family. Her experience will be a huge asset to our team this fall."
Florida Soccer Additions for Fall 2020 Season  Fall 2020 Gator Signing Release
Name
Hometown
Position
High School
Club
Anna DeLeon
Rancho Palos Verdes, Calif.
D
Palos Verdes H.S.
Strikers FC
Ansley Frazier*
Winter Park, Fla.
MD
Winter Park, Fla.
Orlando City ECNL
Alexa Goldberg
St. Petersburg, Fla.
GK
St. Petersburg H.S.
Tampa Bay United
Tori Grambo
St. Johns, Fla.
D/F
Bartram Trail H.S.
Florida Elite Soccer Academy
Izzy Kadzban
Longwood, Fla.
MF
Lake Mary H.S.
Florida Kraze Krush
Ashlyn Kane
St. Johns, Fla.
MF/D
Bartram Trail H.S.
United Soccer Alliance DA
Beata Olsson
Enkoping, Sweden
F
Celsiusskolan Uppsala
Uppsala W
Cece Price
Potomac, Md.
D
Our Lady of Good Council
McLean ECNL
Madelaine Rhodes
Vero Beach, Fla.
F
Vero Beach H.S.
Florida Kraze Krush
Shaye Seyffart^
Ringoes, N.J.
MF
Hunterdon Central H.S.
PDA Sky Blue DA
Delaney Tauzel
Jacksonville, Fla.
MF
Creekside H.S.
Florida Elite Soccer Academy
Sydney Urban
Belle Harbor, N.Y.
MF/D
Poly Prep Country Day School
PDA
Julia Violante
Largo, Fla.
D
Largo H.S.
Tampa Bay United
*transfer from Massachusetts

^transfer from Villanova