McNeese State University women's soccer announces five additions to signing class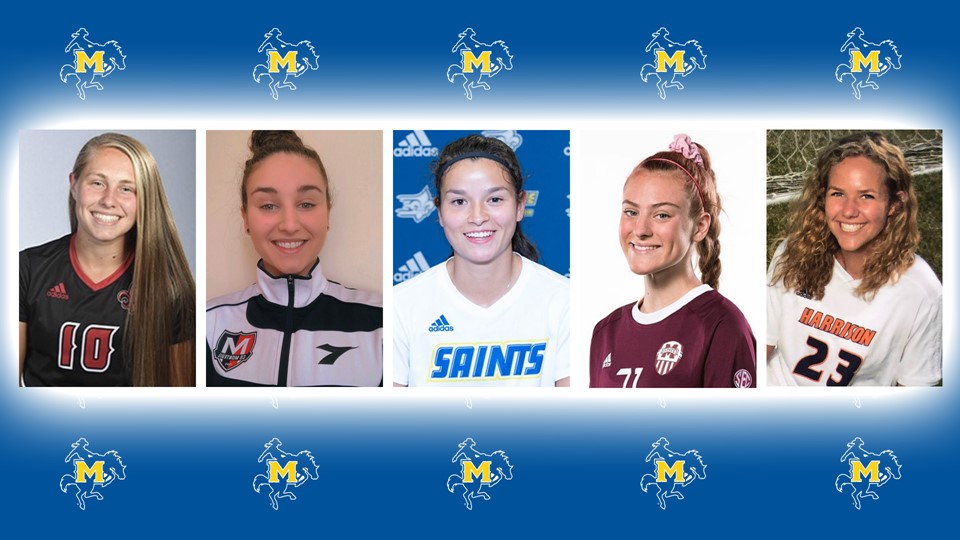 LAKE CHARLES – McNeese State University Cowgirl soccer head coach Drew Fitzgerald announced five new additions to its signing class, consisting of four transfers and one incoming freshman and join two players that signed in November – Morgan Schooley and Jenna Bosetti.
"We wanted to keep this class small, but the opportunities that presented themselves were just too great to pass up and we are excited to add these talented young women to our class," said Fitzgerald.
Joining the Cowgirls, fresh off their third-consecutive double-digit win season in a row, are transfers Madysin Girouard, Megan Mielke, Martine Ellefsen, Magalie Depot, and incoming freshman Karissa Illingworth.
Girouard and Mielke both transferred to McNeese in January and were participating in spring practice with the team before the sports world was halted due to the COVID-19 pandemic. Mielke came to McNeese from Mississippi State while Girouard arrived from Louisiana-Lafayette.
"It was great having Megan and Madysin join our program in the spring," said Fitzgerald. "They assimilated with our team immediately, both on and off the field, and in their short time on campus, made a nice impact."
Girouard and Mielke combined for the first Cowgirls' goal of the shortened spring season with Girouard slipping Mielke through on goal for a first-time finish.
Madysin Girouard – Midfielder – Louisiana-Lafayette – New Iberia, La.
Girouard became the fourth Louisiana resident on the team after joining from Louisiana-Lafayette where she spent two seasons in their soccer program. In those 2 years, she played in 26 matches, starting 13 of them and scored a goal against Texas State. She also was credited with an assist against Southland foe, Lamar.
At New Iberia Senior High School, she was named First Team All-District and team most valuable player all three years that she played. Girouard, who graduated high school a semester early and had a perfect 4.0 grade-point-average was also a standout for Baton Rouge Soccer Club.
She is the daughter of Faith and BJ Girouard and is majoring in Mass Communications-Public Relations with a minor in Business Administration.
"Madysin was an in-state player that we have been interested in since her junior year in high school.  When she went on the transfer portal it was a no-brainer for us to pick up a player with her technical ability, work rate and ability to play multiple roles.  She impressed us in what little spring play we had and we look for her to have a great season in the fall."
Megan Mielke – Forward – Mississippi State – Bellowflower, Calif.
Mielke joins the Cowgirl's program after spending her freshman season at Mississippi State. She recorded an assist in her debut for the Bulldogs against UT Martin. She also saw time in SEC play against LSU, Tennessee, Missouri and Ole Miss, in the SEC Tournament.
She played club soccer for LA Galaxy's U.S. Development Academy team and with Slammers FC. In 2016 she was the leading goal scorer for Slammers FC and led her team to a league championship. She scored 12 goals in two years with the Galaxy. She attended Mayfair High School where her team was a CIF semifinalist her freshman year and started and played every game and was named Best Newcomer. She earned second team All-CIF honors as a sophomore.
Mielke is the daughter of Gerry and Janiene and has two sisters, one of whom, Amanda, played soccer at Sacramento State. She is majoring in Business.
"Megan was another player we've known for quite a while.  For her club she played in just about every position on the field except goalkeeper, but primarily she was a goal scorer.  Her first touch on the ball in spring action here at McNeese was a goal so we are hopeful that we can build on that beginning!"
Magalie Depot – Forward – Dayton University – Montreal, Quebec, Canada
Depot joins McNeese after spending the past two seasons at Dayton University, a member of the Atlantic 10 conference. Before redshirting this past season, she had an impressive freshman year playing in 10 matches for the Flyers including three starts. She recorded one assist on the year, on the game-winning goal in the thrilling 3-2 win over Akron in which her team came back from 2-0 down.
Magalie and her club team, Lakeshore SC, won the 2017 Canadian National Championship after going a perfect 26-0. She was awarded the "Golden Shoe" after being named the league's top scorer with 37 goals. She scored in regulation and in a penalty shootout in the National Championship game in which current Cowgirl, Brianna Masica, also scored.  She was named player of the season at Saint-Gabriel High School after being the league's highest scorer. She was also a member of CS Monteuil.
Depot is the daughter of Eric and Chantal and has one brother, Thierry. She will be majoring in Biology.
"Magalie made an official visit to us before committing to Dayton.  She was an elite player in Canada and it looked like she was on her way to being a great collegiate player before hitting a run of bad luck.  We are excited to have the opportunity to provide her a platform for her comeback and we expect her to turn heads once she rounds into form."
Martine Ellefsen – Defender – Limeston College – Kolsaas, Norway
Ellefsen transfers in from Limestone College where she was named 2nd team all-conference this year a freshman.  She started every game during the year, leading her team to the conference semifinals.  She played the most minutes on the team for field players – trailing on the goalkeeper for the team lead.   With her leading the backline, the team allowed fewer than one goal per game in conference play.  She was also named to the 2019 Fall Conference Carolinas Presidential Honor Roll.
Back home in Norway, she attended Dønski High school  and was a member of the club team Bærums vern Hauger. She was a two time all-conference honoree and made the honor roll multiple times.
She is the daughter of Huy Doung and Nadja Ellefsen. She will be majoring in Business.
"Martine will help bolster our backline that graduated three starter-caliber defenders last season.  She brings a fitness and athleticism that will help replace what we lost, and her composure on the ball will allow her to help us centrally or out wide as needed."
Karissa Illingworth – Defender – Indiana Fire Juniors ECNL – West Lafayette, Ind.
Illingworth has been a member of the esteemed Elite Club National League with her team Indiana Fire Juniors and was previously a member of FC Indiana where she was a four-year captain. With the OBSC Chicago Magic, she won the 2018 Illinois State Cup Championship.
At Harrison High School, she was named team Most Valuable Player and Defensive Player of the Year. She was an all-conference member and team captain. She also lettered twice as a member of the track and field team. Illingworth was on the all A honor roll, academic all-conference team and is a member of National Honor Society.
Illingworth is the daughter of Brad and Jessica and has two siblings, Mikayla and Brayden. She intends to major in Marketing.
"We feel like we were very fortunate to find Karissa. Coach Whiting saw her play in her first ECNL national event and was immediately impressed. She's a gifted athlete and an intelligent player.  Like Martine she looks to be able to play centrally or wide and also bolsters our backline depth."