Fairfield University women's soccer signs eight recruits for class of 2024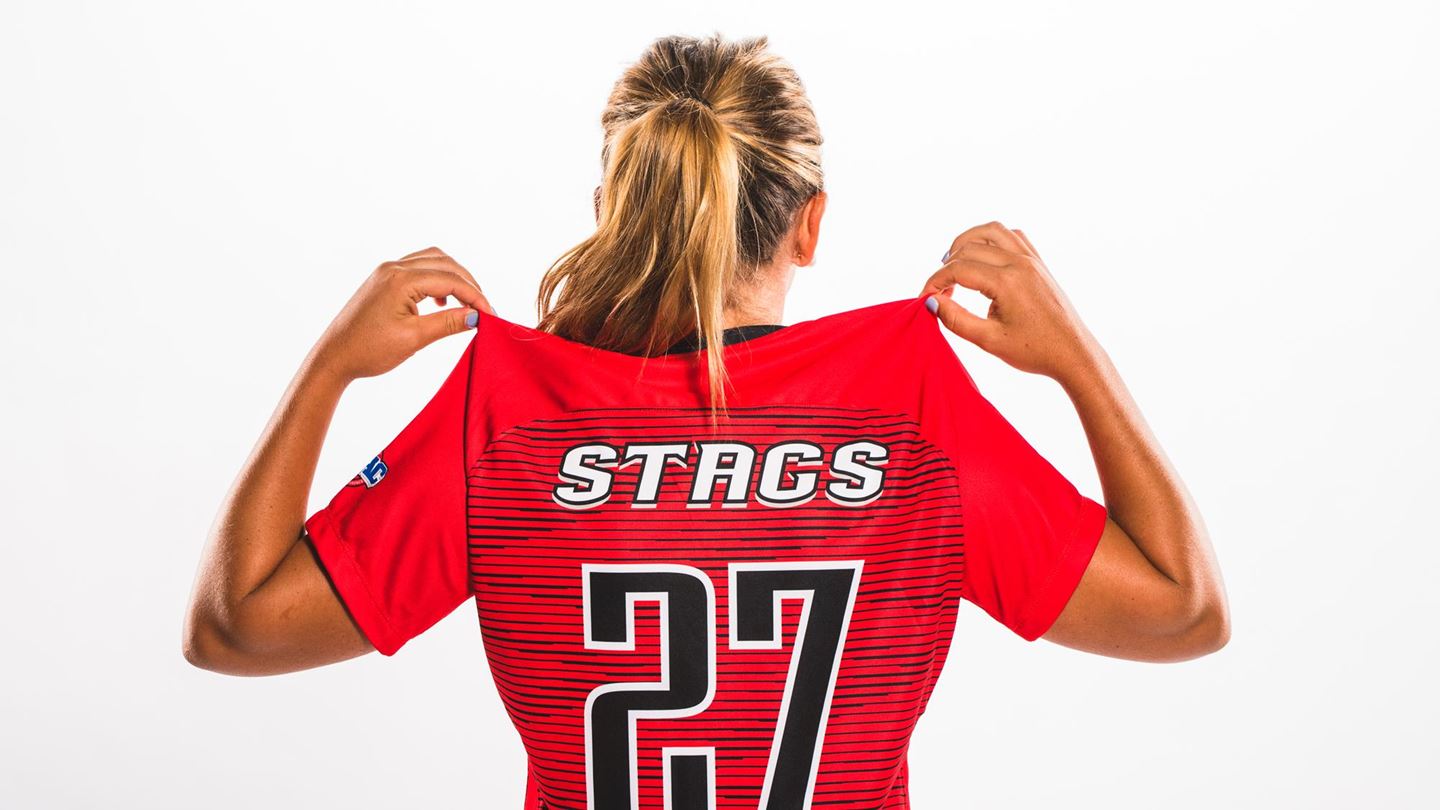 FAIRFIELD, Conn. – The reigning Metro Atlantic Athletic Conference (MAAC) Coach of the Year David Barrett has announced Fairfield University's 8-member recruiting class of 2024.
Sydney Corbett, Angel Filosa, Juliette Grasso, Marina Karalis, Maddie Kiely, Caroline Kelly, Allie Kirby and Elle Scott will join a Stags team that earned the No. 2 seed in the conference and advanced to the MAAC Championship match for the first time in five years.
The eight incoming freshmen will join a Fairfield team that returns all eight All-MAAC selections of 2019 after finishing second in the conference. The Stags won 11 games and advanced to the MAAC Championship Match for the first time since 2014.
Sydney Corbett | D | Paul VI High School | Club: PDA South
A senior captain from Paul VI High School, the outside back anchored a defense that accounted for 11 shutouts during 2019. She was named to NJ.com's Top Defensive Team after earning her high school's MVP award. She was also honored with All-State and All-Conference selections in 2019 as she led her squad to a 10-2 conference record. She was also a 2018 NPL National Champion with her club squad and a NJ State Champion in her high school career.
Barrett on Corbett: We really think Syd is going to blossom into a good player in the MAAC. She's tough, competitive, and a strong athlete. She's been well coached at PDA South and we're eager to have her compete with us.
Angela Filosa | F | California High School | Club: San Ramon FC
Filosa was the leading goal scorer for her club team, San Ramon FC, for most of her eight years with the squad as she tallied 44 goals and assisted on 10 others in her career. She helped lead the club to a top-20 ranking in 2019 and several tournament championships, including winning the State Cup and second place in the Surf Cup. As a two-year varsity starter at California High School, Filosa led the team in goals and assists while recording 12 scores in her high school career.
Barrett on Filosa: Anglea is a natural goal scorer. She has a knack for being in the right place at the right time and just knows how to finish. We'll have a lot of competition at that position, but Angela will certainly be someone we're looking at to raise the level.
Juliette Grasso | GK | Rye Country Day School | Club: World Class FC
Grasso comes to Fairfield after four seasons with Rye Country Day school while playing her club soccer with World Class FC. She was the only goalkeeper to be selected on the All-League First and Second Teams by the FAA. She was also a selection to the Western New England Prep Soccer School (WBEPSS) top team.
Barrett on Grasso: Juliette has all the tools to be a great keeper. Super hands, good size and mobility, and very confident. We are going to be blessed with depth at this position, and I think Juliette will present a challenge for the returning players.
Marina Karalis | MF | Belmont High School | Club: NEFC
Karalis was an All-Conference selection out of Belmont High School, tallying 28 goals and 38 assists in her career. Karalis was selected as an EMass Player of the Week from the Boston Globe after recording a hat trick and adding another assist against Burlington. She was also a Boston Herald All-Scholastic selection and a League All-Star.
Barrett on Karalis: I think we got a steal in Marina! She came to us late in the process but has a huge upside. She is a strong, smart, and technical midfielder. And is versatile. She is a good passer but can also defend and be a threat to score. She will be fun to add into the mix!
Maddie Kiely | MF/F | Haddam Killingworth High School | Club: Oakwood Soccer Club
Kiely ranks fourth in the Developmental Academy's Eastern Region with eight goals scored. She finished in the top-10 in that category last season and was named a Top Player in the Developmental Academy by the New England Soccer Journal. She has helped Oakwood Soccer Club to a current number two ranking in the Developmental Academy after leading the squad to nationals in 2018. She has totaled over 40 goals in the Developmental Academy. She played one season at Haddam Killingworth, and was named an All-League selection and the Rookie of the Year.
Barrett on Kiely: Maddie has enormous potential. She is fast, athletic, and been well trained at Oakwood. We think she can contribute right away and make us even more dangerous in the attacking third. She can do a lot and I think can play as a 10 or a center forward.
Caroline Kelly | MF | Clarkstown High School | Club: World Class
Kelly was the centerpiece of Clarkstown High, being named the team's MVP and the Fall Athlete of the Year during her senior season. She was also an All-League and All-Section honoree in 2019. She played her club soccer with World Class FC, playing alongside fellow Fairfield recruit Juliette Grasso.
Barrett on Kelly: Caroline is fast and a tough defender. We love her athleticism and ability to cover ground as a defender. She could play in the back or as an 8 in midfield. Just a competitor! Her dad played at Penn State and has been her coach, so soccer is in her family genes!
Allie Kirby | MF | Adlai E. Stevenson High School | Club: Sockers FC
Kirby led Sockers FC to an unbeaten 11-0-2 record while winning the Mid-West Conference. As an attacking midfielder, she netted three goals on the season with a pair against Salvo SC and one against FC United Soccer Club.
Barrett on Kirby: Confident and athletic, good feet, works very hard all over the field. She can play all over in midfield and will bring a strong blue-collar, midwestern work ethic to the team. We have high hopes for Allie and think she's going to compete right away to get on the field.
Elle Scott | F | Fitchburg High School | Club: FC Stars of Massachusetts
The first girls' soccer player from Fitchburg High School to sign a Division I offer, Scott set the school record for goals in a career (79), season (41), and game (eight). Her 41 goals was the most among any player in Central Mass, and her 45 points ranked her second. She was named the League's MVP and Central Mass All-Star for her performance.
Barrett on Scott:  Elle can flat out play! She is fast, has an incredible engine, and can score goals with anyone. She's been committed to Fairfield for some time, so I'm so happy to finally get her on the field for us. I think she's ready to go as well!