UCF head coach Tiffany Roberts Sahaydak signs contract extension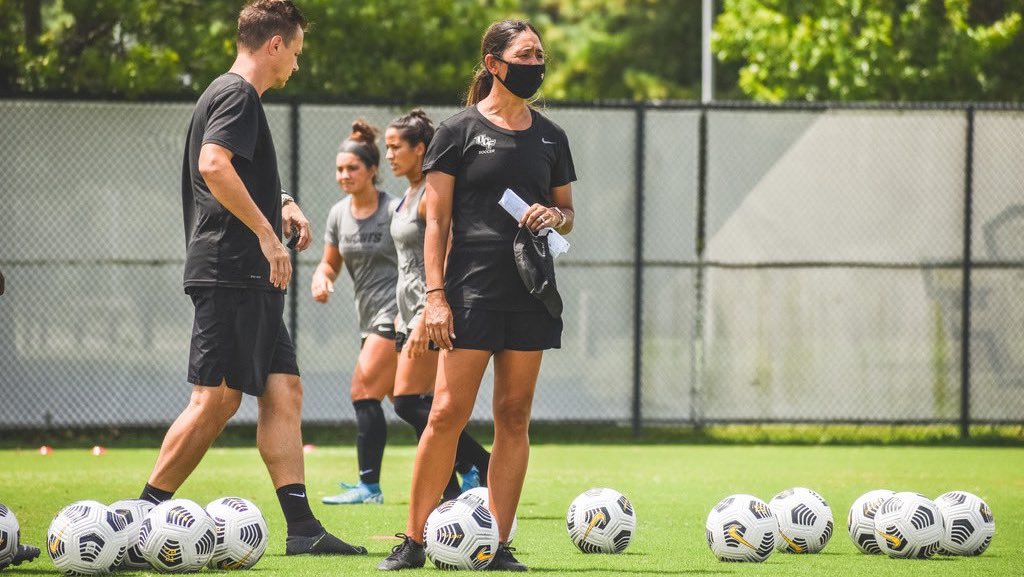 ORLANDO, Fla. – UCF women's soccer head coach Tiffany Roberts Sahaydak signed a contract extension that will keep the three-time American Athletic Conference Coach of the Year with the Knights through the 2025 campaign.
With a total of 22 conference championships and 21 NCAA Tournament berths, the Knights have enjoyed a long-time reputation as one of the best teams in the country.
Set to begin her ninth season at the helm in 2021, Roberts Sahaydak has furthered that standard of excellence and continued to raise the bar for UCF Women's Soccer.
"I'm extremely passionate about using soccer to develop the young women in our program. Over the years, I have seen so many athletes accomplish big things at UCF, and also after they graduate," Roberts Sahaydak said. "It brings me so much joy to do this job with my husband and I'm very proud of the culture that we've created. I couldn't be more grateful for this opportunity to continue to do what I love. I'd like to thank both Terry and Abby for their support and for trusting my leadership of the soccer program. It's a very special time to be part of the UCF family and I'm even more excited for what lies ahead."
Under her guidance, the Knights have earned four American Athletic Conference Championships and appeared in four NCAA Tournaments, including a bid to the Sweet 16 in 2014.
Since Roberts Sahaydak arrived in 2013, UCF has boasted 14 conference Player of the Year awards, 59 all-league and all-tournament selections, and four NWSL Draft selections. The Knights have compiled a 91-39-17 overall record, setting programs records for wins in a season (18; 2014) and unbeaten streak (18 matches; 2013) during her tenure.
The Knights have achieved great success in the classroom as a recipient of the United Soccer Coaches Team Academic Award in seven of the last eight seasons under Roberts Sahaydak.