Pitt women's soccer introduces Jesse Goleman as goalkeeper coach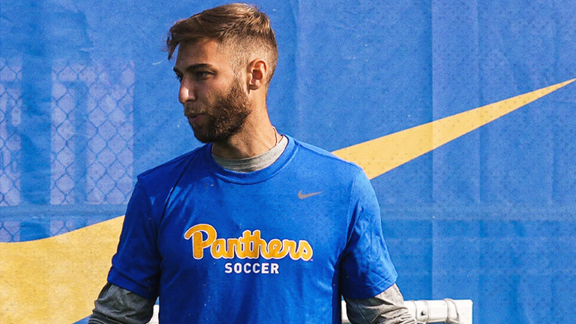 PITTSBURGH — Pitt women's soccer has added volunteer coach Jesse Goleman, head coach Randy Waldrum announced Monday. A Pittsburgh native, Goleman serves as the goalkeeper coach for the Panthers.
Last year Goleman worked in this role for the Northeastern men's soccer team and over the summer for the USL League Two Champions Des Moines Menace.
Prior to joining Northeastern, Goleman spent three seasons at Centenary University in New Jersey and was part of the 2016 Colonial States Athletic Conference Coaching Staff of the Year after helping Centenary win the conference championship and advance to the NCAA tournament. He has worked with 20 all-conference selections and one conference player of the year during his time working with Centenary, Chatham University, Seton Hill University and Carlow Universty.
"We are very excited to announce that Jesse Goleman will be joining our staff this fall as our volunteer goalkeeper coach," said Waldrum. "Jesse previously served at Northeastern as a part of the men's staff and has had previous other stops including Centenary, Chatham and Seton Hill. This summer he was the goalkeeper coach for the Des Moines Menace in the USL2 and they had a very successful campaign winning the National Championship. Jesse will be a great addition as he is very knowledgeable and has great rapport with our goalkeepers. I'm excited to see the improvements they make under his direction!"
As a player, Goleman was a three-time all-conference selection at Centenary University and led the Cyclones to their first-ever CSAC championship and NCAA tournament appearance in 2013. He represented the USA Maccabi Team on three different occasions (2012, '13, '15) in Brazil, Israel and Chile. Goleman ended his career at Centenary as the all-time leader in saves, goals against average, save percentage, shutouts and wins.
Goleman led Allderdice High School to three City League Championships and finished as the all-time leader in shutouts with 25 and as the record holder for fewest goals against in a season with nine. He's inducted into Western Pennsylvania Jewish Sports Hall of Fame.
In the summer of 2019, Goleman started his own company, Goleline, LLC, which specializes in strength and conditioning for goalkeepers. He earned a degree in business administration from Centenary University in 2016.