ACC Women's Soccer Preseason Rankings and All-Conference Team revealed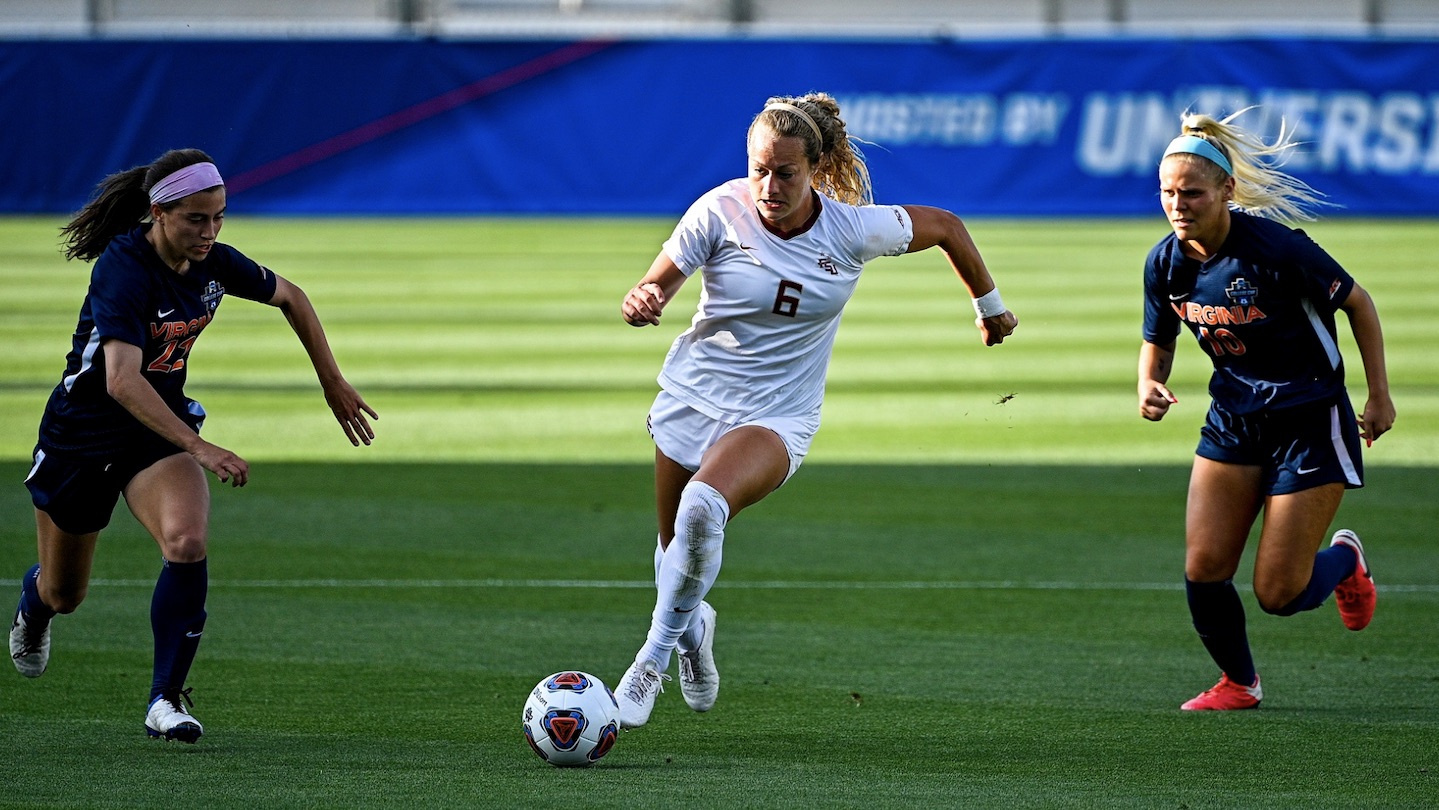 GREENSBORO, N.C. – Florida State has been voted the preseason favorite to win the 2021 ACC women's soccer title by the league's head coaches.
The Seminoles, who advanced to their 11th NCAA Women's Soccer College Cup last season and played for the national championship, received 11 first-place votes and tallied 167 points.
North Carolina collected two first-place votes and 155 points to finish second in the voting, while Virginia earned 148 points and one first-place vote to occupy third. Duke and Clemson round out the top five with 129 and 124 points, respectively.
Notre Dame was picked sixth with 104 points, while Virginia Tech was tabbed seventh (85). Louisville, Wake Forest and NC State were separated by just six points with the Cardinals claiming eighth (77), followed by the Demon Deacons (72) and Wolfpack (71). Pitt (57), Boston College (45), Syracuse (24) and Miami (16) round out the poll.
Ten members of the preseason All-ACC Team were named to one of the league's 2020 all-conference teams, headlined by Florida State's Jaelin Howell, the 2020-21 MAC Hermann Trophy Award winner (given to the top player in college soccer) and ACC's Midfielder of the Year, and Virginia's Lia Godfrey, the conference's Freshman of the Year.
The fall season begins Thursday, August 19, with 13 of the league's teams in action. Conference play kicks off on Thursday, Sept. 16, with Clemson hosting Pitt.
The top six teams in the final league standings will advance to the ACC Championship, which begins with quarterfinal matches at campus sites on Sunday, Oct. 31. The semifinals and final are scheduled for Nov. 5 and Nov. 7 at WakeMed Soccer Park in Cary, North Carolina.
Five ACC teams are ranked among the top 10 of the Preseason United Soccer Coaches Top 25 Poll – most of any conference – with Florida State as the nation's No. 1 team, followed by No. 3 North Carolina, No. 4 Virginia, No. 6 Duke and No. 7 Clemson.
2021 ACC Women's Soccer Preseason Coaches Poll
Florida State – 167 (11 First-Place Votes)
North Carolina – 155 (2)
Virginia – 148 (1)
Duke – 129
Clemson – 124
Notre Dame – 104
Virginia Tech – 85
Louisville – 77
Wake Forest – 72
NC State – 71
Pitt – 57
Boston College – 45
Syracuse – 24
Miami – 16
2021 Women's Soccer Preseason All-ACC Team
Megan Bornkamp, Clemson, So., M
Hensley Hancuff, Clemson, Sr., GK
Delaney Graham, Duke, Sr., D
Sophie Jones, Duke, Jr., M
Jaelin Howell, Florida State, Sr., M
Yujie Zhao, Florida State, Sr., M
Maycee Bell, North Carolina, Jr., D
Rachel Jones, North Carolina, Sr., F/M
Amanda West, Pitt, So., F
Lia Godfrey, Virginia, So., M
Alexa Spaanstra, Virginia, Sr., F/M