U.S. U-16 Girls National Team holding virtual training camp in April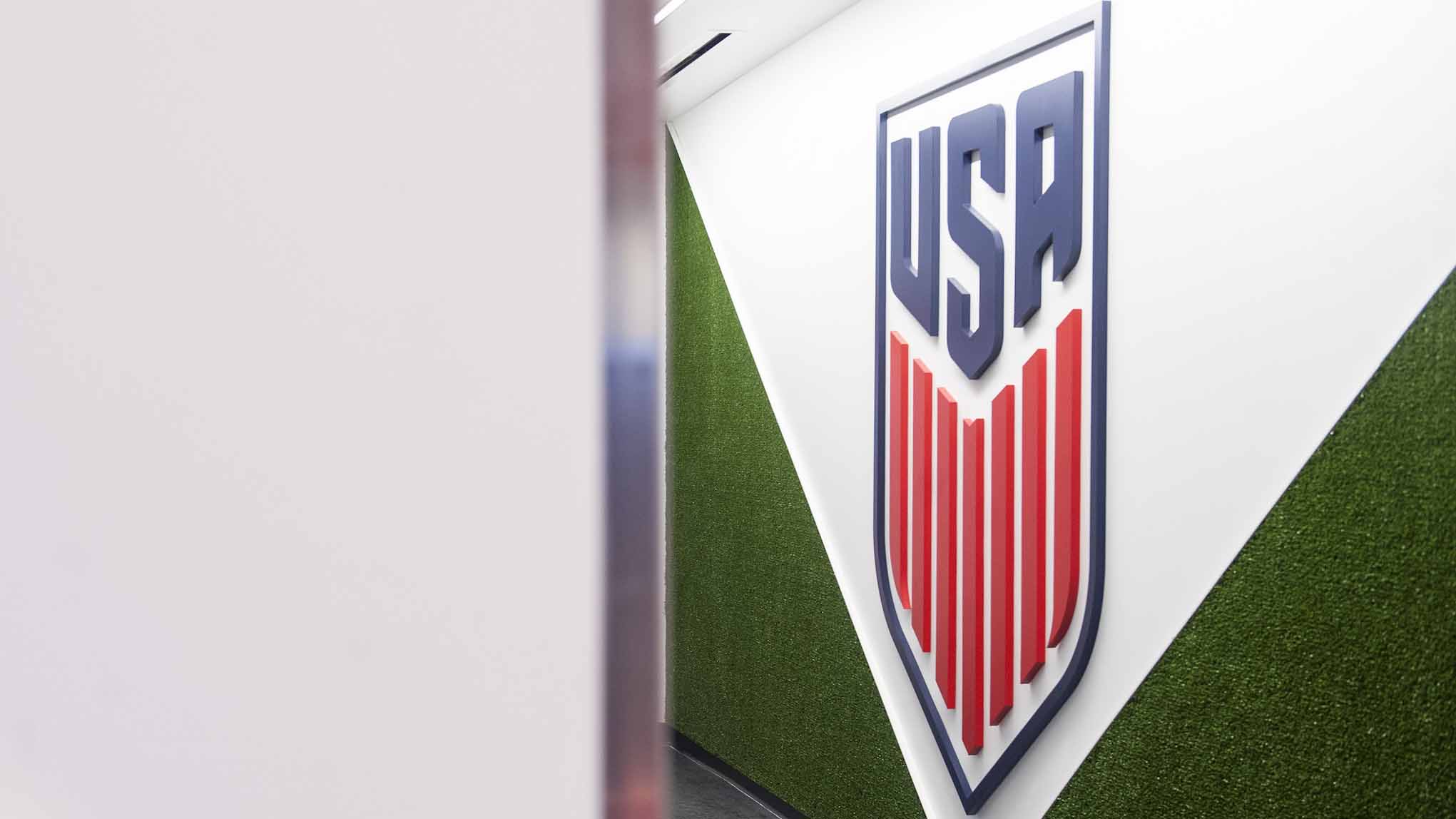 The U.S. U-16 Girls National Team is convening virtually this month, as the 2006 age group begins a new cycle in 2021 following a long layoff over the past year.
Players from top youth clubs across the country have received their invitations to the event, which convenes on April 9. Over 100 athletes and their clubs have confirmed their participation on social media and directly with SoccerWire, including eight Colorado Rapids players, seven FC Dallas standouts and six from Southern California's Legends FC.
Five players from Arizona's SC del Sol made the roster, along with five each from Texas powerhouse Solar SC and Georgia club Tophat.
Other clubs have confirmed at least four players participating in the camp, including: Virginia Development Academy (VDA), The St. James FC Virginia, PDA, Colorado Rush, Nationals (MI), FC Bay Area and St. Louis Scott Gallagher (MO).
Eleven more clubs have announced that three of their players received invitations: Beach FC (CA), Bethesda SC, NC Courage Academy, World Class FC, Charlotte Soccer Academy, Colorado Rapids, KC Athletics, Rebels SC, Real Colorado, NEFC, FC Stars and Sting Soccer Club.
See below for a listing of players that have been confirmed so far as U.S. U-16 Girls National Team virtual training camp invitees. Please report additional participants via email to [email protected] or on Twitter @TheSoccerWire.
| | |
| --- | --- |
| Player | Youth Club |
| Hannah Phillips | Albion Hurricanes FC |
| Sierra McCluer | Albion Hurricanes FC |
| Elizabeth Boamah | ALBION SC |
| Abby Welker | Arlington Soccer |
| Makena Irvine | Beach FC |
| Natalie Sheffey | Beach FC |
| Onyeka Gamero | Beach FC |
| Jasmine Boggs | Bethesda SC |
| Riley DeMartino | Bethesda SC |
| Annie Faraone | Bethesda SC |
| Gabriela Vatrano | Charlotte Soccer Academy |
| Kayce Taylor | Charlotte Soccer Academy |
| Malia Shorter | Charlotte Soccer Academy |
| Mabry Williams | Classics Elite |
| Lauryn Contini | Cleveland Force |
| Bella Ganiere | Colorado Rapids |
| Jace Holley | Colorado Rapids |
| Samantha Maroni | Colorado Rapids |
| Alexis Meyer | Colorado Rapids |
| Adeleine Walick | Colorado Rapids |
| Grace Rossner | Colorado Rapids |
| Amy Smith | Colorado Rapids |
| Jamuna Williams | Colorado Rapids |
| Camille Kollar | Colorado Rush |
| Cate Sarinopoulos | Colorado Rush |
| Riley MacDonald | Colorado Rush |
| Lucy Krumwiede | Colorado Rush |
| Aurora Gaines | Concorde Fire |
| Giovanna Hansen | Crossfire Premier |
| Alicia Riggins | D'Feeters Kicks SC |
| McKenna Moran | D'Feeters Kicks SC |
| Tabitha Sine | Dallas Texans |
| Devin Greer | Davis Legacy |
| Lauren Hunter | Davis Legacy |
| Kendell Williams | Eclipse Select SC |
| Phoebe Scott | FC Alliance |
| Akshaya Bahugudumbi | FC Bay Area |
| Madison Colley | FC Bay Area |
| Min Joo Kim | FC Bay Area |
| Sarah Lappalainen-Zhao | FC Bay Area |
| Amaya Dawkins | FC Dallas |
| Mia Gildea | FC Dallas |
| Gianna Owens | FC Dallas |
| Taylor Person | FC Dallas |
| Juliette Rayo | FC Dallas |
| Alexa Barker | FC Dallas |
| Jaden Thomas | FC Dallas |
| Casey Forman | FC Delco |
| Alessia Saia | FC Prime |
| Lexi Taylor | FC Stars |
| Piper Ellis | FC Stars |
| Sophia Recupero | FC Stars |
| Mya Nugent | FC United (IL) |
| Avery Robinson | Florida Elite SA |
| Abigail Gemma | IMG Academy |
| Eleanor Klinger | Internationals SC |
| Anisten Cabantac | KC Athletics |
| Bella Smith | KC Athletics |
| Grace Vest | KC Athletics |
| Chloe Walls | LAFC Slammers |
| Isabella Contreras | Legends FC |
| Taylor Kessler | Legends FC |
| Bryanna Lozano Zazueta | Legends FC |
| Kyla Schuster | Legends FC |
| Karina Da Silva | Legends FC |
| Sydney Harpster | Legends FC |
| Alexis Claiborne | Lonestar SC |
| Abigail Mayock | Lonestar SC |
| Kira Waller | McLean Youth Soccer |
| Nawreen Ahmad | McLean Youth Soccer |
| Amalia Villarreal | Michigan Jaguars |
| Emily Kolodin | Michigan Jaguars |
| Miri O'Donnell | Mustang SC |
| Ella Jablinskey | Nationals |
| Kaleigh Shafer | Nationals |
| Kealey Titmuss | Nationals |
| Sydney Hooks | Nationals |
| Aven Alvarez | NC Courage Academy |
| Gabrielle Ciocca | NC Courage Academy |
| Maliyah Morrison | NC Courage Academy |
| Ellie Garrison | NC Fusion |
| Kendall Bodak | NEFC |
| Meghan Deneen | NEFC |
| Anna Shamgochian | NEFC |
| Elizabeth Passwaters | Oklahoma Energy FC |
| Gibson Graham | Oklahoma Energy FC |
| Maddie Levy | PA Classics |
| Addison Halpern | PDA |
| Ainsley Moy | PDA |
| Cassidy Corcione | PDA |
| Sophia Bradley | PDA |
| Addison Etter | Penn Fusion |
| Brooke Vogel | Penn Fusion |
| Sophia Kurisu | Pleasanton Rage |
| Brooke Dawahare | Racing Louisville Academy |
| Audrey King | Racing Louisville Academy |
| Karalyn Dail | Real Colorado |
| Nicola Fraser | Real Colorado |
| Alysiah Lockette | Real Colorado |
| Grace Miller | Rebels SC |
| Jordyn Bugg | Rebels SC |
| Dyllan Williamson | Rebels SC |
| Logan Marks | Richmond United |
| Fiona Mahan | Riverhounds Development Academy |
| Lola Abraham | Riverhounds Development Academy |
| Carlie Diaz | SC del Sol |
| Jessica Bedolla | SC del Sol |
| Makenna Liebman | SC del Sol |
| Paxton Bock | SC del Sol |
| Sofia Walters | SC del Sol |
| Caroline Birkel | SLSG – MO |
| Grace Restovich | SLSG – MO |
| Maison Smith | SLSG – MO |
| Taylor Gardner | SLSG – MO |
| Kelly Wilson | Sockers FC |
| Aly Guthrie | Solar SC |
| Audrey Bryant | Solar SC |
| Cameron Byrd | Solar SC |
| Emeri Adames | Solar SC |
| Lola Foley | Solar SC |
| Maggie Rollins | South Carolina United FC |
| Norah Abbott | South Carolina United FC |
| Lena Marinell | South Shore Select |
| Caroline Kennard | South Shore Select |
| Ava McDonald | Sting Soccer |
| Bronwynn Blair | Sting Soccer |
| Morgan Brown | Sting Soccer |
| Maggie Ledwith | SUSA |
| Amanda Egan | Tampa Bay United |
| Cayla Jackson | Tampa Bay United |
| Sarah Houston | Tophat |
| Kate Jannetta | Tophat |
| Neely Kerr | Tophat |
| Taylor Lewin | Tophat |
| Isa Moreno | Tophat |
| Addy Hess | The St. James FC Virginia |
| Allie Kilmer | The St. James FC Virginia |
| Erika Schneider | The St. James FC Virginia |
| Ashleigh Vizek | The St. James FC Virginia |
| Kennadie Marchand | United Futbol Academy |
| Maddie Stoddard | United Futbol Academy |
| Peyton McGovern | VDA |
| Ary Oliver | VDA |
| Lily Clayton | VDA |
| Kamryn Winger | VDA |
| Charlotte Burge | Virginia Rush |
| Claire Hutton | World Class FC |
| Dylan Jovanovic | World Class FC |
| Lillian Moncion | World Class FC |