Jefferson Cup 2021: Top clubs shine at Girls Showcase Weekend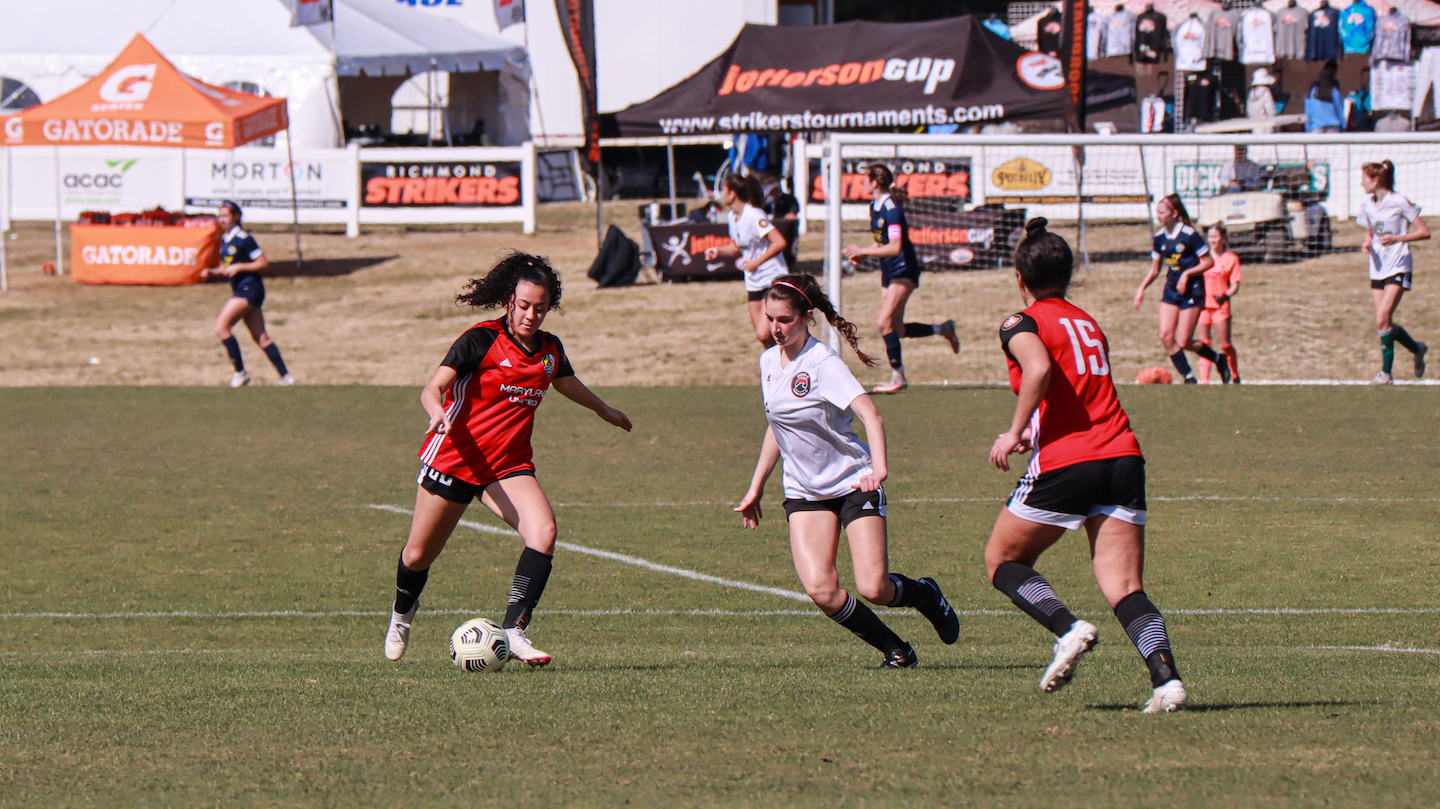 Follow the Jefferson Cup:
Twitter | Facebook | Instagram
Richmond, Va. – Division titles were decided on Sunday at the 2021 Jefferson Cup Girls Showcase Weekend, as teams from all over the country concluded play.
A total of 418 teams from across the United States competed in the exclusive tournament across the U15-U19 age groups. Top youth soccer clubs from 20 different states were represented at the Girls Showcase Weekend, featuring teams that play in the nation's best leagues including the ECNL and Girls Academy, among others.
Connecticut FC led all clubs at the Girls Showcase with three separate division championships. The club's ECNL teams earned first place finishes in the U-15 Superior Orange Division, the U-15 Premier Black Division and the U-16 Elite Division. Connecticut FC also secured the 2nd place slot in the U-17 Championship Division.
Five other clubs finished the weekend with two division championships each. Those clubs include: Cleveland Force, NCFC / NC Courage Academy, SUSA Academy, Charlotte Independence and Pittsburgh Riverhounds.
See below for a full listing of champions and finalists from the Jefferson Cup Girls Showcase Weekend.
U15
Championship Division
Champion: Bethesda SC ECNL I 06 (MD)
Finalist: VDA ECNL (VA)
Elite Orange Division
Champion: NC Courage ECNL 05 (NC)
Finalist: SUSA 06 ECNL (NY)
Elite Black Division
Champion: McLean 06 ECNL (VA)
Finalist: East Meadow SC 06 ECNL (NY)
Superior Orange Division
Champion: Connecticut FC 06 ECNL (CT)
Finalist: Charlotte Independence 06 ECNL (NC)
Superior Black Division
Champion: Cuyahoga Valley 06 Blue (OH)
Finalist: North Carolina FC 06 Elite (NC)
Superior White Division
Champion: Vienna Youth Soccer Phoenix (VA)
Runner-up: RUSA FC 06 Gold (NJ)
Platinum Orange Division
Champion: Cleveland Force 06 ECRL (OH)
Finalist: World Class FC 06 ECRL (NY)
Platinum Black Division
Champion: Great Falls Reston SC 06 Elite NPL (VA)
Finalist: Roswell Santos 06 Blue (GA)
Classic Orange Division
Champion: Herndon Lightning Black 06 (VA)
Finalist: Syracuse Development Academy 2006 (NY)
Classic Black Division
Champion: SYC 06 Blue (VA)
Finalist: Richmond Kickers Elite 06 (VA)
Premier Orange Division
Champion: Pittsburgh Riverhounds East 2006 (PA)
Finalist: New Jersey Rush 06 Grey NL EDP (NJ)
Premier Black Division
Champion: Connecticut FC 06 ECNL II (CT)
Finalist: Rochester Lancers 06 (NY)
Premier White Division
Champion: New River United 06 Blue (VA)
Finalist: Arlington SA 2006 Red (VA)
U16
Championship Division
Champion: Richmond United 05 ECNL (VA)
Finalist: World Class FC 05 ECNL (NY)
Elite Division
Champion: Connecticut FC 05 ECNL (CT)
Finalist: East Meadow SC 05 ECNL Pride (NY)
Superior Division
Champion: Hotspurs SC 2005 Blue (PA)
Finalist: Century 05 Gold (PA)
Platinum Orange Division
Champion: World Class FC 05 ECRL (NY)
Finalist: Kings Hammer Academy Red 05 (KY)
Platinum Black Division
Champion: Space Coast United 05 Red (FL)
Finalist: Cleveland Force 05 ECRL (OH)
Classic Orange Division
Champion: SYA Cardinals 05 Red (VA)
Finalist: FC Richmond Mystx Elite 05 (VA)
Classic Black Division
Champion: Century Steel 05 Fury (PA)
Finalist: WNY Flash Acdemy 05 ECRL (NY)
Premier Division
Champion: FC Dynamo ROC 2005 (NY)
Finalist: Scorpions SC 2005 ECRL (MA)
U17
Championship Division
Champion: SUSA 04 ECNL (NY)
Runner-up: Connecticut FC 04 ECNL (CT)
Elite Division
Champion: Charlotte Independence 04 ECNL (NC)
Runner-up: VDA ECNL (VA)
Superior Division
Champion: Loudoun Soccer ECNL 04 (VA)
Runner-up: Charlotte Soccer Academy Blue RL (NC)
Platinum Orange Division
Champion: Kings Hammer Academy Red 04 (KY)
Runner-up: VSA 04 RL Elite (VA)
Platinum Black Division
Champion: Charlotte Independence 04 ECNL Futures North (NC)
Runner-up: Roswell Santos 04 Blue (GA)
Classic Orange Division
Champion: Worthington United 94 Navy (OH)
Runner-up: Coppermine 2004 Premier (MD)
Classic Black Division
Champion: SUSA 04 RL ECNL (NY)
Runner-up: FC Stars Blue Regional 2004 (MA)
Premier Division
Champion: Pacesetter 04 Girls ECRL (OH)
Runner-up: Barcelona United Academy 04 (OH)
U18
Championship Division
Champion: Nirvana 360 FC Illusion (NY)
Runner-up: St. Mary's Soccer Power (MD)
Elite Division
Champion: North Carolina FC 02/03 ECNL (NC)
Runner-up: Philadelphia SC Coppa Venom (PA)
Superior Division
Champion: Warren County SA 2003 Elite (OH)
Runner-up: SCS United Black (PA)
Platinum Division
Champion: NE Cantolao Attack FC 03 (PA)
Runner-up: Beadling 2003 North Elite (PA)
U19
Championship Division
Champion: Pipeline SC ECNL (MD)
Runner-up: McLean 02/03 ECNL (VA)
Elite Division
Champion: BRYC Elite Academy ECNL 03/03 (VA)
Runner-up: VDA ECNL (VA)
Superior Division
Champion: Cleveland Force SC 02/03 ECRL (OH)
Runner-up: Yankee United Blast NPL 02 (CT)
Platinum Division
Champion: FC Stars ECNL Blue 03/03 Composite (MA)
Runner-up: TSJ FC Virginia 02 United South (VA)
Classic Division
Champion: Pittsburgh Riverhounds ECNL 02/03 Composite (PA)
Runner-up: Barcelona United Academy 02 (OH)