Jefferson Cup 2021: Division winners decided at U10-U14 Girls Weekend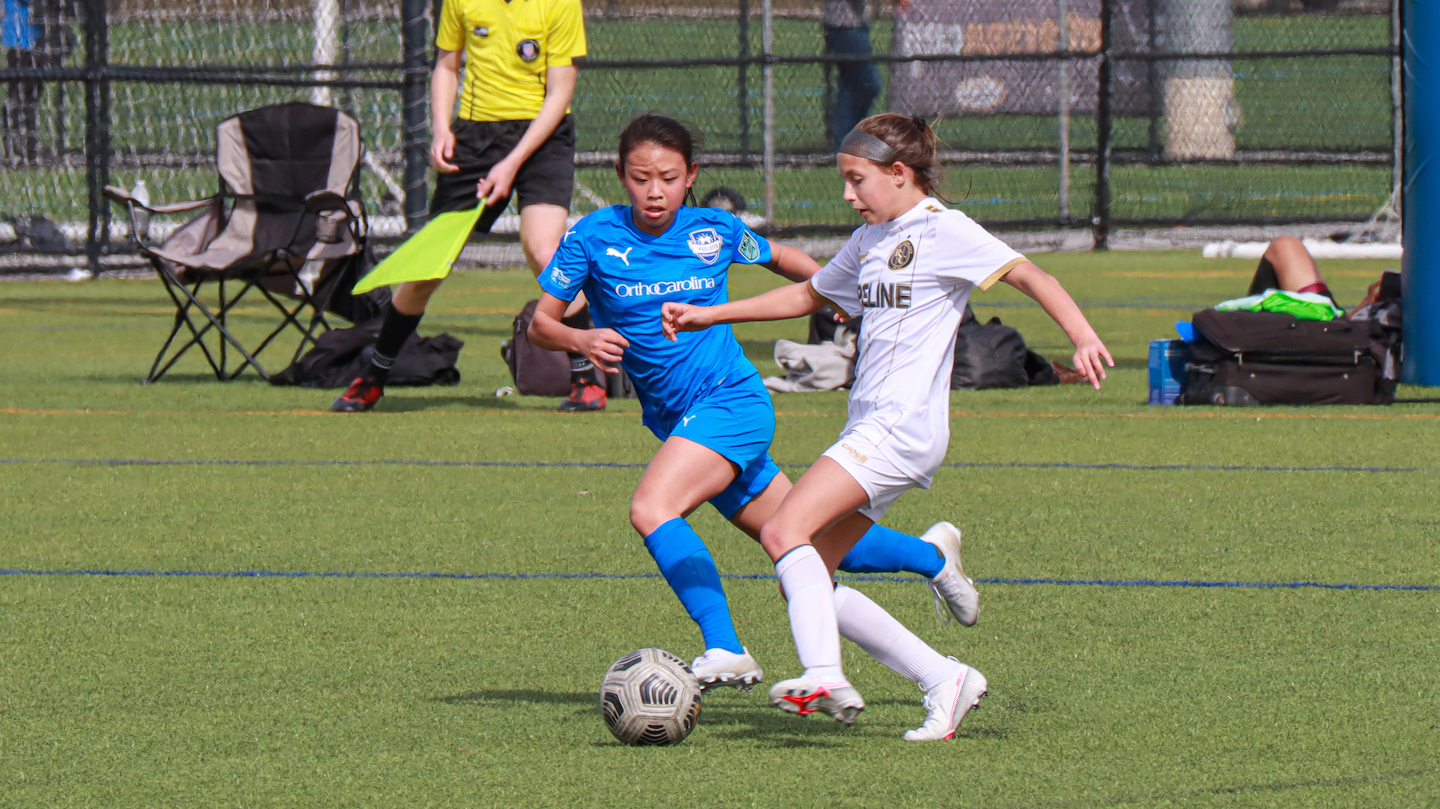 Follow the Jefferson Cup:
Twitter | Facebook | Instagram
Richmond, Va. – Division titles were decided on Sunday at the 2021 Jefferson Cup U10-U14 Girls Weekend, as teams from all over the country concluded play.
More than 320 teams representing top youth soccer clubs from 18 different states competed in the exclusive tournament from March 13-14.
Across 38 total divisions, several clubs were able to capture more than one championship. New Jersey powerhouse Match Fit Academy and one of Maryland's top clubs, Bethesda SC, each had three different teams finish atop their respective brackets.
North Carolina FC added two more Jefferson Cup championships this weekend, after their boys teams did the same last weekend. Meanwhile, Baltimore-based Pipeline SC saw four different teams earn second place finishes.
Another fantastic weekend at the Jefferson Cup in the books! Congratulations to all the U10-U14 Girls teams that competed and best of luck in the spring season!#JeffCup21 pic.twitter.com/AcLR7y3p03

— Jefferson Cup (@jeffersoncup) March 15, 2021
See below for a full listing of champions and finalists from the Jefferson Cup Girls Weekend.
U10
Championship Division
Champion: Match Fit Academy 2011 Shore Blue (NJ)
Finalist: Cuyahoga Valley 2011 NPL (OH)
Elite Division
Champion: Match Fit Academy FC 2011 Shore White (NJ)
Finalist: RSK Chesterfield 2011 Elite Blue (VA)
Superior Division
Champion: Baltimore Union Select SC 11 (MD)
Finalist: VSA 11 Lavelle (VA)
U11
Championship Division
Champion: Bethesda SC ECNL 2010 (MD)
Finalist: Pipeline SC Pre-ECNL (MD)
Elite Division
Champion: Cuyahoga Valley 2010 NPL (OH)
Finalist: Pipeline SC North Pre-ECNL (MD)
Superior Division
Champion: Rhode Island Surf 2010 North (RI)
Finalist: Pipeline SC North Black (MD)
Platinum Division
Champion: FC Alliance 2010 (WV)
Finalist: Harrison SC Swarm 2010 (NJ)
Classic Division
Champion: PWSI Courage 10 RL (VA)
Finalist: Hamilton Elite FC Sand Sharks (NJ)
Premier Division
Champion: Charlotte SA Huntersville Roma (NC)
Finalist: West Virginia FC 2010 Black (WV)
U12
Championship Division
Champion: Nationals Oakland 09 Black (MI)
Finalist: Pipeline SC Pre-ECNL (MD)
Elite Division
Champion: Bethesda SC ECNL 09 (MD)
Finalist: Arlington SA 2009 Red (VA)
Superior Orange Division
Champion: Richmond Kickers Elite Red (VA)
Runner-up: North Carolina FC 09 Gold North (NC)
Superior Black Division
Champion: Solar 10 Colvin (TX)
Finalist: Maryland United FC 2009 Pre-ECNL (MD)
Platinum Orange Division
Champion: VYS Phoenix RL (VA)
Finalist: Florida Premier FC 09 Pre-ECNL (FL)
Platinum Black Division
Champion: NTH-Tophat 09 North (GA)
Finalist: FC Evolution 2009 Girls NPL (OH)
Classic Orange Division
Champion: Hotspurs North Xplosion (PA)
Finalist: Richmond Strikers 09 Elite Black (VA)
Classic Black Division
Champion: SAC Pre-Academy (MD)
Finalist: Charlotte Metro FC 2009 Black (NC)
Premier Division
Champion: West Virginia FC 2009 (WV)
Finalist: Potomac Blue 09 (MD)
U13
Championship Division
Champion: Richmond United 08 ECNL (VA)
Finalist: Nationals Oakland 08 Black (MI)
Elite Orange Division
Champion: Beadling 08 Pre-Academy (PA)
Finalist: Arlington SA 2008 Girls Academy (VA)
Elite Black Division
Champion: Bethesda SC ECNL 08 (MD)
Finalist: Loudoun Soccer ECNL (VA)
Superior Orange Division
Champion: Barcelona Academy CLT South 2008 (SC)
Finalist: VYS Phoenix RL (VA)
Superior Black Division
Champion: South Carolina Surf 08 NPL (SC)
Finalist: VSA 08 RL Elite (VA)
Platinum Orange Division
Champion: YMS 2008 Premier Spirit EDP (PA)
Finalist: SYA Cardinals 2008 Red (VA)
Platinum Black Division
Champion: FC Alliance 2008 North (WV)
Finalist: BRYC Elite Academy ECNL 08 (VA)
Classic Division
Champion: Rochester Lancers 2008 (NY)
Finalist: Tidewater Sharks 2008 (VA)
Juniors Division
Champion: Match Fit Academy FC 2009 Shore (NJ)
Finalist: Minnesota Thunder Academy 09 Pre-ECNL (MN)
U14
Championship Division
Champion: Loudoun Soccer ECNL 07 (VA)
Finalist: TSJ FC Virginia 07 Girls Academy (VA)
Elite Orange Division
Champion: NCFC Courage 07 ECNL Academy (NC)
Finalist: Solar ECRL 07 Kennington (TX)
Elite Black Division
Champion: Herndon Alianza Black (VA)
Runner-up: Coppermine 2007 Premier (MD)
Superior Orange Division
Champion: Sting LA 07 Robichaux (LA)
Finalist: D'Feeters Kicks SC 07 Vielma RL (TX)
Superior Black Division
Champion: Beach FC 2007 Red (VA)
Finalist: D'Feeters Kicks SC 07 Vielma Black (TX)
Platinum Orange Division
Champion: North Carolina FC 07 Elite (NC)
Finalist: Metro United Girls Academy 07 (VA)
Platinum Black Division
Champion: Triangle United SA 07 Gold (NC)
Finalist: Loudoun Soccer 07 Red (VA)
Classic Orange Division
Champion: Rhode Island Surf 2007 Academy Sky (RI)
Finalist: Connecticut FC 07 ECNL2 (CT)
Premier Orange Division
Champion: Charleston SC 07 Girls NPL (SC)
Finalist: Columbus United SC 07 Lions (OH)
Premier Black Division
Champion: Roswell Santos 07 Blue (GA)
Finalist: A3 Rangers (MD)
Premier White Division
Champion: North FC 07 Blue (OH)
Finalist: Fairfield Optimist SC 07 Elite (OH)