Jefferson Cup 2021: Champions crowned at U10-U15 Boys Weekend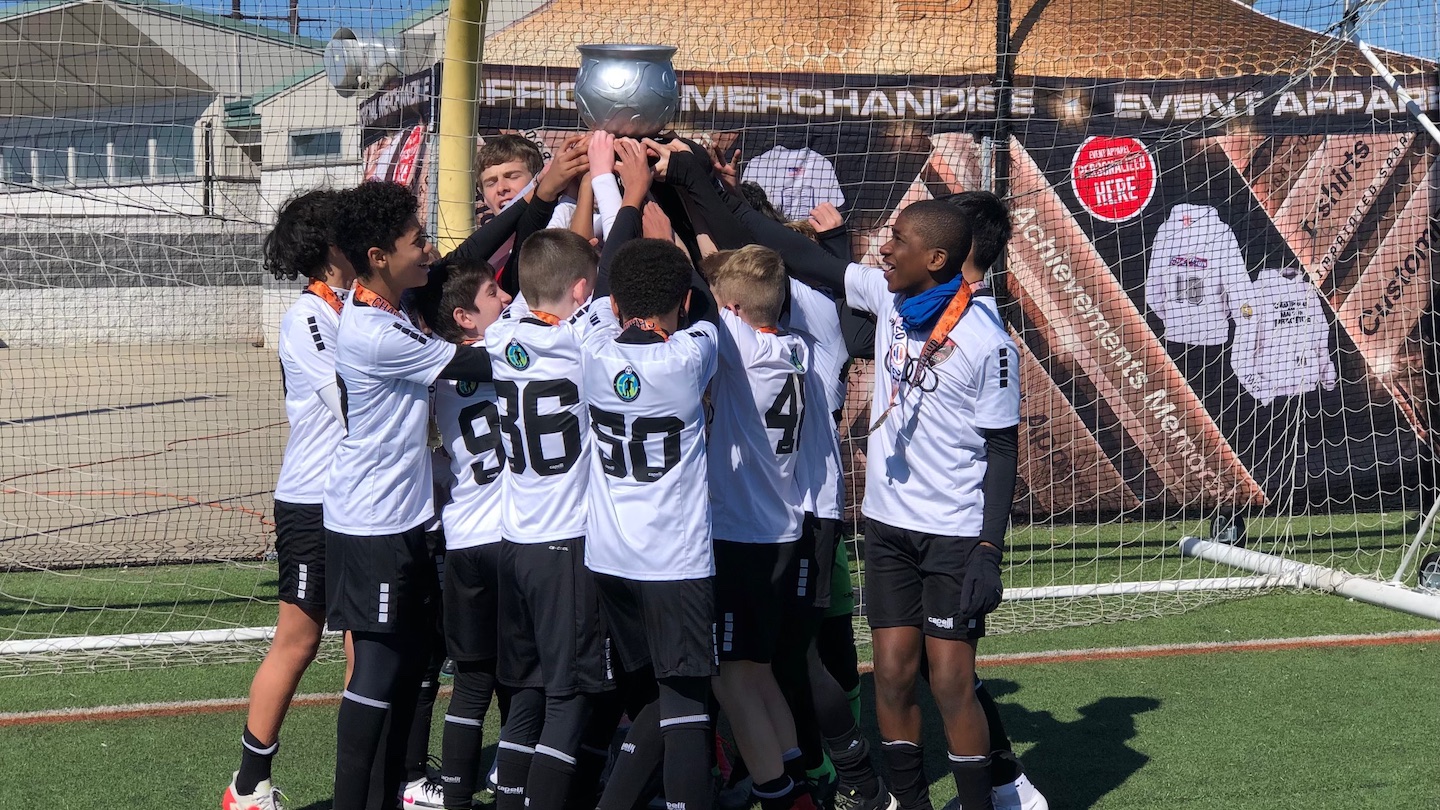 Follow the Jefferson Cup:
Twitter | Facebook | Instagram
Champions were crowned on Sunday across the U10-U15 Boys age groups as the opening weekend of the 2021 Jefferson Cup came to an end.
A total of 366 teams from across the U.S. competed in the exclusive tournament's first leg. Youth soccer clubs from 18 different states were represented at the flagship event of the Richmond Strikers Tournament Series. Brackets were divided over 45 total divisions, spanning five age groups.
North Carolina club Wake FC and Northern Virginia's Loudoun SC each had three teams capture division titles. Wake had an additional three squads finish the weekend as finalists.
Several other youth clubs – including North Carolina FC, Pipeline Soccer and Player Progression Academy – took home two championship trophies.
See below for a full listing of champions and finalists from the Jefferson Cup Boys Weekend.
U10
Championship Division
Champion: Union Stars 2011 (PA)
Finalist: The Football Academy 2011 Black (NJ)
Elite Division
Champion: La Cuadra FC (NY)
Finalist: Calvert SA Dragons (MD)
Superior Division
Champion: Villanova Lightning (PA)
Finalist: Liverpool FCNJ Central (NJ)
Platinum Division
Champion: Kearny Thistle United FC Dynamo (NJ)
Finalist: FC Copa Academy Millstone Black (NJ)
Juniors Division
Champion: Carolina Velocity Elite 2012 (NC)
Finalist: FC Liberty 2012 (PA)
U11
Championship Division
Champion: FC Liberty 2010 (PA)
Finalist: Nationals Oakland Black (MI)
Elite Division
Champion: PSG Academy Blue (FL)
Finalist: Solar 10 Academy (TX)
Superior Division
Champion: FC Delco Black Conshy (PA)
Finalist: JIYSC FCC 2010 (SC)
Platinum Division
Champion: Pipeline SC Pre ECNL (MD)
Finalist: Coppermine SC 2010 Premier (MD)
Classic Orange Division
Champion: Wake FC 10 Gold North (NC)
Finalist: Philadelphia Ukrainain Nationals 10 Black (PA)
Classic Black Division
Champion: Player Progression Academy 2010 Green (MD)
Finalist: Baltimore Union SC Elite 10 (MD)
Premier Division
Champion: SYC 2010 Blue (VA)
Finalist: VSA 10 NPL Elite (VA)
U12
Championship Division
Champion: Richmond Kickers Elite Red 09 (VA)
Finalist: Doxa SC 09 Academy (NY)
Elite Division
Champion: Wake FC 09 Blue (NC)
Finalist: SUSA 09 CYL 1 (NY)
Superior Division
Champion: Player Progression Academy 2009 Green (MD)
Finalist: Cuyahoga Valley 2009 NPL (OH)
Platinum Division
Champion: Barca Academy Charlotte 09 Blue (NC)
Finalist: VSA 09 NPL Elite (VA)
Classic Orange Division
Champion: YMS 2009 Warriors (PA)
Finalist: FC Richmond Magic 09 Elite (VA)
Classic Black Division
Champion: Queen City Mutiny 09 (NC)
Runner-up: Richmond Kickers Elite Black 09 (VA)
U13
Championship Division
Champion: Doral Elite 2008 (FL)
Finalist: Nationals Union 08 Black (MI)
Elite Division
Champion: Loudoun Soccer 08 ECNL (VA)
Finalist: Sporting Delaware 2008 ECNL (DE)
Superior Orange Division
Champion: St. Mary's Strikers Red (MD)
Finalist: Wake FC 08 Blue (NC)
Superior Black Division
Champion: Lower Merion SC Thunder (PA)
Finalist: Vienna Youth Soccer Eagles 08 (VA)
Platinum Orange Division
Champion: Ironbound SC 2008 United (NJ)
Finalist: South Carolina Surf 08 NPL (SC)
Platinum Black Division
Champion: Hazlet United Juventus (NJ)
Finalist: Skyline Elite 08 (VA)
Classic Orange Division
Champion: SCS United Black (PA)
Finalist: Doxa SC 08 (NY)
Classic Black Division
Champion: United Elite Soccer 2008 (MD)
Finalist: North Carolina FC 08 Gold South (NC)
Classic White Division
Champion: Wake FC 08 Gold North (NC)
Runner-up: RSK Chesterfield 08 Elite Blue (VA)
U14
Championship Division
Champion: Pipeline SC ECNL (MD)
Finalist: NTH Nasa 07 ECNL (GA)
Elite Division
Champion: Richmond United ECNL (VA)
Finalist: SYC 07 MLS NEXT (VA)
Superior Division
Champion: NTH Nasa 07 SCCL (GA)
Finalist: SYA Cardinals 07 Red (VA)
Platinum Orange Division
Champion: Maryland United FC 07 ECNL (MD)
Finalist: North Carolina FC 07 ECNL (NC)
Platinum Black Division
Champion: PSA Wildcats Elite 07 (NJ)
Finalist: Quaker Elite Rowdies (PA)
Platinum White Division
Champion: North Carolina FC 07 Premier (NC)
Finalist: Beach FC 07 Red (VA)
Classic Orange Division
Champion: Coast FA 07 Red (SC)
Finalist: Arlington SA 07 Red (VA)
Classic Black Division
Champion: Loudoun Soccer 07 Red (VA)
Finalist: Freedom SC 07 Storm (MD)
Premier Division
Champion: DC Stoddert Blue Metros 07 (MD)
Finalist: Takoma Park SC Napoly (MD)
U15
Championship Division
Champion: North Carolina FC 06 Academy (NC)
Finalist: Pipeline SC ECNL (MD)
Elite Division
Champion: Total Futbol 2006 Gold (MD)
Finalist: Wake FC 06 Blue (NC)
Superior Division
Champion: Triangle United SA 06 Gold (NC)
Finalist: Calvert United 06 (MD)
Platinum Orange Division
Champion: Herndon Estudiantes Black (VA)
Finalist: BRYC Elite Academy ECNL 06 (VA)
Platinum Black Division
Champion: Aspen Hill 06 Elite (MD)
Finalist: Wake FC 06 Gold (NC)
Platinum White Division
Champion: Virginia Rush 06 Rush (VA)
Finalist: Barca Academy N. Virginia 06 Yellow (VA)
Classic Orange Division
Champion: Arlington SA 06 Red (VA)
Finalist: Virginia Legacy 06 CCL (VA)
Classic Black Division
Champion: Fredericksburg FC 06 Black (VA)
Finalist: St. Mary's Scorpions Premier (MD)
Premier Division
Champion: Loudoun Soccer 06 Red (VA)
Finalist: NLS Olympia 06 White (MD)