Players That Impressed: Dallas Cup Girls Invitational 2021 Finals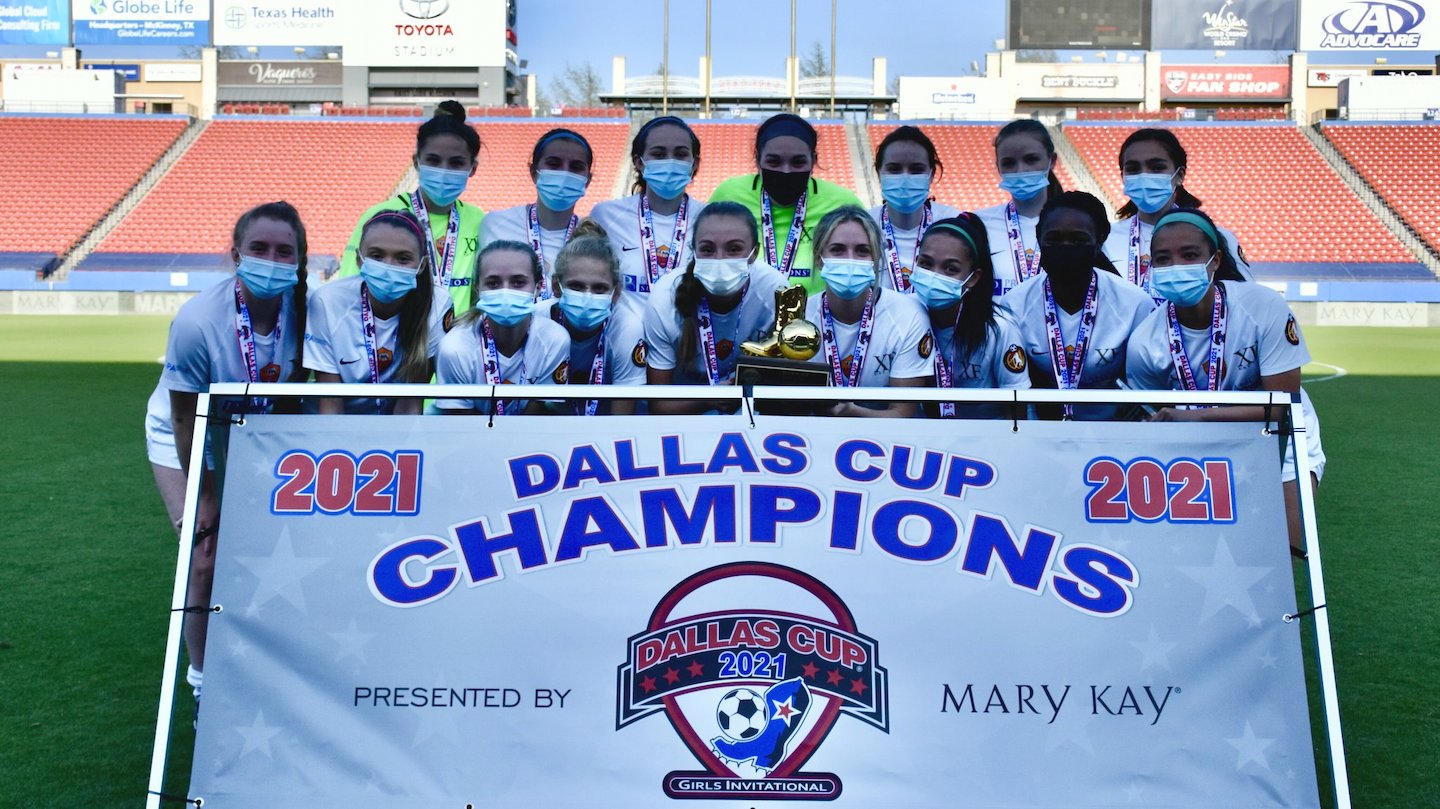 By Adam Schwager
SoccerWire Staff Writer
Over the last 42 years, the Dallas Cup has been regarded as one of the most prestigious youth tournaments in the world, featuring many players who went on to become global superstars, including the likes of David Beckham and Wayne Rooney.
However for the last 24 years, the event has featured competition only on the male side of the bracket. For the first time since 1997, Dallas Cup has added a Girls Invitational, sponsored by Mary Kay, with the finals being broadcast on ESPN3. [Full Recap]
See below for SoccerWire's list of Players That Impressed in each of the finals at the Dallas Cup Girls Invitational.
[Submit Your 'Players That Impressed' Nominations]
Maia Tabion | Defender
Crossfire Premier 19U (WA)
With two goals and an assist, Tabion was the most impressive player on the field during the U19 championship game on Thursday. Additionally, Tabion led an impressive backline that conceded only a single goal the entirety of the tournament.
———————
Hannah Dickinson | Goalkeeper
Crossfire Premier 19U (WA)
The backstop of a team that only conceded a single goal throughout the entire tournament, Dickinson held her ground and was a huge factor in Crossfire's 5-1 Championship victory over FC Dallas. Although the final score may indicate a lopsided affair, for a good portion of the second half Dickinson had to face numerous opportunities from a FC Dallas squad that, at the time, was only down 2-1 and was controlling the possession. A couple of key saves early in the half allowed her team to regain the momentum and seal the championship game.
———————
Marina Vera | Midfielder
FC Dallas 19U (TX)
Before taking a hard challenge halfway through the second half, FC Dallas' offense was running through Vera. Committed to play for North Texas, Vera exhibited great speed and work ethic despite her team's 5-1 loss to Crossfire Premier in the finals.
———————
Jaedyn Shaw | Midfielder
Solar SC 17U (TX)
Highly-touted among players her age, the UNC 2023 recruit looked a step above her peers on the pitch during Friday's U-17 final. Her goals in the 60th and 62nd minutes both came as a result of her dribbling through multiple defenders and finishing beautifully. With strong vision in both halves of the field, elite ball control and a wickedly accurate and powerful shot from distance, it's hard to understate how big of an impact Shaw had in her team's 4-0 defeat of her former club, FC Dallas.
———————
Truth Byars | Defender
Solar SC 17U (TX)
A defender who's not afraid to get involved in the rush, Byars made her presence known early and often, creating chances in the attacking third with crisp passes. With a lineage that includes two older sisters that have committed to, or are currently attending the University of Texas, Truth appears to be well on her way to continue the family's legacy.
———————
Treasure Byars | Forward
Solar SC 17U (TX)
Another in a long line of outstanding players from the Byars family, Treasure looked solid on the attack all game, and had a solid case for a PK that would probably have been awarded if her team had not already earned one just minutes earlier. Combined with Jaedyn Shaw and her sister Truth, Solar's ball movement left FC Dallas in disarray.
———————
Olivia Ramey | Goalkeeper
FC Dallas 17U (TX)
Despite the losing effort (and being substituted at halftime), Ramey's play held what could've been a four or five goal deficit at the half to only two, one of which came on a PK. FC Dallas' backline was no match for the attack of Solar, which had scored a total of 39 goals in the first four games leading up to the final. While conceding two goals in 45 minutes is never the objective of a goalkeeper, Ramey should feel proud of her performance against one of the top attacks in the nation.
———————
Amalia Villarreal | Forward
Solar SC 15U (TX)
Formerly with the Michigan Jaguars, Villarreal impressed in her team's 2-0 victory over DKSC's U16 squad. Strong on the ball, Villarreal rarely lost a 1v1 challenge and was able to use her control to draw multiple free kicks over the course of the game.
———————
Honorable Mentions
Tyler Isgrig | Forward
Solar SC 17U (TX)
Alexandra Akers | Midfielder
Crossfire Premier 19U (WA)
Erin Morgan | Defender
DKSC 16U (TX)
Hali Hartman | Defender
Solar SC 17U (TX)
Cameron Roller | Defender
Solar SC 17U (TX)