The St James FC Virginia announces class of 2022 college signings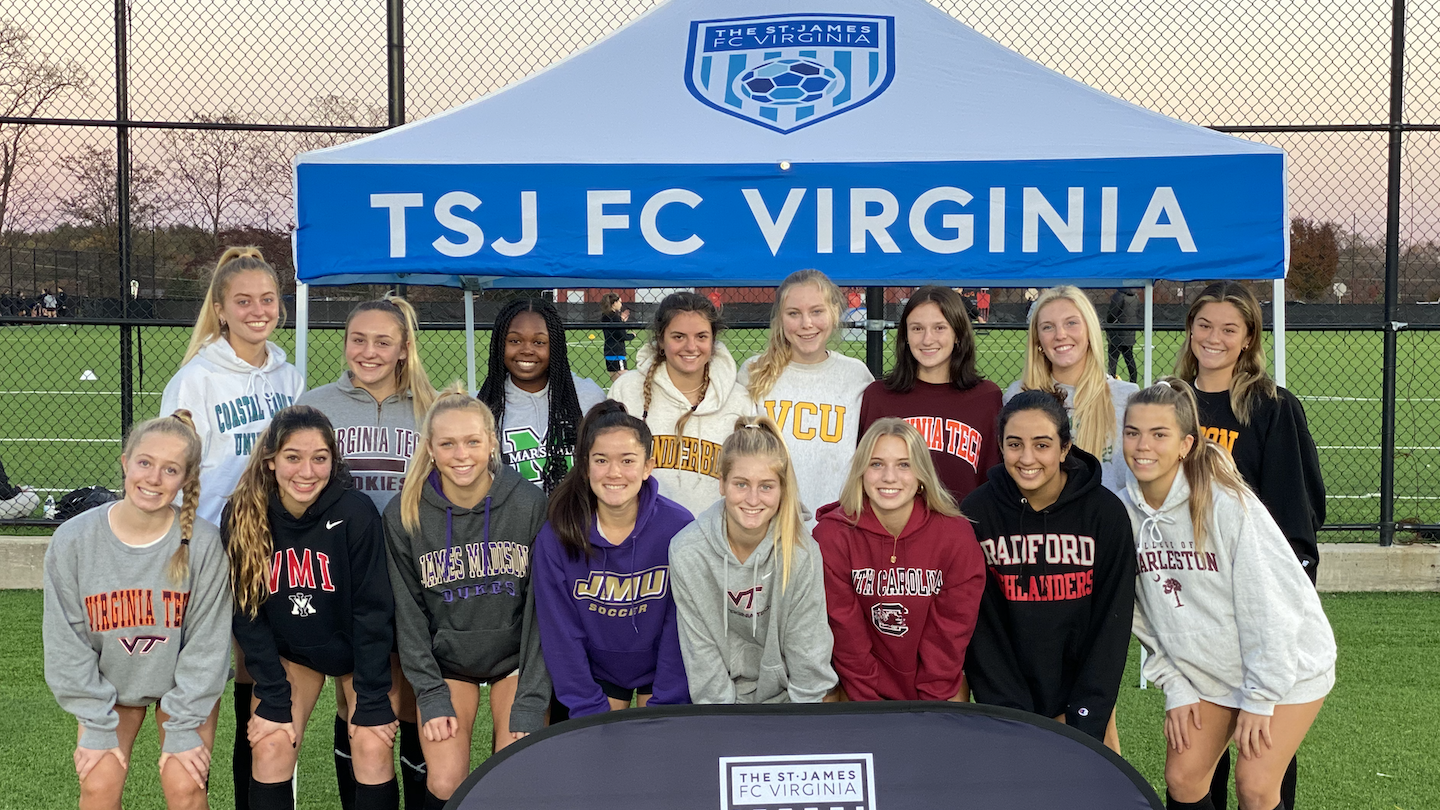 The St James FC Virginia has announced the student athletes of the class of 2022 that are signing to play college soccer.
These players have committed to top academic and athletic institutions from around the country. This list will grow as more players finalize their college decision from the club's class of 2022.
"We have enjoyed working with the class of 2022 as they have developed through the years," said TSJ FC Virginia Girls Academy Director Bobby Puppione. "This class is filled with not only quality soccer players, but tremendous young women that will make a positive impact in the world. We are looking forward to seeing them succeed as student athletes in the college game and beyond."
These players will now be joining the more than 200 players that have gone on to play college soccer from TSJ FC Virginia at more than 100 different schools.
Class of 2022 – The St James FC Virginia
Player Name – Team at Club – College
| | | | |
| --- | --- | --- | --- |
| Courtney | Andersen | TSJ FCV GA 03-04/U19 Girls | Virginia Tech University |
| Reese | Borden | TSJ FCV United South U19 Girls | Towson University |
| Reagan | Boyer | TSJ FCV United North U19 Girls | Roanoke College |
| Alyssa | Cacace | TSJ FCV United South U19 Girls | Virginia Military Institute  |
| Kat | Cassidy | TSJ FCV GA 03-04/U19 Girls | James Madison University |
| Kendall  | DiMillio | TSJ FCV GA 03-04/U19 Girls | Virginia Tech University |
| Dru | Drake | TSJ FCV GA 03-04/U19 Girls | University of South Carolina |
| Ellie | Fiening  | TSJ FCV GA 03-04/U19 Girls | Virginia Commonwealth University  |
| Abby  | Fisher | TSJ FCV GA 03-04/U19 Girls | College of Charleston |
| Alexa | Gianoplus | TSJ FCV GA 03-04/U19 Girls | Vanderbilt University |
| Eve | Kaufman | TSJ FCV Elite North U19 Girls | Mary Baldwin University |
| Katy | Layman | TSJ FCV GA 05/U17 Girls | Virginia Military Institute  |
| Sanam | Milani  | TSJ FCV GA 03-04/U19 Girls | Radford University  |
| Sydney | Miller | TSJ FCV United South U19 Girls | Ferrum College |
| Emily | Moffitt | TSJ FCV United North U19 Girls | Roanoke College |
| Madison | Moon | TSJ FCV GA 03-04/U19 Girls | College of William and Mary |
| Maysen | Nelson | TSJ FCV GA 03-04/U19 Girls | Virginia Tech University |
| Kathleen | Pine | TSJ FCV United North U19 Girls | University of West Georgia |
| Taylor | Price | TSJ FCV GA 03-04/U19 Girls | Virginia Tech University |
| Madison | Townes | TSJ FCV GA 03-04/U19 Girls | Marshall University |
| Cami | Wiles | TSJ FCV GA 03-04/U19 Girls | Coastal Carolina University |
| Jordan  | Yang  | TSJ FCV GA 03-04/U19 Girls | James Madison University  |