SMU men's soccer solidifies highly-ranked 15-player recruiting class for 2022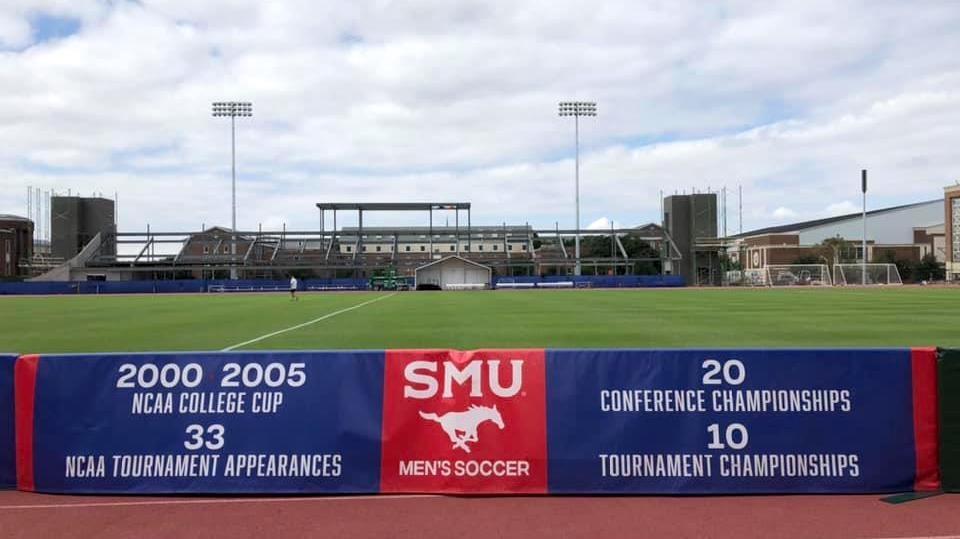 DALLAS – The SMU Mustangs have released their 15-player 2022 men's soccer recruiting class.
Head Coach Kevin Hudson shared, "I am thrilled to welcome this talented group of student-athletes to our roster. This is one of the largest recruiting classes in SMU soccer's recent history. These young men each embody qualities on and off the field that fit our program. We are confident that this group will blend nicely with our returners. The staff, led by our Associate Head Coach, Ben Stoddard, and Assistant Coach, Michael King, did a tremendous job recruiting these young men. We are excited to get going!"
The incoming class is ranked among the top 25 in the nation by TopDrawer Soccer. This marks SMU's fourth consecutive ranked recruiting class. Below is a brief introduction of each incoming player.
6″2″ Forward from San Ramon, California
Played club soccer at Ballistic United
Took a gap year with Eture in Valencia, Spain
Coach Hudson on Oscar: "Oscar brings athleticism and maturity to our front line. He spent the last year in Spain which has greatly assisted his development. He can score goals as a central striker but also create on the width as a winger."
6'2″ Midfielder from Albuquerque, New Mexico
Plays for Rio Rapids Soccer Club
ECNL Mountain Player of the Year
First-team All-State at LaCueva High School
Coach Hudson on Brendan: "Brendan is a versatile midfielder. He possesses a great combination of technique, athleticism and size. He is talented in combination and creates problems when driving forward with the ball from deeper positions. We believe Brendan will develop into a key member of our midfield."
5'11" Midfielder from Laguna Beach, California
Plays club soccer for West Coast FC ECNL and High School at Santa Margarita Catholic
Coach Hudson on Luke: "Luke is a competitive midfielder who was identified early in the recruiting process. Luke can cover ground to break up play, but also control tempo in possession. He also has a remarkable commitment to physical and technical development."
6'4″ Centerback from Cyprus
Plays club for Apollon Limassol
Capped with Cyrpus Youth National teams
Coach Hudson on Andreas: "Andreas brings a wealth of experience to our back line from Cyprus. He has trained with and competed against top European professionals for years. His competitive mentality, comfort building from the back, and physical presence will be great additions to our back line."
6'4″ Centerback from Albuquerque, New Mexico
Plays for Rio Rapids Soccer Club
First-team All-State at Volcano Vista High School
Coach Hudson on Alex: "Alex is a central defender with a very high ceiling. He is comfortable on the ball while also possessing excellent physical traits. Alex has the pace to run down attackers and size to win most aerial duels."
6'0″ Midfielder from Stamford, Connecticut
Graduate Transfer from Iona College
4-year starter
Coach Hudson on JP: "JP is a calm and composed midfielder with excellent passing range. He played a key role at Iona and helped lead his team to a championship. He is positionally intelligent and reads the game well. We are excited to see what JP can add to our team over the next 2 years."
6'4″ Forward from Sweden
Plays for Umeå FC
Coach Hudson on Elton: "Elton is an elite striker from Sweden. He can score in a variety of way and is consistently dangerous in the box. He has an excellent understanding of how to exploit space behind the opposition's defense. We believe his pace and athleticism will stretch defenses, creating more space for our team to play in the attacking half."
5'10" Defender from Bradenton, Florida
Graduate Transfer from Davidson College
A 4-year starter and team captain
Coach Hudson on Henry: "Henry brings experience, athleticism, and leadership to our team. He had 4 successful years developing at Davidson while playing several positions. His pace and 1v1 ability allow him to win most of his duels within the game. Henry's infectious and joyful personality brings confidence to his teammates."
6'4″ Goalkeeper from Mustang, Oklahoma
Plays for Tulsa Soccer Club
First-team All-State at Mustang High School
Coach Hudson on Chance: "Chance is a tall and athletic goalkeeper who will continue to develop at SMU. He has a great work ethic and desire to improve. He has an excellent physical profile for the position and strong technical foundation."
5'9″ Defender from Dallas, Texas
Plays for Solar Soccer Club competing in MLSNext
Formerly with Solar SC ECNL where he won Texas Conference Player of the Year
Coach Hudson on Grant: "Grant is a well-rounded defender who can play several positions. When recruiting Grant, we immediately noticed his competitive mentality and confidence. His blend of technique and toughness will serve him well at SMU."
6'7″ Goalkeeper from the Netherlands
Graduate Transfer from Carson Newman University (NCAA Division II)
2x All-Conference and Defensive Player of the Year in the South Atlantic Conference
Coach Hudson on Bram: "Bram is a proven college goalkeeper who has collected numerous accolades at the Division II level. He is commanding in the air, a strong shot stopper and comfortable building from the back. His maturity and experience will be an excellent addition to our roster."
5'11" Winger from Denmark
Plays club for Lyngby Boldklub and formerly with Brömdby IF
Coach Hudson on Alexander: "Alex is an elite winger who has developed at a top European youth academy. He is very aggressive and vertical in his attacking movements. His quickness and pace create challenges for opposing defenses."
6'1″ Central Midfielder originally from Madrid, Spain now living in Coppell, TX
Plays for Solar Soccer Club competing in MLSNext
Formerly with Coppell High School where he won United Soccer Coaches 2021 Texas High School Player of the Year
Coach Hudson on Alex: "Alex is a calm and technical central midfielder who recently moved to Dallas. His development in Spain is evident in how Alex controls the game with his passing and decision making. We are excited to see how Alex continues to develop at SMU."
5'10" Winger from Sweden
Plays for IFK Lidingö formerly with Djurgården IF
Coach Hudson on Fredrik: "Fredrik is a dynamic winger from Sweden. He is excellent dribbling 1v1, while also possessing the capacity to press and recover the ball defensively. His aggressive and direct mentality in the attacking third constantly creates chances for himself and his teammates."
6″4″ Centerback from Redondo Beach, California
Plays club for Pateadores Academy ECNL and High School at Redondo Union High School
Coach Hudson on Owen: "Owen is a tall and technically gifted central defender. He is strong in the air. His composure on the ball will help the team build from the back when under pressure. Owen's two most recent years with Pateadores have been very successful, so he understands what it takes to win."