Six FC Dallas ECNL Girls players selected to train with Bayern Munich Women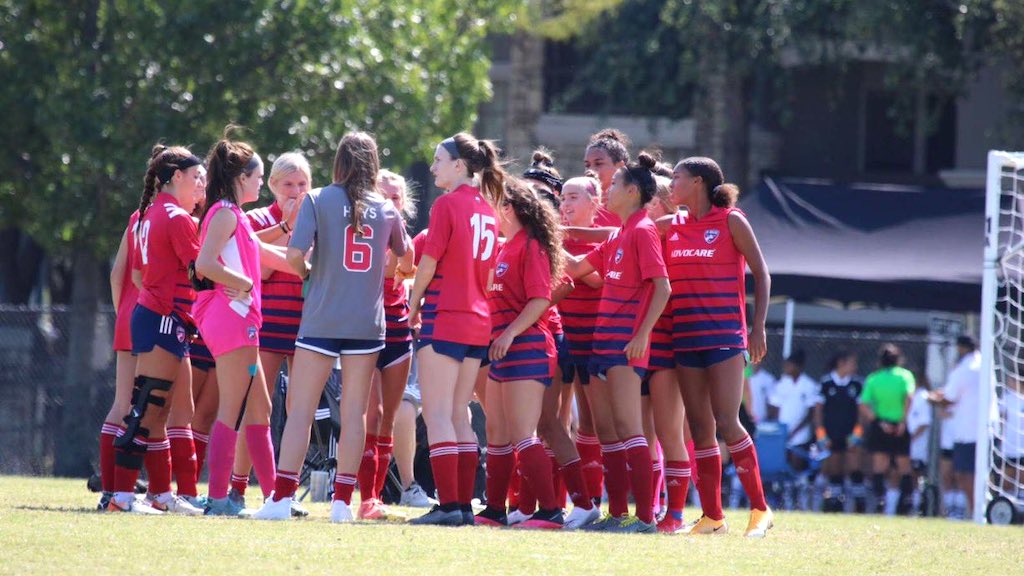 FRISCO, Texas – Imagine getting the opportunity of a lifetime to compete with one of the best women's soccer teams in the world. That's exactly what six FC Dallas ECNL Girls players will do this week when they train with FC Bayern Munich's Women's team, the defending Frauen-Bundesliga champions.
Bayern Munich is in Louisville, KY to compete in the The Women's Cup, an international tournament featuring FC Bayern, Paris Saint-Germaine, the Chicago Red Stars and Racing Louisville FC of the National Women's Soccer League (NWSL).
FC Bayern invited the six FCD U-17 players – Taylor Zdrojewski, Lexi Lee, Kaydence Ramirez, Hayden Colson, Eleanor Hays and Olivia Ramey – to watch the club's opening match against PSG on Wednesday, Aug. 18. They will train with the reigning champions the following day.
"I'm looking forward to learning from the players that we'll be able to watch and train with," said FCD U-17 forward Zdrojewski. "I think being able to watch them in person and train with them is going to be a huge experience for us because we haven't really gotten be able to do anything like that before. Learning from them and seeing what they do differently from us and how we can improve ourselves will be really great."
"From a pure soccer sense, the name Bayern Munich speaks for itself," FC Dallas Girls Academy Coach Aaron Gordon added. "For these kids, with the women's game growing like it has over the past 20 years, their future goes beyond just the opportunity of playing in college—which all these six women will be doing. This experience enlightens them and exposes them to one of the biggest clubs in the world. I think it's really exciting for the kids."
Gordon, who will accompany his players on the trip, sees the opportunity as another step in FC Dallas and Bayern Munich's player development partnership that enables the FCD Boys Academy to send players on an annual training visit in Germany.
"I think it's an extension (of the partnership) and I also truly think it's a beginning as well," he said. "When FC Dallas and Bayern first struck this partnership together, and with the success of the FCD Boys Academy, it was a win-win for both parties. It was always talked about that if this partnership continues to mature and is mutually beneficial to both sides, then that opportunity for work on the women's side would be next. And I think this is the beginning part of that."
"Girls' soccer has grown so much in the past decade, and it's been awesome to grow up watching that happen," said Zdrojewski, who this year set the Texas state scoring record with 114 goals for Celina High School. "I never thought soccer could be a career as a little girl but seeing all these girls do it is really cool. To see FC Dallas take that initiative and move it on to the girls' side and not just the boys is really awesome—and it's great that we can experience that firsthand."
For Gordon, it's also an opportunity to exchange best practices with one of the strongest women's programs in the world. On Thursday he'll meet with Bianca Rech, Sporting Director of FC Bayern Munich Frauen.
"It'll be an exchange of information," he explained. "Because I know that Bayern recognizes it and the rest of the world recognizes it, that the U.S. is at the top of the food chain when it comes to developing female soccer players. A lot of it is because we have a unique platform called collegiate athletics which translates to success in the international game. I think they're just as interested in how we do things and learning from us as much as we can learn from them.
"I think a really important aspect of all of this is that FC Dallas – who's widely regarded as the gold standard in terms of developing youth boys to go on to the next level – is just as committed to producing the best female players too. And relationships like this with Bayern are a true testament to their commitment to the women's game."