ECNL Girls 2021 Champions League: Final Club-By-Club Results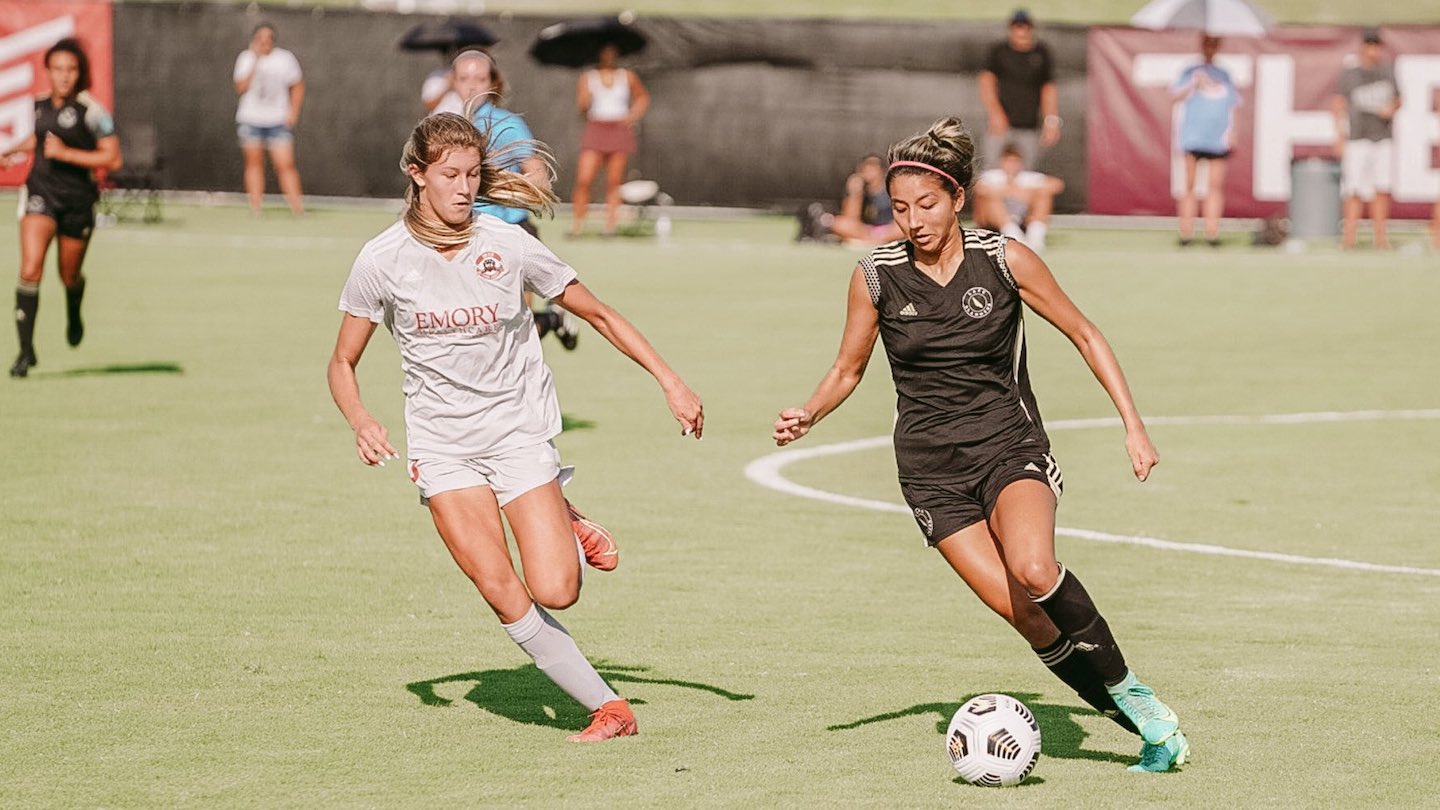 With the 2020-21 ECNL Girls season in the books, SoccerWire has compiled a club-by-club breakdown of how the ECNL Champions League postseason played out.
LAFC Slammers became the first club to win back-to-back Overall Club Championships after they won it all in both the U13 and U16 divisions. Slammers teams also placed 2nd in the U17 age group, while earning a 3rd place finish at the U14 level and reaching the U18/19 quarterfinals. The LAFC Slammers U15 squad also qualified for the Champions League, making them one of only five clubs in the country to reach the competition in all six age groups.
Solar SC placed 2nd in the Overall Club Championship rankings, as the Texas powerhouse captured the U14 national title and earned a 3rd place finish at the U17 level. All six Solar teams not only reached the Champions League playoffs, but also advanced to the quarterfinals (U17 and U19) or the semifinals (U13 and U16).
In addition to LAFC Slammers and Solar SC, three other clubs achieved the feat of qualifying for the ECNL Champions League across all six divisions: PDA Blue, Real Colorado and So Cal Blues.
Meanwhile, Eclipse Select SC won the U18/19 national championship and saw their U13 squad finish No. 2 in the country. KC Athletics came out on top at the U15 level thanks to a thrilling victory in the title match against San Diego Surf. Rounding out the group of national champions is California side MVLA SC, which took home the U17 trophy.
See below for a complete look at how each ECNL Girls club fared in the 2021 Champions League postseason.
| | | | | | | |
| --- | --- | --- | --- | --- | --- | --- |
| ECNL Champions League | U13 | U14 | U15 | U16 | U17 | U19 |
| Alabama FC | Qualified | | | | | |
| Bethesda SC | | Qualified | Qualified | | | |
| Carolina Elite Soccer Academy | | | Qualified | | | |
| Challenge SC | | | Quarterfinalist | | | |
| Charlotte SA | | Qualified | Qualified | Qualified | Qualified | Semifinalist |
| Colorado Rapids | | | Quarterfinalist | | | |
| Concorde Fire Platinum | Quarterfinalist | | Qualified | | Quarterfinalist | Qualified |
| Connecticut FC | | Qualified | Qualified | | | |
| Crossfire Premier | Quarterfinalist | Qualified | | Qualified | Qualified | Qualified |
| Crossfire United | | | Qualified | | Qualified | Qualified |
| Dallas Texans | | | | | | |
| Davis Legacy | | | Qualified | Qualified | | |
| DeAnza Force | | | | Qualified | | |
| DKSC | | | | Qualified | Qualified | Quarterfinalist |
| Eagles Soccer Club | | Qualified | | | | |
| East Meadow SC | | | | | Qualified | |
| Eastside FC | | | | | Qualified | |
| Eclipse Select SC | Finalist  | Qualified | | | | Champion  |
| FC Alliance | | | | Qualified | | |
| FC Dallas | | Qualified | Qualified | Qualified | Quarterfinalist | |
| FC Portland | | Qualified | | | | |
| FC Pride | | | | | Qualified | |
| FC Stars Blue | Qualified | | | Qualified | | Qualified |
| FC Stars White | | | | | Qualified | |
| Florida Elite Soccer Academy | | | | Qualified | | |
| GSA | | Qualified | Qualified | Qualified | | |
| Heat FC | | | | Qualified | | |
| Indiana Fire | | Quarterfinalist | | | | |
| Internationals SC | | Qualified | Quarterfinalist | | | Finalist  |
| Jacksonville FC | | Semifinalist | | | | |
| Kansas City Athletics | | | Champion  | Qualified | | |
| LAFC Slammers | Champion  | Third Place  | Qualified | Champion  | Finalist  | Quarterfinalist |
| Loudoun Soccer | | Qualified | | | | |
| Match Fit Academy | | Qualified | | Qualified | Qualified | |
| McLean Youth Soccer | | Qualified | | | Qualified | Qualified |
| Michigan Hawks | | Quarterfinalist | | Quarterfinalist | Qualified | |
| Minnesota Thunder Academy | | Qualified | Qualified | | Qualified | |
| Mustang SC | | | | | | Qualified |
| MVLA Soccer Club | | Quarterfinalist | Qualified | | Champion  | |
| NC Courage | Qualified | | | Qualified | Qualified | |
| Ohio Elite Soccer Academy | | | | | Quarterfinalist | |
| Ohio Premier | | | Qualified | | | |
| Orlando City Youth Soccer | | Qualified | | | | |
| PDA | | | | Quarterfinalist | | |
| PDA Blue | Qualified | Qualified | Qualified | Finalist  | Qualified | Semifinalist |
| Portland Thorns Academy | | | Qualified | Qualified | | |
| Real Colorado | Qualified | Qualified | Qualified | Qualified | Quarterfinalist | Qualified |
| Real Colorado Athletico | | | | Qualified | | |
| Real So Cal | | | Qualified | | Qualified | |
| Richmond United | | | | Third Place  | Qualified | |
| San Diego Surf Soccer Club | | Quarterfinalist | Finalist  | Qualified | Qualified | |
| San Juan SC | Third Place  | Qualified | | Qualified | Qualified | |
| SLSG | Qualified | Qualified | Qualified | Qualified | Qualified | Quarterfinalist |
| SLSG White | | | Qualified | | | |
| So Cal Blues SC | Qualified | Finalist  | Qualified | Qualified | Qualified | Qualified |
| Solar Soccer Club | Semifinalist | Champion  | Semifinalist | Quarterfinalist | Third Place  | Quarterfinalist |
| Sting Dallas Black | Quarterfinalist | Qualified | | | | |
| Sunrise Prime FC | | | Qualified | Qualified | Qualified | |
| SUSA FC | Qualified | Qualified | Qualified | | Qualified | |
| Tampa Bay United Rowdies | | Qualified | | Semifinalist | | |
| Tennessee Soccer Club | Quarterfinalist | Qualified | | Qualified | Qualified | |
| United Futbol Academy | | | | | Semifinalist | |
| Utah Avalanche | | Qualified | | | Qualified | |
| Virginia Development Academy | | | Qualified | | | |
| Washington Premier | | | Qualified | | | |
| WNY Flash | | | Quarterfinalist | Qualified | | |
| World Class FC | | | Semifinalist | Quarterfinalist | | |