Girls Academy 2021 Postseason: Final Club-By-Club Results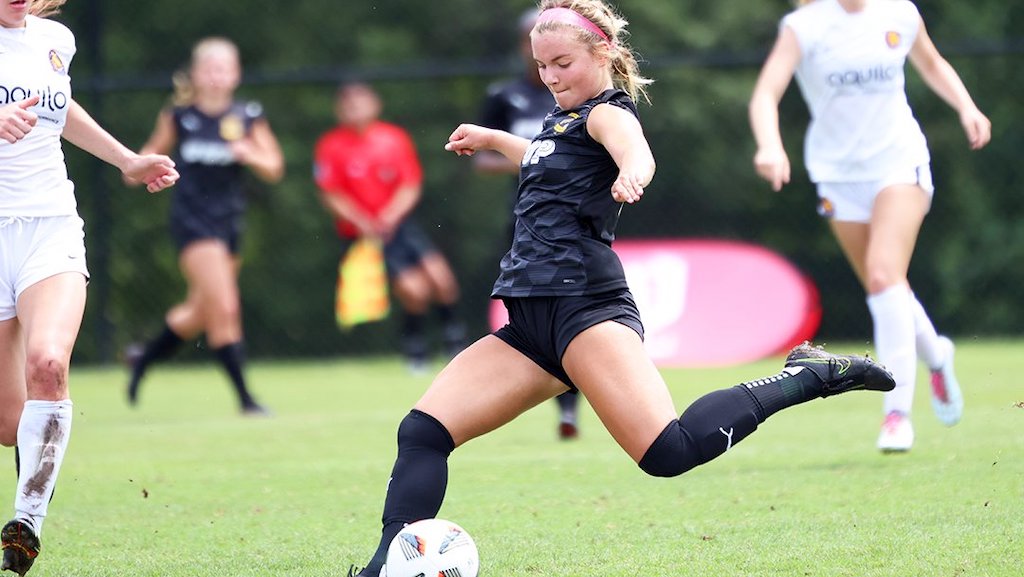 With the inaugural Girls Academy (GA) season in the books, SoccerWire has compiled a club-by-club breakdown of how the postseason played out.
Cincinnati United Premier (CUP) emerged as the national champion in both the U14 and U16 age groups, completing a remarkable 2020-21 campaign. CUP also advanced to the semifinals at the U17 level and reached the postseason in the U15 age group as well.
FC Bay Area came away as U19 champion while Michigan side Nationals took home the U17 trophy, Massachusetts' NEFC won the U15 title and Oklahoma Energy FC claimed the U13 championship.
National finalists included: NEFC (U13), Lou Fusz Athletic (U14), IMG Academy (U15), Utah Royals – Arizona (U16), TSJ FC Virginia (U17) and Tophat (U19).
[+READ: Players That Impressed: Girls Academy Finals 2021]
Three total clubs – NEFC, Tophat and Utah Royals AZ – qualified for the GA Playoffs across all six age groups. Despite not winning at all, Tophat ended the season with a second place finish (U19) a third place finish (U17), and saw its U13 side reach the semifinals, and its U15 squad advance to the quarterfinals.
An additional four clubs – Arlington Soccer, City SC, Houston Dash Academy and TSJ FC Virginia – reached the playoffs in five out of six age groups.
See below for a complete look at how each GA club fared in the 2021 postseason.
GA Postseason
U13
U14
U15
U16
U17
U19
Albion Las Vegas
Qualified
Qualified
Qualified
Albion San Diego
Qualified
Quarterfinalist
Qualified
Arlington Soccer
Qualified
Qualified
Qualified
Qualified
Qualified
Baltimore Armour
Qualified
Qualified
Baltimore Celtic Union
Qualified
Qualified
Beadling SC
Qualified
Qualified
Qualified
Cedar Stars Monmouth
Qualified
Qualified
Century United FC
Qualified
Chicago FC United
Qualified
Qualified
Cincinnati United CUP
Champion 🏆
Qualified
Champion 🏆
Semifinalist
City SC
Qualified
Qualified
Qualified
Qualified
Semifinalist
Clovis Crossfire
Qualified
Qualified
Colorado Rush
Qualified
Quarterfinalist
Qualified
Qualified
FC Bay Area
Qualified
Champion 🏆
Houston Dash
Qualified
Qualified
Qualified
Qualified
Qualified
IMG Academy
Finalist 
Qualified
Qualified
Qualified
Indy Premier United
Qualified
Semifinalist
ISC Gunners
Qualified
LA Surf SC
Qualified
Lamorinda SC
Qualified
Qualified
Qualified
Legends FC
Qualified
Qualified
Lonestar SC
Quarterfinalist
Quarterfinalist
Long Island SC
Qualified
Qualified
Lou Fusz Athletic
Semifinalist
Finalist 
Michigan Jaguars
Quarterfinalist
Qualified
Midwest United FC
Qualified
Qualified
Nationals
Qualified
Quarterfinalist
Qualified
Champion 🏆
NEFC
Finalist 
Qualified
Champion 🏆
Qualified
Qualified
Qualified
New York Soccer Club
Qualified
Oakwood SC
Qualified
Semifinalist
Qualified
Oklahoma Energy FC
Champion 🏆
Semifinalist
Semifinalist
Qualified
OL Reign
Quarterfinalist
PA Classics
Qualified
Qualified
Qualified
Rise SC
Qualified
SC Del Sol
Qualified
Quarterfinalist
Qualified
Qualified
SC Wave
Qualified
Quarterfinalist
Seacoast United
Qualified
SJEB Rush
Qualified
Qualified
Sockers FC Chicago
Qualified
South Shore Select
Qualified
Qualified
Qualified
Quarterfinalist
Spokane Sounders SC
Qualified
Qualified
Sporting Blue Valley
Qualified
Qualified
Sporting Delaware
Qualified
STA
Qualified
Qualified
Qualified
Qualified
SVSA/PASC
Qualified
Tophat Soccer
Semifinalist
Qualified
Qualified
Quarterfinalist
Third Place 🥉
Finalist 
TSJ FC Virginia
Qualified
Qualified
Quarterfinalist
Qualified
Finalist 
Utah Royals AZ
Qualified
Qualified
Qualified
Finalist 
Qualified
Qualified
West Coast FC
Third Place 🥉
Qualified
Qualified
West Coast Soccer
Qualified
Weston FC
Semifinalist
Third Place 🥉
Qualified