Girls Academy Finals conclude in North Carolina, league champions crowned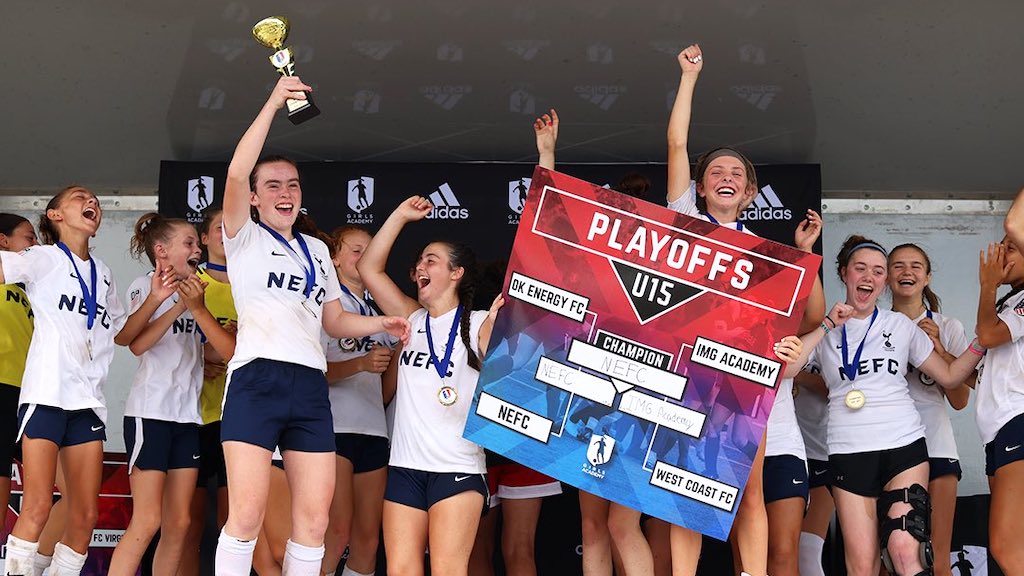 The inaugural Girls Academy (GA) season came to an end on Sunday in North Carolina as the 2020-21 league champions were crowned across the U15-U17 age groups.
The GA Finals were held July 16-18 at Bryan Park in Greensboro, N.C. starting with the semifinal round on Friday, a rest day on Saturday and the title matches on Sunday. Following a weekend of intense competition, NEFC (U15), Cincinnati United Premier (U16) and Nationals (U17) were crowned as national champions.
Cincinnati United Premier (CUP) emerged as the only club to capture more than one GA national title, as they also won it all at the U14 level earlier this month. Oklahoma Energy FC (U13) and FC Bay Area (U19) previously captured league titles as well, at the GA National Playoffs in Oceanside, Calif.
Sunday marked the final day of competition for the GA's 2020-2021 campaign, and the U15-U17 title matches did not disappoint.
NEFC defeated IMG Academy 2-1 in the U15 Final, marking their third consecutive victory by a one-goal margin. The Massachusetts side dominated on defense throughout the knockout stage, earning 1-0 shutout victories in both the quarterfinals against Nationals in Oceanside, and in Friday's semifinal against Oklahoma Energy FC.
👑 C R O W N E D👑 @NEFC_US | #GAFinals21 pic.twitter.com/lUVJP6FmVs

— The Girls Academy (@GAcademyLeague) July 18, 2021
At the U16 level, CUP secured a 2-1 win over Utah Royals AZ in the title match on Sunday, in another contest that came down to the wire. CUP reached the title match after an offensive explosion in the semifinals on Friday, as they defeated Oakwood SC 5-3.
🏆 CHAMPS 🏆@CUPGirlsGA take the U16 Final in a tight 2-1 game! pic.twitter.com/xKNfIPcgi7

— The Girls Academy (@GAcademyLeague) July 18, 2021
Michigan club Nationals finished their remarkable run to the U17 championship with a thrilling win over The St. James FC Virginia in a final which was decided on penalty kicks. Battling through inclement weather and a mid-game lightning delay, Nationals edged TSJ FC Virginia 5-4 in the PK shootout after a scoreless draw.
Nationals did not concede a single goal during the entire GA postseason, finishing with six consecutive shutouts. They swept their three group opponents by a combined 5-0 scoring margin. In the knockout stage, Nationals beat Michigan Jaguars 1-0 in the quarterfinals. They defeated CUP 3-0 in the semifinals on Friday, and held off a talented TSJ FCV attack in Sunday's title match.
🌟 ALL OF THE LIGHTS 🌟 @NationalsGA take the U17 crown after a thrilling 5-4 win in penalties! pic.twitter.com/3nlO3TjsXc

— The Girls Academy (@GAcademyLeague) July 19, 2021
Champions and Finalists
U13
U14
U15
U16
U17
U19