Seven players from Pitt's 2022 College Cup squad sign pro contracts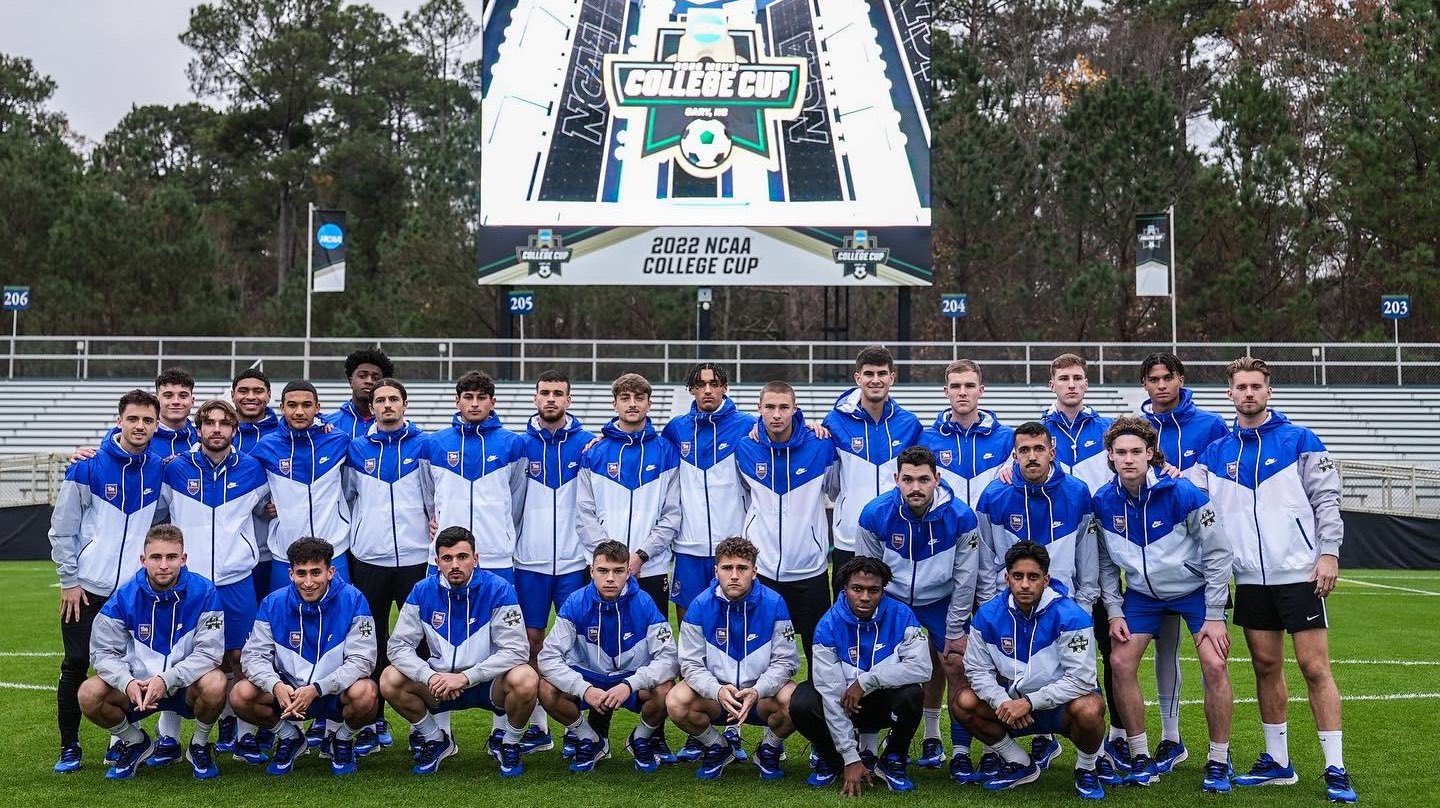 PITTSBURGH – Not only has Pitt men's soccer head coach Jay Vidovich turned the Panthers into a perennial national contender since taking over the program in 2015, he has also helped produce a plethora of professional players over his tenure in Pittsburgh.
Following one of the most successful seasons in program history last season, Pitt produced a program record seven players who signed professional contracts for MLS, USL or MLS NEXT Pro teams for the upcoming season.
The players from last year's squad who have signed professional contracts for the upcoming season are Bertin Jacquesson (Real Salt Lake, MLS), Yanis Leerman (Loudoun United FC, USL Championship), Valentin Noel (Austin FC II, MLS NEXT Pro), Jackson Walti (Austin FC II, MLS NEXT Pro), Lucas Rosa (Sporting KC II, MLS NEXT Pro), Mohammad Abualnadi (Sporting KC II, MLS NEXT Pro) and Henrique Gallina (Chicago FC II, MLS NEXT Pro).
The 2022 campaign was another special one for the Panthers as they earned their second trip to the College Cup in the past three seasons before falling to Indiana in the national semifinal for the second time. After posting a 12-5-5 overall record, Pitt closed out the season ranked No. 4 in the final TopDrawerSoccer rankings as they earned a top-10 final ranking for the third straight season.
As a team, the Panthers offense posted the second most assists (48), third most points (132), fourth most shutouts (8) and sixth most goals (42) in a single season in program history. The 12 wins also marked the fifth most in a single season in program history while Pitt earned the right to host an Elite Eight match at home for the first time ever. The Panthers have also posted at least 10 wins in four straight seasons for the first time in program history.
The Panthers had a program record three players selected in the 2023 MLS SuperDraft as Jacquesson was taken with the 16th pick by Real Salt Lake, Noel was taken with the 20th pick by Austin FC and Walti was taken with the 56th pick by Austin FC. It marked the first time Pitt had two players selected in the first round of the MLS Draft while Jacquesson became the highest drafted player in program history.
Jacquesson closed out his prolific career with 19 goals, 23 assists and 61 points in 57 matches. His 23 assists are the second most in program history while his 61 points ranked seventh all-time. He became the first Panther in program history to sign a Generation Adidas contract after earning Second Team All-ACC honors.
Leerman joined the Panthers for the 2022 campaign after a successful career at Central Florida. After being selected with the 85th pick in the 2022 MLS SuperDraft, Leerman decided to return to college and transferred to Pitt. He appeared in 12 games while earning 11 starts on the back line for the Panthers. The sturdy defender helped preserve four clean sheets in his 12 matches while also playing every minute of his final six games of the season for Pitt.
One of the best to wear the Pitt jersey, Noel capped his illustrious career ranking second in program history in goals (35) and points (83). A two-time All-American and 2020-21 MAC Hermann Trophy finalist (first in program history), Noel led the Panthers in scoring as a senior as he netted 11 goals, three assists and 25 points across 21 starts.
A four-year team captain, Walti concluded his stellar Pitt career appearing in a program record 101 games while earning 98 starts and logging the second most minutes in NCAA history (9,069 career minutes). The three-time Second Team All-ACC member finished out his fifth season starting all 22 matches while posting two goals and helping the Panthers secured eight clean sheets from his holding midfield position.
Abualnadi appeared in 24 matches while earning 21 starts in his two seasons as a Panther after transferring from Notre Dame. The tenacious defender earned seven starts this past season while contributing a goal and an assist while helping Pitt secure four clean sheets in his nine matches.
Rosa played a key role in Pitt's success last season as he started all 22 matches at right back and ranking second on the team with 1,996 minutes played. He concluded his lone season playing for the Panthers with two goals, six assists and 10 points while notching 25 shots. He collected an assist on the game-winning goal in Pitt's national quarterfinal home victory over Portland to send the Panthers to the College Cup.
Gallina concluded his first season as a Panther as one of the key members on the backline for Pitt. The fifth-year player appeared in 19 matches while earning 14 starts and played a total of 1,293 minutes as the Panthers advanced to their second College Cup in three seasons. He capped his season with two assists while also helping the Panthers secure eight clean sheets and posting a program-record 1.05 goals-against average.
Signed contracts for 2023 season:
Bertin Jacquesson – Real Salt Lake (MLS)
Yanis Leerman – Loudoun United FC (USL Championship)
Valentin Noel – Austin FC II (MLS NEXT Pro)
Jackson Walti – Austin FC II (MLS NEXT Pro)
Mohammad Abualnadi – Sporting KC II (MLS NEXT Pro)
Lucas Rosa – Sporting KC II (MLS NEXT Pro)
Henrique Gallina – Chicago FC III (MLS NEXT Pro)