U.S. U-20 Men's Youth National Team roster announced for Spain trip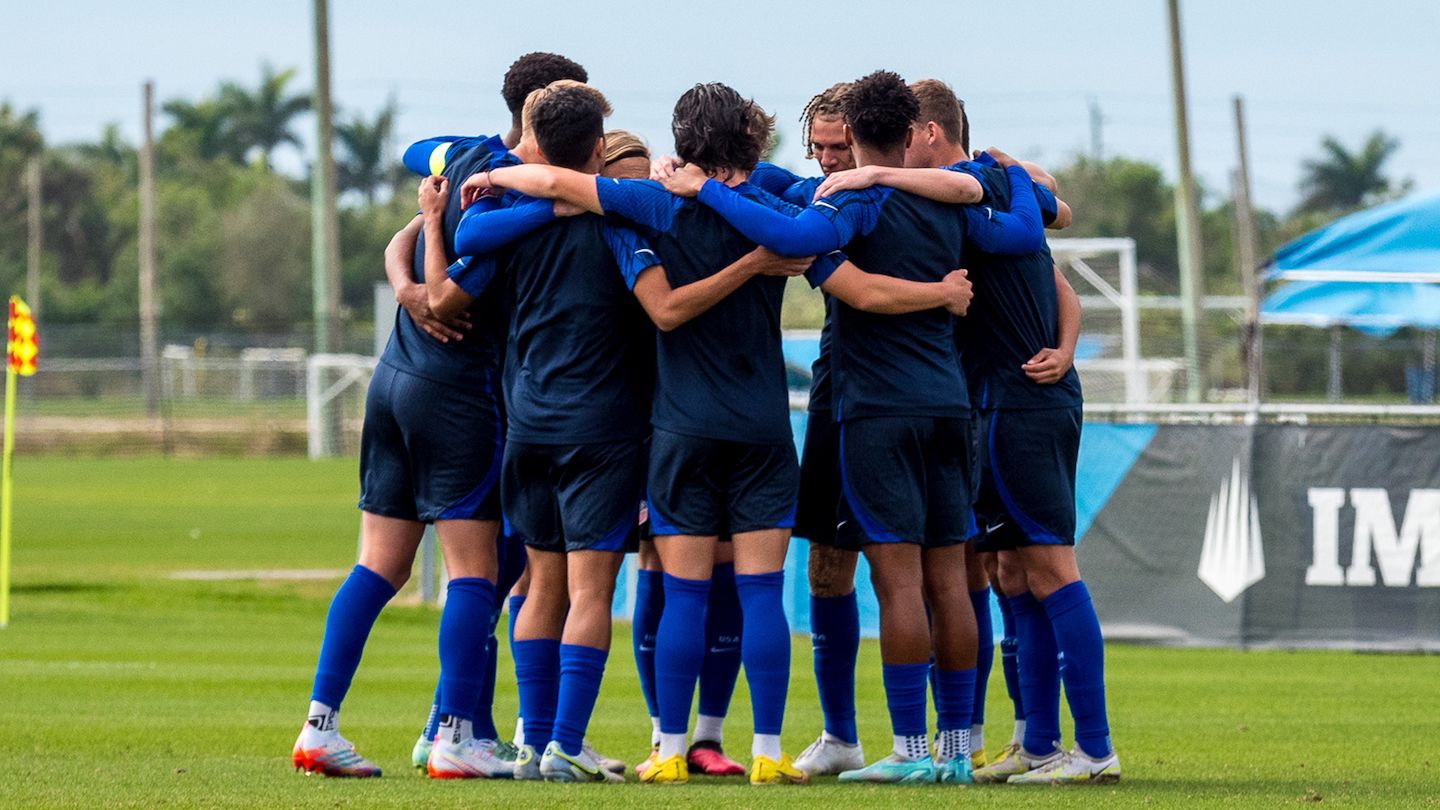 CHICAGO – The U.S. U-20 Men's Youth National Team will face off against France, England and Serbia U-21 in its final training camp before this summer's FIFA U-20 World Cup in Indonesia. Head coach Mikey Varas has called 19 players to Marbella, Spain from March 19-29 as the team makes its final preparations for the tournament.
Players born on or after Jan. 1, 2003 are age-eligible for the 2023 FIFA U-20 World Cup. This training camp features nine players born in 2003, eight born in 2004 and two born in 2005.
U-20 MYNT ROSTER BY POSITION (CLUB; HOMETOWN) – MARCH TRAINING CAMP
GOALKEEPERS (2): Antonio Carrera (FC Dallas; Frisco, Texas), Gaga Slonina (Chelsea/ENG; Addison, Illinois)
DEFENDERS (7): Brandan Craig (Philadelphia Union; Philadelphia, Pa.), Mauricio Cuevas (Club Brugge/BEL; Los Angeles, Calif.), Marcus Ferkranus (Los Angeles Galaxy; Santa Clarita, Calif.), Jonathan Gomez (Real Sociedad/ESP; Keller, Texas), Michael Halliday (Orlando City SC; Apopka, Fla.), Thomas Williams (Orlando City SC; Titusville, Fla.), Joshua Wynder (Louisville City FC; Louisville, Ken.)
MIDFIELDERS (5): Alejandro Alvarado Jr. (Vizela/POR; Los Angeles, Calif.), Jack McGlynn (Philadelphia Union; Middle Village, N.Y.), Rokas Pukstas (Hajduk Split/CRO; Stillwater, Oklahoma), Obed Vargas (Seattle Sounders FC; Anchorage, Alaska), Owen Wolff (Austin FC; Austin, Texas)
FORWARDS (5): Paxten Aaronson (Eintracht Frankfurt/GER; Medford, N.J.), Diego Luna (Real Salt Lake; Sunnyvale, Calif.), Kevin Paredes (Wolfsburg/GER; South Riding, Va.), Quinn Sullivan (Philadelphia Union; Philadelphia, Pa.), Darren Yapi (Colorado Rapids; Denver, Colo.)
USA SCHEDULE – MARCH TRAINING CAMP
Wednesday, March 22 – U-20 MYNT vs. France U-20 – 11 a.m. ET
Saturday, March 24 – U-20 MYNT vs. England U-20 – 11 a.m. ET
Tuesday, March 28 – U-20 MYNT vs. Serbia U-21 – 9 a.m. ET
England and France are also qualified to the FIFA U-20 World Cup. England won the UEFA U-19 Championship last summer, while France reached the semifinals.
Eleven players return from the USA's trophy run at last summer's Concacaf U-20 Championship, where the USA won its third straight confederation title and qualified for both the U-20 World Cup and the 2024 Olympics in Paris. Forward Paxten Aaronson won the Golden Ball as the tournament's best player and the Golden Boot as he led the competition with seven goals. Forward Quinn Sullivan was named to the tournament's Best XI after netting six goals.
Twelve players were a part of the USA's last training camp, held in Bradenton, Fla. in January, while forward Darren Yapi is the lone player making his first U-20 appearance since the cycle kicked off in November 2021.
Goalkeeper Gaga Slonina, defender Jonathan Gomez and forward Paxten Aaronson were all  part of the senior USMNT's January training camp in Southern California. Slonina and Aaronson picked up their first caps against Serbia and Colombia, respectively, while Gomez made his second full international appearance vs. Serbia. Slonina rejoins the U-20 MYNT for the first time since November 2021, the first training camp of the cycle.
Sixteen clubs are represented on the roster, including eight from Major League Soccer. Three players come from the Philadelphia Union, while players are also based abroad in Germany (two), Belgium, Croatia, England, Portugal and Spain (one each). The players hail from 12 states, led by four from California. Midfielder Obed Vargas represents a rare National Team call-up from Alaska.
Following the training camp, head coach Mikey Varas will head to Denpasar, Bali, Indonesia for the FIFA U-20 World Cup draw. Following the conclusion of the AFC U-20 Asian Cup quarterfinals last weekend, the full 24-team field is now set: host Indonesia, Gambia, Nigeria, Senegal and Tunisia from Africa, Iraq, Japan, Korea Republic and Uzbekistan from Asia, England, France, Israel and Italy from Europe, Dominican Republic, Guatemala, Honduras and the USA from North America, Fiji and New Zealand from Oceania plus Brazil, Colombia, Ecuador and Uruguay from South America.