Saint Louis University men's soccer team announces 10-player signing class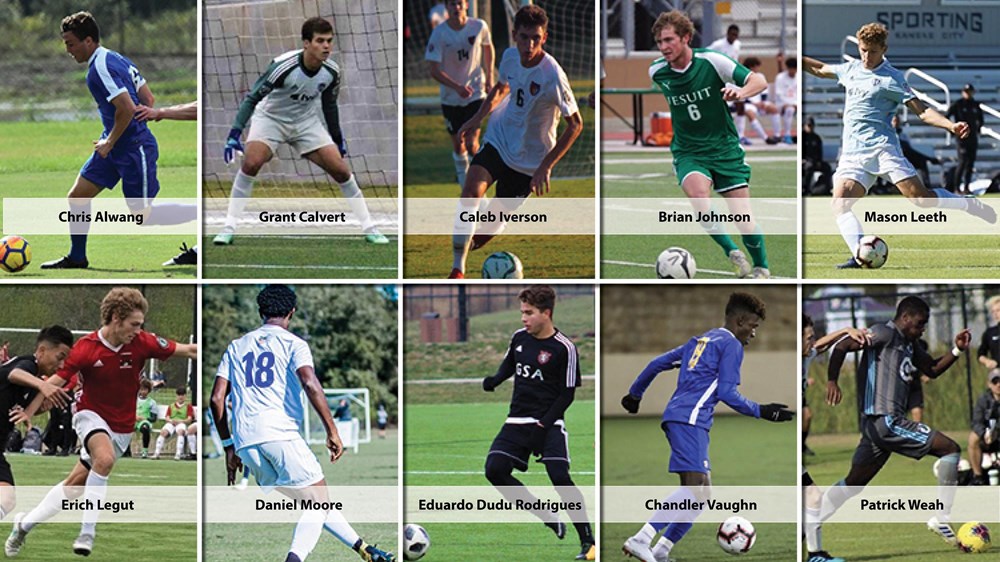 ST. LOUIS – Saint Louis University head men's soccer coach Kevin Kalish today announced the addition of 10 new Billikens for the 2020 campaign. Included in the group of new players are two college transfers and eight freshmen.
"We are thrilled about adding another one of the nation's top recruiting classes to Saint Louis as we welcome 10 players to the Billiken family," Kalish said. "I personally would like to thank assistant coaches, Kris Bertsch and Kevin Stoll, who both played a prominent role in the recruiting process, working tirelessly to identify these student-athletes and bring them to Saint Louis University.
"Each one of these young men have tremendous character, a winning mentality, and value what it means to be a quality teammate," Kalish said. "We are excited to add them to an established core group of players as we continue to continue to push our program forward.  We look forward to helping each one of them grow and reach their full potential on and off the field. We know this class will represent the city of St. Louis and Saint Louis University with pride and will put in the work needed to have outstanding careers as Billikens."
Chris Alwang • MF • Weston, Conn. • UConn
• Member of Oakwood Soccer Club for two seasons
• 15 goals and 13 assists in 33 Developmental Academy Games
• Developmental Academy playoff team with Oakwood Soccer Club
• 23rd-ranked player in Northeast by New England Soccer Journal
• Ran the 100 and 200 meters for State Championship track team
Kalish on Alwang:
"Chris has an incredible upside with his pace, athleticism and 1v1 attacking ability. We expect Chris to compete for minutes straight away as he comes from having played for Kevin Bacher at Oakwood Soccer Club and already has one year of college soccer experience under his belt. We believe he can be an immediate asset for our program as a wide player that can create chances and put up points. On top of his soccer abilities, Chris is a young man with tremendous character and will be a great addition to our locker room."
Alwang on why he chose Saint Louis:
"I chose Saint Louis University because I felt like the school and program offered the best environment to help me develop as a player and reach the next level. I was a big fan of the championship ambition and culture that the coaches carry with them and implement into the every day. The family environment within the team was also something I really admired. Other players I knew at SLU had a ton of great things to say not only about the program but the school as well."
Other Schools considered:
Providence
---
Grant Calvert • GK • Stilwell, Kan. • Blue Valley HS/KC Fusion Academy
• Member of Sporting Kansas City Academy for 3 seasons
• 2018 Generation Adidas Cup
• 2018 USSDA Playoffs
• 2019 Kansas State Cup Champion with KC Fusion
• Captain of Blue Valley High School
• Set single season school record for saves (163)
• Led Eastern Kansas League in saves, which was second in state
• KAMO first-team All-Tournament
Kalish on Calvert
"When we first saw Grant at our identification camp, we were very impressed by his ability, competitiveness and drive. He looks to improve every day in training and has the mentality to compete consistently. Grant learned a lot from his excellent coaching staffs at both Sporting KC and KC Fusion Academy where he has developed throughout his career. We are thankful to be able to bring in someone like Grant and his family into the program."
Calvert on why he chose Saint Louis
"I chose Saint Louis University because I believe the program has the ability to once again become one of the top teams in the country. The goalkeeper training will be top notch and will prepare me to reach my future goals. While I was on my visit, the strong team chemistry was apparent and the coaching staff has a clear vision for the future of the program. All of these soccer opportunities, in combination with the academic environment, will help me develop exponentially as a student-athlete."
Other Schools considered: SMU, Creighton, Dayton
---
Caleb Iverson • MF • Waco, Texas • China Spring High School / Dallas Texans Soccer Club
• 2020 SuperCentex Player of the Year
• First-team SuperCentex 2019 & 2020
• District Midfield MVP 2017, 2018, & 2019
• District MVP 2020
• Team Captain 2018, 2019, 2020
• 42 goals and 23 assists as a senior
Kalish on Iverson:
"Caleb possesses a number of qualities that we look for in a midfielder. His work-rate, mentality and ability to cover ground will be vital to our SLU teams. We were fortunate that Caleb was able to attend one of our identification camps because we saw first-hand what he brings to the table both on and off the field. We believe Caleb has his best days still ahead of him and we look forward to helping him reach his goals as a Billiken and beyond."
Iverson on why he chose Saint Louis:  
"I chose Saint Louis University for three reasons. One, attending means I will receive a world-class education that will set me up to be successful regardless of where soccer takes me. Two, Saint Louis is a perennial soccer powerhouse that has a tradition for winning and training elite players. And last but not least, I chose Saint Louis because of the connection I made with the coaches and their commitment to bettering players both on and off the field."
Other Schools considered:
Marquette, Northwestern
---
Brian Johnson • MF • Houston, Texas • Strake Jesuit College Preparatory / Houston Dynamo Academy
• 3 star recruit on Top Drawer Soccer
• Member of Houston Dynamo Academy for five seasons
• Captain of Houston Dynamo Academy U14-U17
• ODP Region 3 team pool 3 consecutive seasons
• Captain of Strake Jesuit College Preparatory
• Led Strake Jesuit in points with 5 goals and 12 assists
• Honor Roll while at Strake Jesuit
• His father, John, played at SLU from 1988-89 and was a two-time All-American
Kalish on Johnson:
"Brian is a student of the game and comes from a tremendous soccer family and background developing in the Houston Dynamo Academy. He has an incredible growth mindset towards improving and is willing to do the dirty work to help his team succeed. Brian has the ability to connect the game from back to front or side to side while making it look effortless. He's a selfless team player with a commitment to improving technically and tactically every chance he gets. We are thrilled with the opportunity to work with Brian every day and to continue the Billiken Soccer tradition within the Johnson family."
Johnson on why he chose Saint Louis:   
"I chose Saint Louis because I want to build upon the Billiken Soccer Legacy that former players have created for us in the past. When I first got on campus I felt a feeling of family and brotherhood between the team and coaching staff. I felt Saint Louis had the perfect environment for me to prosper both on the field and in the classroom. I had a strong belief in the coaching staff and teammates throughout the whole recruiting process and I think they will help me to be the best version of myself possible. I am also looking forward to being able to spend time with my family from St. Louis and for them to watch me play for one of the best programs in college soccer history."
Others schools considered:
SMU, UCLA, Kentucky, Xavier
---
Mason Leeth • MF/D • Kansas City, Mo. • Liberty North / Sporting Kansas City
• Member of Sporting Kansas City for three seasons
• 2018 & 2019 USSDA Playoffs
• Generation Adidas Cup
• Fastest overall player in Sporting KC (including First Team and Swope Park players)
• Trains and competes with Swope Park Rangers in USL
• ODP regional team 2016
• ODP regional team 2017
Kalish on Leeth:
"Mason was a player our staff fell in love with the first time we watched him playing for Sporting KC under Rumba Munthali and Jon Parry. He's an athletic, powerful, versatile player capable of playing many positions. He's driven, determined, and willing to take on any challenge for the team. Simply put, Mason is a winner and we're thrilled to be adding a player and person like Mason to the program."
Leeth on why he chose Saint Louis:  
"I love the culture and overall feel of SLU. The team environment is more of a family than a college program. The coaching staff has a winning mentality and wants to invest in me as a player and as a person. I really like the programs style of play and believe that will help transition me from club to the college level more smoothly. SLU was easily the best fit for me."
---
Erich Legut • F/MF • Waukesha, WI • Waukesha West High School / FC Wisconsin Nationals
• 2019 Wisconsin High School State Player of The Year
• 2019 High School All-American
• Winner of ENPL National Championship
• Two-time ECNL All Conference
• 2016 National Futsal Champions
Kalish on Legut:  
"We were able to see Erich at our Elite Camp, which helped solidify our decision to bring him into our program. Erich plays for FC Wisconsin and coach Ben Shepard, where he is a key part of his team's overall success. Erich is extremely versatile – he can create in between the lines and play in combination,  but is also athletic enough to run in behind.  Erich is an exciting talent that will score many goals throughout his career."  
Legut on why he chose Saint Louis:  
"I chose SLU because as soon as I got on campus it immediately felt like home. The coaching staff and players really want to see their players succeed in all aspects of life and I knew after meeting them this would be the best fit for me to continue my academic and soccer career. Lastly, the package of great academics, the campus environment, and soccer at SLU gives me the best opportunity to better myself as a person and in the end, allow me to achieve all of my dreams."
Other Schools considered:
Loyola Chicago
---
Daniel Moore • D • Huntersville, N.C. • North Mecklenburg High School / Charlotte Independence
• U16/17 Carolina Rapids Developmental Academy
• Competed in the 2019 USDA Playoffs
• Started 42 of 48 games with the Carolina Rapids
• U18/19 Charlotte Independence Developmental Academy
• Team finished first in Southeast Division and was the No. 3 seed in the Developmental Academy in 2019-20
Kalish on Moore:
"Daniel has so much potential and we are anxiously looking forward to working with him on a daily basis. He has a lot of tools we value in defenders – he is extremely athletic and comfortable defending the halfway line and open spaces.  He also has shown that he can start attacks and get forward as a left-sided player out of the back as well.  He is a very good fit for our style of play and has a bright future at Saint Louis."
Moore on why he chose Saint Louis:
"I chose to attend Saint Louis because of the tradition, the team culture, and incredible academics. SLU has a fantastic business program and I hope to eventually work towards earning an MBA. It's also very exciting that MLS is expanding to the city of St. Louis in 2022 because I aspire to try and play professionally after college.  I believe that SLU is the best fit to help me reach my academic and athletic goals."
Other Schools considered:
Appalachian State, Coastal Carolina, Florida International, UNCC, UNCG, UNCA
---
Eduardo Dudu Rodrigues • MF • Fortaleza, Brazil • Gateway Legacy Christian Academy
• 2018-2019 NSCAA High School All-American
• 2019-2020 NSCAA High School All-American
Kalish on Rodrigues:
"We believe Dudu is one of the top attacking players in the nation. Although he may not be a well-known name around the country, anyone who has seen him play knows how talented he is. Under the tutelage of coach Marcos Silva at Gateway, he has really blossomed and developed all aspects of his game. When Dudu steps on the field, he's not afraid to fail which says a lot about his mentality. He wants to consistently create for himself and his teammates and is capable of beating his opponents in many ways. We think Dudu will have a tremendous career at Saint Louis and we look forward to him being a Billiken."
Rodrigues on why he chose Saint Louis:
"The main reasons I chose SLU is the quality academics and because I believe that the soccer staff and teammates can push me to be better and improve each day. They can provide me with very good opportunities to reach my goal of becoming a professional soccer player. Beyond the SLU staff, I have people around me in St. Louis that can also help me when needed. Lastly, I'll have teammates around me that have same goals as me and people that care about each other. SLU is the perfect environment for me and the one that I was looking for in the recruiting process."
Other Schools considered:
Akron, Marquette, SIUE, George Mason
---
Chandler Vaughn • D • Woodbridge, Va. • University of Pittsburgh
• 2018 ACC All-Rookie Team
• 2018 ACC All-Academic Team
• College Soccer News – #10 Recruit in the Nation
• U17 US National Team Member
• United Soccer Coaches High School All-American (Junior and Senior Year)
• Member of DC United Academy for 3 seasons
Kalish on Vaughn:
"Chandler is a player we've known for a while. We first saw him excel as a youth player with DC United and the US National Team before competing for two seasons at a top Division I program. Chandler has played for a number of well-respected coaches who have helped shape his game on and off the field. He comes from a wonderful, supportive family who have raised an intelligent, well-rounded young man. We are looking forward to transitioning Chandler into our program and believe he has a lot of tools to help make him successful at SLU."
Vaughn on why he chose Saint Louis: 
"I chose Saint Louis because of the standards that the coaching staff have been able to set for the players. Those standards align perfectly with mine and will help me reach my potential both on and off the field. I can't wait to get started!"
Other Schools considered:
Portland, Delaware, Marist
---
Patrick Weah • F • Minneapolis, Minn. • Wayzata High School / Minnesota United
• 2016 All-State and All-State Tournament Team
• 2016 All-Conference
• 2016 State runner-up
• 2017 Minnesota State Player of the Year
• 2017 State Champions
• 2017 United Soccer Coaches All-American
• Led Wayzata High School in goals and assists as a freshman and sophomore
• Minnesota United leading goal scorer
• Has trained with Minnesota United first team
Kalish on Weah:
"Patrick is one of the most powerful, dominating forwards in the nation previously playing for Minnesota United coached by Tim Carter. Patrick is hungry to score and create goals and is a constant threat whenever he is on the field.  What impressed us most about Patrick is that he has a growth mindset and is willing to put in the work each day to improve and reach his full potential. We think Patrick has the mentality and all the tools to be a top forward in college soccer."
Weah on why he chose Saint Louis: 
"I chose to attend SLU to be a part of a great program that is going to challenge and help me improve to get me to the next level. I really like the style of play and believe it's a good fit for me. Lastly, I very much want to help the program compete for an 11th NCAA Championship, and I can't wait to get started."
Other Schools considered:
Virginia, Portland