Sacramento State women's soccer unveils 6-player signing class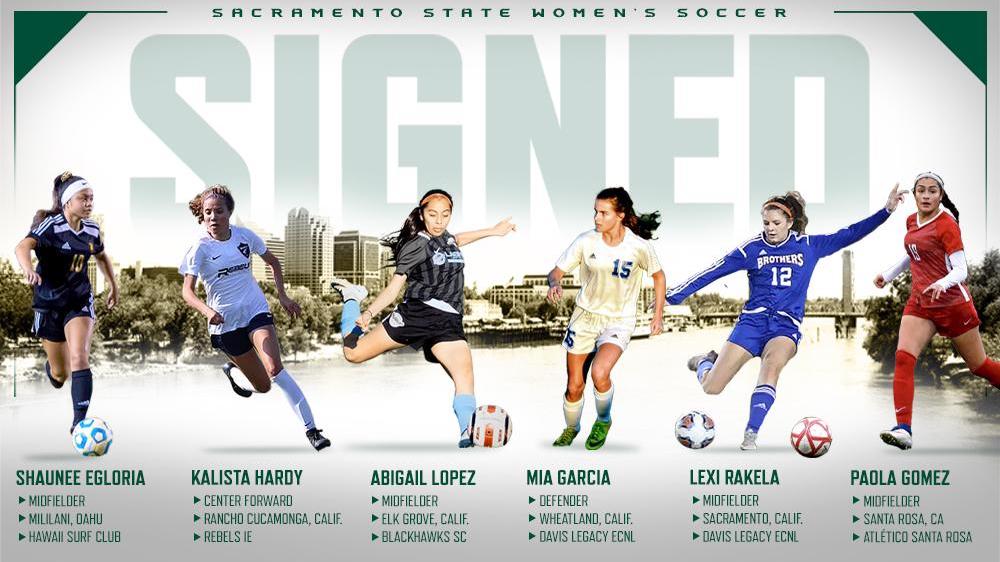 SACRAMENTO, Calif. – The Sacramento State women's soccer program signed six new players to National Letters of Intent this fall, shared head coach Randy Dedini.
The six-member class includes five players from California and one from Hawaii.
"We are excited to add this group to our soccer family!" said Dedini. "I feel we have an outstanding group of talented athletes joining us in this class. This group will really bolster our midfield and attack with a diverse group of attack-minded players."
Sacramento State Soccer NLI Signees


Name
Hometown
Pos.
Previous School
Club
Shaunee Egloria
Mililani, Oahu
MF
Mililani HS
Hawaii Surf Club
Mia Garcia
Wheatland, Calif.
D
Wheatland HS
Davis Legacy (ECNL)
Paola Gomez
Santa Rosa, Calif.
MF
Montgomery HS
Atlético SR
Kalista Hardy
Rancho Cucamonga, Calif.
F
Etiwanda HS
Rebels IE
Abigail Lopez
Elk Grove, Calif.
MF
Pleasant Grove HS
Blackhawks SC
Lexi Rakela
Sacramento, Calif.
MF
Christian Brothers HS
Davis Legacy (ECNL)
Meet the New Hornets
Shaunee Egloria (@shaauneee)
Position: Midfielder
Previous School: Mililani HS
Hometown: Mililani, Oahu
Club: Hawaii Surf Club
About Shaunee
High School: Played two years Varsity for the Mililani HS Trojans under head coach Darren Smith…Spent time at multiple positions, playing at the left and right wing positions, left and right outside backs, and holding and attacking mid…Helped lead her team to the 2020 Oahu Interscholastic Association championship.
Club: Played for Hawaii Surf Soccer Club, members of the Hawaii Youth Soccer Association…Played both left and right wing and holding and attacking mid for head coach Shawn Kuroda.
Personal: Parents are Donovan and Jacqueline Egloria…Plans to major in Business General Management…Played for the same club team as current Hornets Aaliyah Fesili, Kalia Kalua, and Shylah Soon.
Dedini on Shaunee: "Shaunee is an attacking or holding midfielder who is an exceptional all-around talent. She's very athletic and skilled with the ball at her feet as well as a relentless defender who can play box to box. With all of her great ball skills it's her quickness and speed that sets her apart."
Position: Defender
Previous School: Wheatland HS
Hometown: Wheatland, Calif.
Club: Davis Legacy
About Mia
High School: Played three years of varsity soccer for the Wheatland Union HS Pirates in Wheatland, Calif….Played under head coaches Joey Contreras and Scott Schmidtt…Spent all her time as a midfielder for the Pirates…Earned her varsity letter freshman through junior years…Was voted the Pirates Offensive MVP in back-to-back seasons in 2018-19 and 2019-20…Was the Butte View League Offensive MVP as a junior in 2019-20…Helped lead her team to two Butte View League Championships in 2017-18 and 2019-20…Over her career, totaled 18 goals and 10 assists…Also ran varsity tracks for the Pirates as a freshman, qualifying for the Div. II Track Championship in both the 4×100 relay and the 4×400 relay…Was named to the Butte View League all-league team for track as a freshman.
Club: Played two seasons for Davis Legacy (2018-20) under head coach David Robertson…Played outside back for Legacy…In 2019 was named to the Davis Legacy Soccer Club Showcase All-Tournament Team, making her one of the league's top 11 players that year…Was a Northern California Professional Development Program selection from 2018-2020 and a 2018 US Soccer Regional Training Center invitee.
Personal: Parents are John and Corrine Garcia…Planned major is Kinesiology with a goal of becoming a physical therapist after graduation…Loves to read psychological thrillers…Davis Legacy teammate Lexi Rakela is also joining the Hornets in the Fall of 2021…In total, seven of her teammates are playing collegiately, including four others at CSUS schools.
Dedini on Mia: "Mia is a versatile and athletic soccer player, primarily a wide defender or midfielder. Mia has the speed and athleticism to shut down apposing players defensively, but also stretch the field and get in behind defenses in our attack. We feel Mia fits very well into our system and style of play."
Paola Gomez (@paolaaa.gomezz)
Position: Midfielder
Previous School: Montgomery HS
Hometown: Santa Rosa, Calif.
Club: Atlético SR
About Paola
High School: Played three years varsity for the Montgomery HS Vikings in Santa Rosa, Calif. under head coach Pat McDonald…Members of the North Bay Oak League…Played primarily holding mid and left wing for the Vikings…Was named to the North Bay first team all-league in 2019 while helping lead her team to a North Bay Oak League championship…That same year, helped the Vikings to a North Coast Section championship…In 2020, Gomez and the Vikings defeated Burlingame HS to clinch the 2020 Div. III State Championship.
Club: Spent nine years training and competing with Atlético Santa Rosa from 2011-20 under the leadership of Messias dos Santos…Played both attacking and holding mid as well as left wing for the club…Captured numerous titles in her time with the program: 2011 – NorCal State Cup; 2013 – NorCal State Cup, Stanford Summer Classic, Cal Cup San Juan Soccer Club; 2014 – Cal Cup Sacramento; 2015 – Sporting Girls Invitational, Mustang Stampede, Juventus; 2016 – Stanford Summer Classic, North Coast Summer Classic, NorCal State Cup; 2017 – Nor Cal State Cup…Was a member of the National Pool Camp and the region's Player Development Program.
Personal: Parents are Guadalupe and Juan Gomez…Brother Alejandro Gomez plays soccer for CSUN.
Dedini on Paola: "Paola is another versatile attacking player with a great work rate. More comfortable in the middle of the field, Paola can play anywhere in our central midfield or up top in our attack. Paola's physical style of play and creativity will be a welcome addition to our team."
Kalista Hardy (@kalistaahardy)
Position: Forward
Previous School: Etiwanda HS
Hometown: Rancho Cucamonga, Calif.
Club: Rebels IE
About Kalista
High School: Played three years of varsity for the Etiwanda HS Eagles in Etiwanda, Calif. under head coach Jason Montgomery…Members of the Baseline League…Played exclusively center forward for the Eagles…During her time at Etiwanda, was named the Baseline League MVP, the San Gorgonio Winter Classic MVP, and set a Etiwanda HS record for most goals in a single season.
Club: Played for Rebels IE from 2018 through 2020 under head coach Randy Brown…Like for the Eagles, played exclusively center forward for Rebels IE.
Personal: Parents are Ken and Kristina Hardy…Planned major is Criminal Justice…Four of her Rebels IE teammates will also be playing collegiately this fall, including two at CSUS universities.
Dedini on Kalista: "Kalista will bring a tremendous amount of speed and mobility to our attack! She has a relentless work rate and her quickness and speed will be a problem for Big Sky defenders. A prolific goal scorer at the club level we feel very good about her skill sets acclimating to the college level."
Abigail Lopez (@abby.lopez03)
Position: Midfielder
Previous School: Pleasant Grove HS
Hometown: Elk Grove, Calif.
Club: Blackhawks SC
About Abigail
High School: Played three years of varsity soccer for the Pleasant Grove HS Eagles under head coach Kevin Slagle…Members of the Delta League…Played exclusively attacking mid for the Eagles…Was team captain all four years, first for the freshman squad and then three consecutive seasons for varsity…Was one of five sophomores to play varsity…Was named a Delta League second team all-league midfielder…Totaled 24 goals and 18 assists in three seasons
Club: Spent six years (2016-21) training and competing for the Blackhawks Soccer Club in Elk Grove, Calif. under head coach Cesar Plasencia…played exclusively as an attacking mid for the Blackhawks…Has been named her team's captain each year since 2016…In 2018 and 2019, helped lead the Blackhawks to 1st place in the Fall Nor Cal League.
Personal: Parents are Epifania and Eduardo Lopez…Planned major is Kinesiology…After receiving her degree, wants to become a Sports Medicine doctor or a Physical Therapist…Is the first person in her family to receive an athletic scholarship to play collegiately.
Dedini on Abigail: "Abigail is a local attacking midfield player that we are excited about. She is a very intelligent soccer player with a high soccer IQ. She's extremely quick and knows where to move to offer good angles for her teammates to find her in possession and her offensive upside is through the roof!"
Lexi Rakela (@lexirakela)
Position: Midfielder
Previous School: Christian Brothers HS
Hometown: Sacramento, Calif.
Club: Davis Legacy
About Lexi
High School: Played four years of varisty soccer for the Christian Brothers Falcons in Sacramento, Calif. under head coach Rudy Ruvalcaba…Saw time all over the field as a defender, midfielder, and forward in her four seasons…As a freshman, earned Capital Athletic League all-league recognition…As a sophomore, was named Christian Brothers MVP, all-league, and the Capital Athletic League MVP…As a junior, earned the league's offensive MVP award and another all-league selection as well as the Christian BRothers team offensive MVP…Was the Capital Athletic League's top scorer as a sophomore while leading her team in scoring again as a junior.
Club: Spent four years (2016-20) training and competing for Davis Legacy…Was named to the Davis All-Tournament team in 2019 and helped lead her club to 1st place in the ECNL Conference in 2020.
Personal: Parents are Krisy and Adam Rakela…Mother Krisy played soccer at American River College and father Adam played baseball for Sacramento State in 2001…Davis Legacy teammate Mia Garcia is also joining the Hornets in the Fall of 2021
Dedini on Lexi: "Lexi is another midfield player we are excited about because she can flat out play and brings a real physical presence to her game! Lexi is skilled and can do a little bit of everything, but we will look for Lexi to be the physical enforcer in our midfield."