Riverhounds Development Academy sends off 39 players to college soccer ranks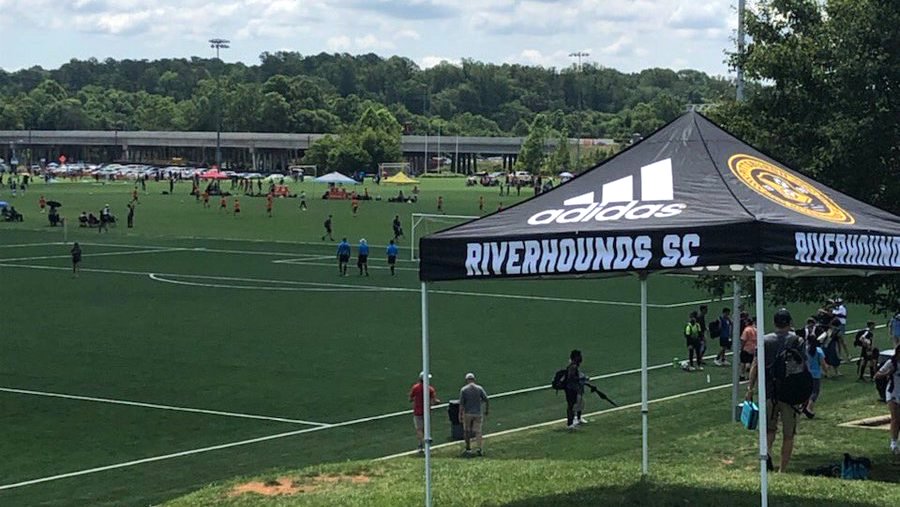 PITTSBURGH – The Riverhounds Development Academy (RDA) announced its 2020 graduation class, consisting of a total of 39 athletes who declared their commitment to play collegiately.
With RDA teams stringing together successful seasons competing in the Elite Clubs National League (ECNL), Boys ECNL and Great Lakes Alliance, this marks the largest-ever RDA graduating class. Several additional players are expected to join this group and announce their intentions to play collegiately in the coming weeks.
"This year's graduating class is our biggest to date, and we are delighted for all of the players who are moving on to the collegiate level," Academy Director Scott Gibson said. "The variety of schools that the players will be attending shows the positive impact of our developmental platform and recruiting network. While this spring was cut short and the seniors were not provided an opportunity to compete one last time for the club, we want to send our congratulations to all and look forward to seeing them soon so we can give them a proper send off."
On the boys side, Luke Peperak (University of Pittsburgh) earned the opportunity to participate in an ECNL National Training Camp this past year. He, in addition to Nino Civitate (West Virginia University), Giuseppe Croce (Duquesne University), Darek Panucci (Oakland University), Austin Rocke (Marshall University) and Anthony Rowan (Marshall University), also was a part of the organization's Pathway Program, which allows older RDA boys to train alongside the professional Riverhounds SC squad.
On the girls side, many were recently a part of the 2002 RDA Girls squad that advanced to the semifinals of the 2019 ECNL Showcase Cup, which consisted of elite competition from across the nation. In addition, Taylor Hamlett (Middle Tennessee State University) was a member of the 2019 Mars Area High School Pennsylvania Interscholastic Athletic Association (PIAA) state championship team.
The 2020 RDA class commitments include a wide variety of schools, including the University of Pittsburgh, West Virginia University, Duquesne University and Marshall University.
Below is a list of RDA players who have declared their intentions to play collegiately.
RDA Girls:
Justine Appolonia (Yough H.S.) – Youngstown State University
Izzi Boyd (Pine-Richland H.S.) – Ohio University
Claudia DeMartino (Fox Chapel H.S.) – Catholic University of America
Olivia Dorsch (Franklin Regional H.S.) – Penn State Behrend
Taylor Hamlett (Mars Area H.S.) – Middle Tennessee State University
Dani Iannuzzo (Norwin H.S.) – Slippery Rock University
Hannah Kirkpatrick (North Allegheny H.S.) – University of Tampa
Chloe Kuminkoski (Moon Area H.S.) – Loyola University Maryland
Elaina Longjohn (North Hills H.S.) – William & Mary
Julianna Marshall (Serra Catholic H.S.) – St. Francis University
Molly Piso (Hickory H.S.) – Drexel University
Savannah Schoonmaker (State College H.S.) – University of New Hampshire
Maggie Storti (Oakland Catholic H.S.) – Case Western Reserve University
RDA Boys:
Tyson Antosh (Peters Township H.S.) – Mercyhurst University
Gavin Benson (Waynesburg Central H.S.) – Western Illinois University
Nino Civitate (Canon-McMillan H.S.) – West Virginia University
Giuseppe Croce (Mt. Lebanon H.S.) – Duquesne University
Daniel Ibrahim (North Allegheny H.S.) – Johns Hopkins University
Caleb Miller (West Allegheny H.S.) – Haverford College
Anthony Panko (Connellsville Area H.S.) – Seton Hill University
Darek Panucci (Moon Area H.S.) – Oakland University
Luke Peperak (Connellsville Area H.S.) – University of Pittsburgh
Patrick Phillips (Montour H.S.) – Slippery Rock University
Austin Rocke (Mars Area H.S.) – Marshall University
Anthony Rowan (Connellsville Area H.S.) – Marshall University
Conor Suchar (Moon Area H.S.) – Penn State Behrend
Matt Van Kirk (North Allegheny H.S.) – Grove City College
Griffin Wirth (Quaker Valley H.S.) – Allegheny College
RDA East:
Jacinda Devart (Grafton H.S.) – Waynesburg University
Alex Eitner (Uniontown Area H.S.) – Gannon University
Marissa Grubbs (Belle Vernon Area H.S.) – Penn State Behrend
Langley Pritts (Connellsville Area H.S.) – Waynesburg University
Megan Noss (Preston H.S.) – West Virginia Wesleyan College
Emily Shaw (Norwin H.S.) – Lock Haven University
Madison Shoemaker (Connellsville Area H.S.) – Clarion University
Hadley Sleith (Yough H.S.) – Clarion University
Joey Terreta (Geibel Catholic H.S.) – Seton Hill University
Jocelyn Timlin (Bentworth H.S.) – West Virginia Wesleyan College
Kassidy Wolfe (University H.S.) – West Liberty University