Princeton Soccer Academy to send off 25 college recruits for class of 2020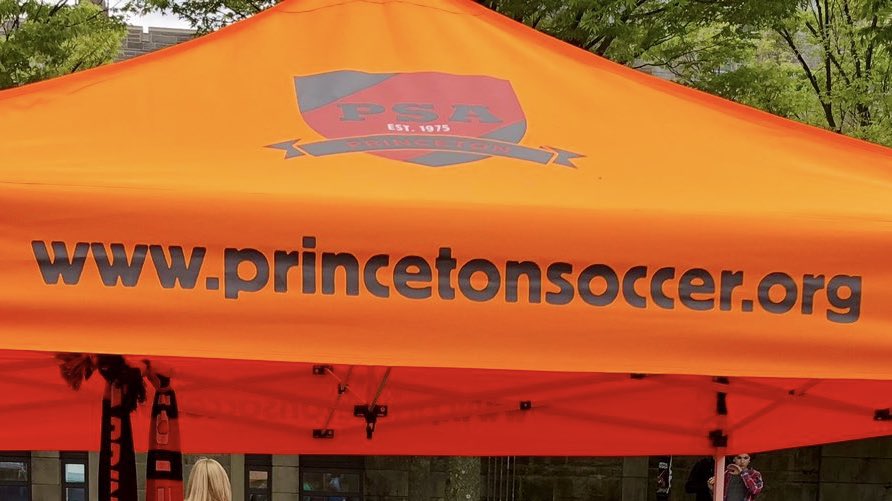 Princeton Soccer Academy (PSA) has announced its initial list of 25 graduating seniors who are going on to play college soccer for the class of 2020.
See below for a full listing of PSA's 2020 college commitments on both the men's and women's side, along with quotes from each player on their experience at the club. Click Here to view all past PSA Alumni.
​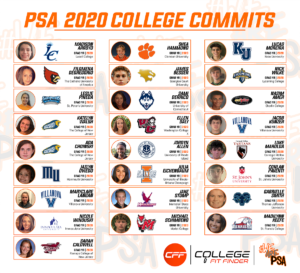 Conlan Paventi – St. John's University
"PSA has completely changed my career as a soccer player, before I came to the club, I was just a small kid with a lot of raw talent and speed. Coach John really turned my path around and gave me the guidance I truly needed to be turned into one of the top recruits in the country. I have everyone at PSA to thank for my success as a soccer player and to be going to a top 10 Division 1 school."
Julia Eichenbaum – University of Illinois
"I am exceptionally grateful and thankful to the PSA club as I have had a tremendous youth soccer experience throughout all my years spent here. I have had the opportunity to have outstanding coaches and trainers work with me, as well as amazing teammates by my side. This extraordinary experience at PSA has helped me become the well-rounded soccer player and person that I become today. I look forward to continue to work with the PSA club in any capacity to give back what the club has offered to me all of these years."
Luke Marolda – Carnegie Mellon University
"PSA has not only allowed me to develop my skills as a student-athlete at the highest level, but has also taught me the crucial skills of leadership, camaraderie, and commitment. At PSA, we are consistently encouraging each other to be the best versions of ourselves as both athletes and students. I was able to satisfy my competitive nature by competing in top tier tournaments and leagues while playing with top athletes from all over New Jersey. Win or loss, we experienced everything as a team, which taught us all how to persevere through loss in order to come back stronger and better. I am excited to continue this dynamic at Carnegie Mellon University; the skills I have learned at PSA will stick with me through the rest of my life."
Jordyn Allen – University of Rhode Island
"After the merger with Wildcats I joined the PSA family and it's definitely been one of the best experiences I've had for soccer and life. Being a part of PSA has pushed me not only in my physical soccer game but mentally as well and has definitely given me some great tools that I can carry on with me for this next chapter. PSA has introduced me to some amazing teammates and coaches who have helped me push my game to a different level and has made me into a better player and person and I will miss them greatly next year."
Michael Schimbeno – Marist College
"I haven't been at PSA for long, but Coach John and staff have really made large efforts to further my knowledge of the game. I committed to Marist about a month after joining PSA, but leading up to that many calls and kind words regarding me and my play were made to college coaches. You don't always join a team and have not only the coaches hoping for your success, but the players too. I'm very thankful to have played my last non collegiate season for the tight knit family and club, PSA."
Ellen Daly – Washington College
'"During my time with PSA, I was able to improve the mental, physical and technical aspects of my game. I enjoyed and appreciated being able to play in front of dozens of college coaches at various showcase tournaments, which helped me earn the opportunity to play soccer at Washington College. My coach, Frank Cocchi, has played a major role in helping me become ready for college soccer, and I'm very thankful for all my teammates and family members who have supported me throughout this process."
Filomena DeGergorio – The Catholic University of America
"I have been with PSA for the past 3 years and joining this club has been by far one of the best and smartest decisions I have made. This club has provided me with one of the most dedicated and caring coaches I have ever had! I have been lucky to get to work with Coach Massimo and the rest of the coaches at PSA these past few years and working with this group has led me to where I am today. PSA focuses on not only the physical and technical parts of the game, but the mental aspect as well which is just as important. My teammates have also had a huge impact on my life, on and off of the field, we have become close friends and they have always pushed me to do and to be my best and work my hardest. Playing for PSA has also brought me many great opportunities, from playing in the National League, to participating in amazing showcases and tournaments, highlighted by winning a regional tournament and getting to travel to a National tournament to name just a few. I am so grateful to be a part of this club and would like to thank Coach Massimo, my teammates and the entire staff at PSA for all that they have done. I look forward to playing in college and am thankful for all I learned while at PSA."
Lucas Moriera – Kean University
"Even though I have been with PSA for only about a season, it has been one of the best seasons I have ever played. The amount of memories that were created would not be forgotten and the amount of help provided from Coach John and PSA during my time makes me beyond grateful. Playing on PSA made it possible for me to continue to play the sport I love in college."
Jazlyn Oviedo – Monmouth University
"My time with PSA has been such an incredible experience. Playing with this academy has taught me so many valuable lessons, not only about soccer but life as well. The relationships I've built with my coaches and fellow teammates are unforgettable! PSA has prepared me for life and its many obstacles on and off the field and I am forever grateful for getting the opportunity to play for such an amazing club. Everything I have learned at PSA will definitely stick with me throughout my collegiate years. Thank you PSA!"
Jacob Kunzer – Villanova University (Track)
"On my experience with PSA: While short, I really enjoyed my time spent with PSA. I joined PSA to play soccer at a high level with the most talented players in the area. PSA exceeded those standards and I am grateful for the chance to play on such a talented team."
Nicole Winouski – Immaculata University
"Although I haven't been on PSA for very long, this club has definitely impacted and will continue to impact how I view the game of soccer. I am grateful that I was able to play at a high level of competition and be surrounded by coaches and teammates who push me to be my best. I will take what I have experienced at PSA and will implement it during my college career."
MaryClare Langen – Villanova University
"Playing at PSA for the past 4 years has been a great learning experience. I came into the club with a much lower soccer IQ and a much less mature sense of the game than I have now. Playing up with an older age group was a constant learning experience and a constant challenge. I have had many great learning experiences and have made many memories both on and off the field. I have learned that no matter how much we win we always have to keep working hard. I am looking forward to playing in college and thank the club and Coach Massimo for all of their support and dedication."
Nasim Amer – Oberlin College
"I thank PSA for everything they have done for me both as a player and as a person. The coaches at the club helped me become the player I am today by pushing me day in and day out to be the better than I was the day before. They taught me many lessons both on and off the field that I will be forever grateful for and that I will never forget."
Jake Stump – Montclair State University
"I tried out for PSA when I was about 10 years old. Within 3 years I had gone from a center back, to a goalkeeper on our trip to Spain, to scoring goals as a forward against clubs in England. Some could say I was indecisive, but every player has a journey my coaches supported mine every step of the way. Now looking back on my time with PSA, between every coach I've had and teammate I've played with, truthfully we are all family, and the lessons I learned, and memories that came along the way will stay with me not only through my college career at Montclair, but my life outside of soccer as well."
Leslie Pineda – St. Peters University
"My experience with PSA has been rewarding and challenging. I had the luck to get knowledgeable coach who pushed me to become a better player. He never babied us as he would always tell us, "Don't think you are a hotshot I can always prove you aren't". That would always challenge all of us to become a better player. Overall, my coach and PSA helped me get ready for college."
Ada Chionski – The College of New Jersey
"PSA has been more than just a soccer team for me. I like to think of PSA as a second family, these girls have always been by me no matter what. They taught me how to be not only a better player but a better person as well. Most importantly I would like to thank Coach Massimo and all my teammates for all the unforgettable memories and wish everyone the best of luck in the future because they deserve it for all the hard work we have put it."
Katelyn Walsh – The College of New Jersey
"Although I have only been with PSA for a little over a year, I am so happy I made the decision to join. The overall comradely and competitiveness can't be beat, and I can say I always looked forward to going to practices and games. PSA played a huge role in me becoming the athlete I am today, and I especially thank the program and my coach for helping me be recruited by TCNJ and I am excited to have the opportunity to play for such a successful team."
James Besser – Georgian Court University
"Being on PSA allowed me to reach my full potential. Coach Newman helped me realize soccer is more than just a sport, but a passion. One that I will be taking with me on my future endeavors. The team is one big family and we all respect each other on and off the field. It brought us together over a sport we all love. I am proud to say I was a part of the PSA family. "
Shea Hammond – Clemson University
"I've been with SDFC/PSA since 2009 and it's been the only club I've ever played for and I would not have changed a thing. I've had some of the best coaches of my life through the years and owe so much to them. I've made so many strong connections and memories with my teammates I call brothers that I will never forget. I will always remember my time with PSA/SDFC as I transition to college where I will be playing at Clemson University as a part of the Para soccer program established there."
Sarah Caldwell – Ramapo College of New Jersey
"Playing for PSA has been a great opportunity! I've been able to enhance my game and of course make some friends along the way. I was given so many amazing opportunities by playing for PSA and I am so happy that I was able to play for this academy."
​
Madilynn Keefe – St. Francis College
"Playing for PSA gave me the opportunity fulfill my future goals. Through PSA I have made unforgettable friendships and met coaches who have impacted me to be a better player. I could not be more grateful to have joined PSA when I did, I appreciate and loved every minute of it. A thousand thank yous to my coaches who believed in me and my teammates who always inspired me to work harder."
​
Madison Arroyo – Lasell College
"Playing for PSA has been a life changing experience for me. I started off with Coach Massimo and now for about a year and a half, I have been with Coach Frank. I came into the club as a completely different goalkeeper and came out as a much better one. My PSA coaches and goalie coaches have pushed me to be a better player and person overall. I have built amazing relationships with my coaches and teammates, and unforgettable memories on and off the field and many life lessons. I made a second family and home. PSA has formed and made me the player I am today. Forever grateful for this club, my coaches, my teammates and look forward to playing in college. Thank you PSA for everything!!​"
​
Click Here to view all past PSA Alumni.