Northeastern University men's soccer unveils 10-player recruiting class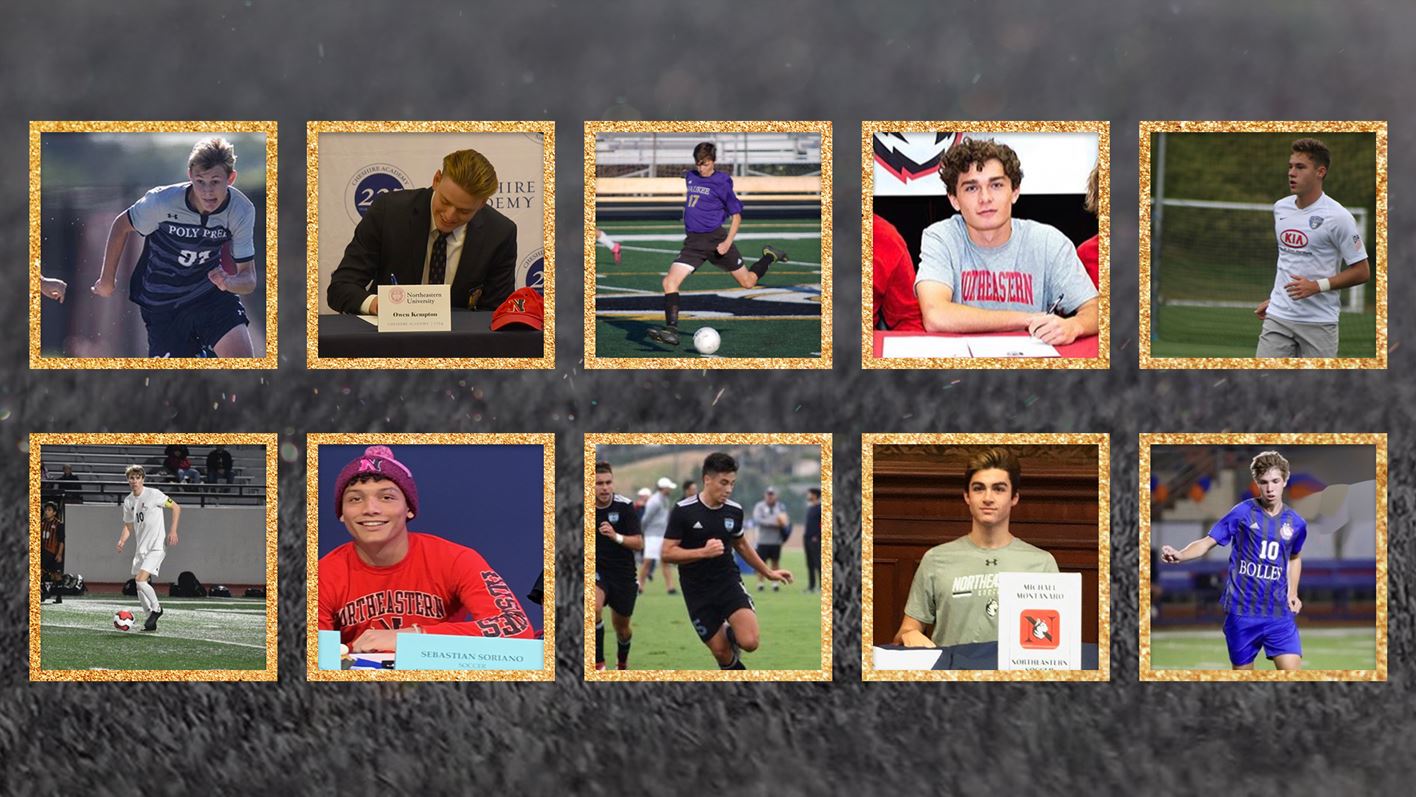 BOSTON — Northeastern University men's soccer head coach Chris Gbandi announced the addition of 10 talented incoming freshmen for 2020.
The group includes: Justin Burke, Owen Kempton, Jules Hutchison, Michael Montanaro, Alonso Munoz, Harry Sankey, Zach Sauer, Eren Senyuva, Sebastian Soriano and Federico Tellez.
"I would like to first take this time to commend my staff for their tireless work in putting this class together," remarked Gbandi. "Our head recruiting coordinator Cam Omsberg, Stefan Defregger and Charlton Muhlauri all had a huge hand in putting a great 2020 class together."
"We are excited to welcome the 2020 class to the Northeastern Huskies men's soccer family. They are a special group of young men that showed throughout the recruiting process that they have the drive and determination it takes to be a part of our family. They all value the culture we are looking to building here at Northeastern and we are eager to starting working with each one of them. Our incoming 2020 group is very deep with talent that we feel will come in and help raise the level of our overall group."
The group of 10 hail from six states, with Florida leading the way with three members of the incoming class coming from the Sunshine State.
Justin Burke
Position: Defender
Hometown: Houston, Texas
High School: Lamar High School
Club: Albion Hurricanes FC ECNL 02
Captain of his high school team
Club teammates with fellow incoming freshman Eren Senyuva
Member of Texas ODP South Team and Regional ODP Team
Conference champion with Albion Hurricanes
Owen Kempton
Position: Goalkeeper
Hometown: Cheshire, Conn.
High School: Cheshire Academy
Club: Connecticut Shoreline 2002
Three-time Western New England Prep School Soccer Association All-Star
Two-time All-State selection in Massachusetts
Selected to NEPSAC junior all-star game in 2018 and senior all-star game in 2019
Helped Connecticut Shoreline qualify for the 2019-20 National League
Gold medalist with Maccabiah Team USA in 2017
Jules Hutchison
Position: Midfielder
Hometown: Urbandale, Iowa
High School: Waukee High School
Club: Vision Soccer Academy 02
Member of club team that ranked No. 1 in the state of Iowa and won a state championship
Member of Iowa ODP and Midwest Regional ODP Team
Captained his club, high school and Iowa ODP teams
Michael Montanaro
Position: Defender
Hometown: Belmont, Mass.
High School: Belmont Hill School
Club: Valeo FC NPL 01
Two-time captain for Belmont Hill School
Led Belmont Hill School to top-three finishes four years in a row and four-straight NEPSAC playoff appearances
NEPSAC All-Star
EDP Cup Champion with Valeo FC
Alonso Munoz
Position: Midfielder
Hometown: Jacksonville, Fla.
High School: Bolles School
Club: Jacksonville Armada FC 01/02 ECNL
Played in the USSDA Academy for Jacksonville Armada
Led his high school team to a state championship appearance and state semifinal appearance
Captained his high school team his senior year, while posting 15 goals and 12 assists
Harry Sankey
Position: Forward
Hometown: Brooklyn, N.Y.
High School: Poly Prep Country Day School
Club: Manhattan SC 01/02 ECNL
Led his team and league in scoring for his high school and club team
First-Team All-League in high school
Played USL II for FA Euro in 2019
Zach Sauer
Position: Defender/Midfielder
Hometown: Hebron, Conn.
High School: Rham High School
Club: Oakwood USSDA
Captained Oakwood and started in all 13 games this past season
During 2018-19, led Oakwood with 29 starts
Eren Senyuva
Position: Midfielder
Hometown: Houston, Texas
High School: Kinkaid School
Club: Albion Hurricanes FC ECNL 02
Club teammates with fellow incoming freshman Justin Burke
All-Southwest Preparatory Conference Team in 2019 and 2020
Captained his high school team while scoring 25 goals in 18 games
Conference Champions with Albion Hurricanes
Sebastian Soriano
Position: Defender
Hometown: Weston, Fla.
High School: Cyprus Bay High School
Club: Weston USSDA
Led his high school team to a District Championship and the Class 7A State Semifinal in 2019
Broward 7A-6A Boy's Soccer Player of the Year
Captained Weston USSDA
Federico Tellez
Position: Forward
Hometown: Hollywood, Fla.
High School: Archbishop Edward A. McCarthy High School
Club: Inter Miami USSDA
Second on club team with six goals this past season
Played for Weston USSDA from 2015-19
Led Weston USSDA with 11 goals in 2018-19
Captained Weston USSDA during 2015-16 and 2017-18 seasons