Mike Melton named associate head coach for Navy women's soccer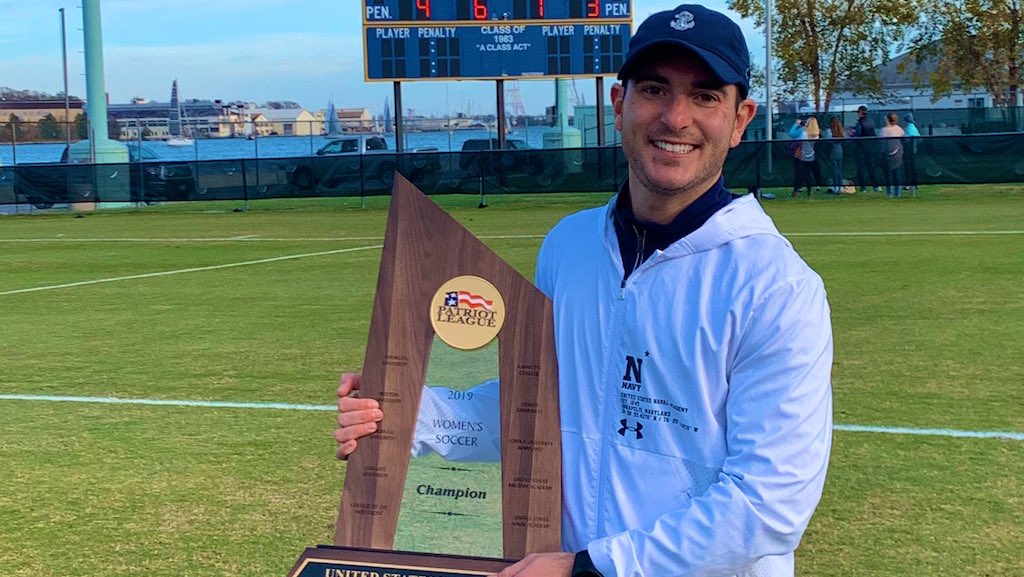 ANNAPOLIS, Md. – Carin Gabarra, head coach of the Navy women's soccer program, announced that Mike Melton has been promoted to associate head coach.
Melton will begin his third full season with the Mids this upcoming August. Joining the staff in January of 2019, Melton has made an immediate impact on the women's soccer program at Navy as the Mids have won back-to-back Patriot League Championships in 2019 and 2020-21.
"Mike's knowledge and passion for the game are evident and we have no doubt he will bring more success to Navy Women's Soccer," remarked Gabarra. "Our program has benefited greatly from his desire to make an impact and we are thrilled for his renewed commitment."
"I would like to thank Carin Gabarra and Chet Gladchuk for giving me this incredible opportunity," said Melton. "I am very honored to be a part of such a prestigious school and soccer program. I am so grateful for my time at the Naval Academy and I'm excited to continue working with an excellent group of student-athletes and staff here in Annapolis."
In his first season with the Mids in the fall of 2019, Melton helped the team reach the NCAA Tournament for its first postseason berth since 2007. Working primarily with Navy's defense and goalkeepers, Melton guided the backline to a dominant campaign that saw the Mids post 13 shutouts and give up just 12 total goals over 22 games for an 0.52 goals against average that ranked 13th overall in NCAA Division I. Specifically in Patriot League play, Navy gave up only two goals in nine regular season contests. Individually, goalie Sydney Fortson earned a spot on the All-Patriot League First Team for going 13-3-3 with an 0.60 GAA and 10 solo shutouts.
Melton and the Mids followed up that excellent debut season with a strong effort during the COVID-impacted 2020-21 season. After playing three non-conference games in the fall versus ACC opponents, Pitt and Virginia Tech, Navy came back in the spring and dropped just one game in the entire eight-game schedule. After falling in double overtime to Colgate in the Patriot League opener on Feb. 28, Navy faced a 22-day restriction of movement mandate before getting back on the pitch for a sprint to the end of the regular season. In a span of 13 days, the Mids went 3-0-1 to capture the Patriot League South Divisional title and earn one of the top-two seeds in the league's postseason tournament. In the 2020-21 Patriot League Tournament, Navy defeated Loyola in the semifinals, 1-0, before grabbing the championship trophy for the second straight year with a 4-1 advantage in penalty kicks over Colgate. In the NCAA Tournament, the Mids went head-to-head with a high-scoring New Mexico Lobos club and tied 1-1 in regulation before falling in PKs, 4-2.
In its 4-4-3 season, Navy and Melton saw four Midshipmen student-athletes earn All-Patriot League playing honors, including freshman defender Chloe Dawson, who was named the 2020-21 Patriot League Rookie of the Year. Additionally, freshman goalkeeper Mattie Gallagher was selected as the league's goalie or rookie of the week on three separate occasions. Under Melton's guidance, Gallagher played in 10 of Navy's 11 games in 2020-21 and posted a 0.80 goals against average with a .840 save percentage to go along with three solo shutouts. She played all 803:14 minutes of Navy's action during the 2021 portion of the season, of which every game was a one-goal decision.
Melton is a dual graduate from the University of Mississippi, earning his bachelor's in 2011 and master's in 2013.