Army West Point men's soccer program hires Brian Plotkin as head coach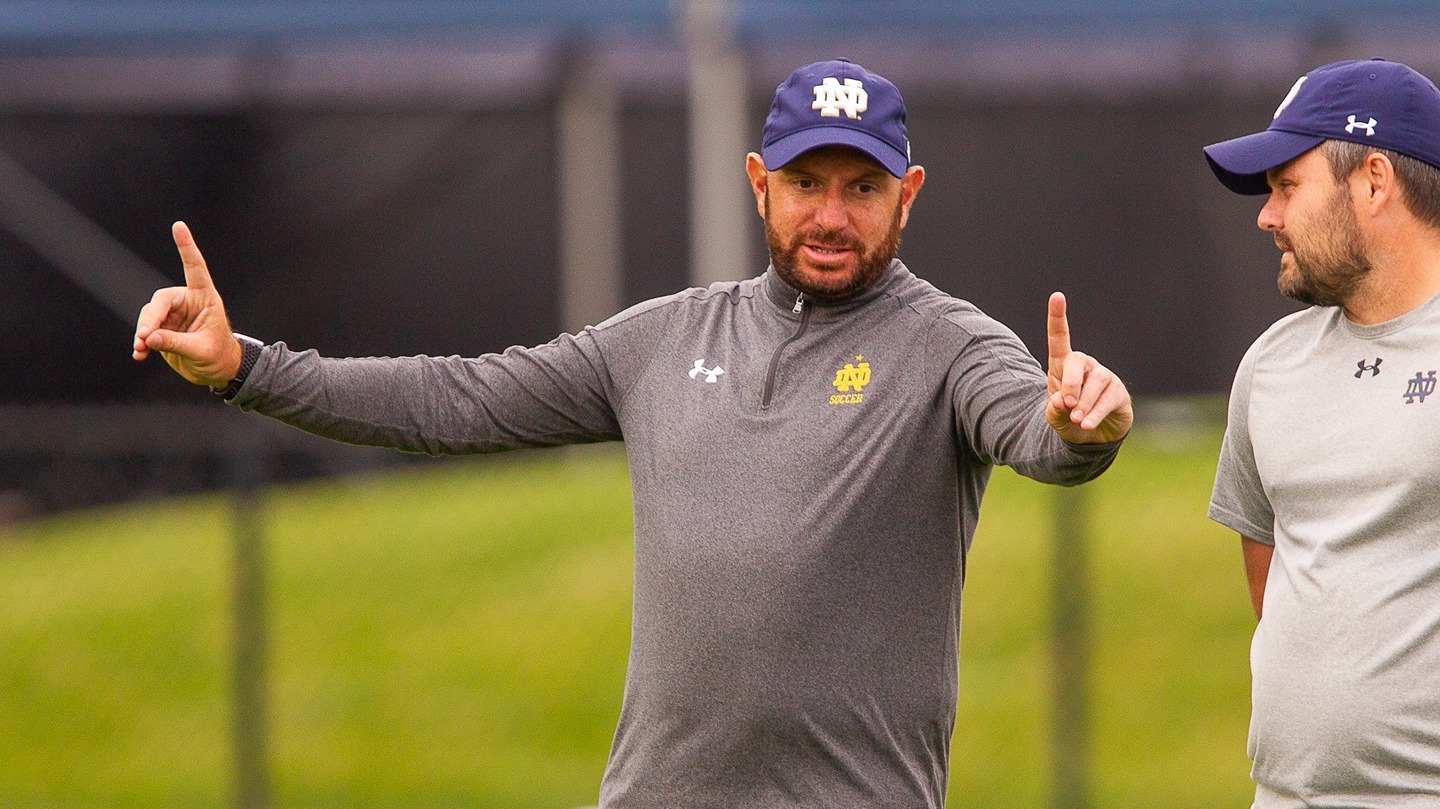 WEST POINT, N.Y. – Army West Point Director of Athletics Mike Buddie announces the hiring of Brian Plotkin as the 12th men's soccer coach in program history on Thursday afternoon.
"We are so excited to announce the hiring of Brian Plotkin as the next men's soccer head coach at Army West Point," said Buddie. "He brings a wealth of experience as an assistant coach throughout Division I, including Power Five schools and high-level academic institutions.  As a standout player himself at Indiana University and an MLS Cup champion, he brings to West Point the highest level of playing experience. We are confident he is going to be a great leader of our cadet athletes, not only on the pitch but off it as we develop leaders of character for our nation."
Plotkin comes to the banks of the Hudson after spending the last three seasons as an assistant at the University of Notre Dame. Prior to his time in South Bend he was an assistant at Dartmouth University and at Loyola University (Chicago). He also brings a wealth of playing experience to West Point, including a professional career in the MLS where he won an MLS Cup in 2008 with the Columbus Crew. He also had a heralded collegiate career at Indiana University, where he was the 2005 Big Ten Player of the Year and the runner-up for the 2005 MAC Hermann Trophy, the highest individual honor given in collegiate soccer.
"Thank you to Mike Buddie, Brad Brown, and the entire senior leadership team for giving me this opportunity to represent this prestigious and historical institution. It is a great honor to be able to lead the men's soccer program at Army West Point. I look forward to working with the team this fall and am excited for the future," said Plotkin.
Plotkin joined the staff at Notre Dame in February of 2018 as an assistant coach. In three seasons at Notre Dame, the Irish made the NCAA Championship twice in 2018 and 2019. During the 2018 campaign, Notre Dame earned the No. 7 overall seed in the NCAA Championship and advanced to the quarterfinals. Jack Lynn improved from scoring three goals in his freshman year in 2018 to leading the team with 10 goals as a sophomore in 2019 with the help of Plotkin's guidance.
Plotkin joined current Notre Dame head coach Chad Riley's staff after spending the previous two seasons as a Dartmouth assistant coach under Riley's leadership. He was on the Big Green staff for each of the past two Ivy League championships during Dartmouth's conference four-peat, which included a 12-3-1 mark and the 15th overall seed in the 2017 NCAA Division I Men's Soccer Championship.
In two seasons under Plotkin's guidance as an assistant, Dartmouth's Wyatt Omsberg earned a pair of United Soccer Coaches All-America citations and doubled as the Ivy League Defensive Player of the Year. More than 13 players, including Omsberg, received All-Ivy recognition during that span, and the Big Green earned a 2016 NSCAA Team Academic Award in honor of strong performance in the classroom.
Prior to his time at Dartmouth, Plotkin was an assistant coach at Loyola University (Chicago) for three seasons from 2013-15. The Ramblers swept Missouri Valley Conference Player, Defensive Player and Goalkeeper of the Year awards during the 2015 campaign, while leading the NCAA in both team goals against average and the fewest goals allowed that season. A total of 12 players recruited under Plotkin's watch ultimately achieved all-conference plaudits, and the Loyola staff received Missouri Valley Conference Coaching Staff of the Year honors in 2014.
Plotkin got his start in coaching with both Sockers FC Chicago and the Chicago Fire youth academy, which both compete in high-level soccer events across the Midwest and United States each season.
Plotkin first broke into coaching during a professional career that saw stops with both the Chicago Fire and Columbus Crew of MLS, and the Carolina Railhawks of the North American Soccer League (NASL). Plotkin played for the 2006 United States Open Cup champion Chicago, and later won an MLS Cup title with Columbus in 2008.
A standout player at Indiana University from 2002-05, Plotkin was an integral part of two national championship Hoosier sides in both 2003 and 2004. He was named the 2005 Big Ten Conference Player of the Year, was a runner-up for the 2005 MAC Hermann Trophy and was an Academic All-Big Ten choice in both 2003.
Plotkin graduated from the College of Arts and Science at Indiana with a degree in general studies/communications. He holds a United Soccer Coaches (NSCAA) Premier Diploma and a USSF National "B" License.
Plotkin takes over for Russell Payne, who held the role for the past 11 seasons before who accepting the head coaching position at Northwestern University earlier this month.