Loyola Chicago women's soccer signs seven class of 2023 recruits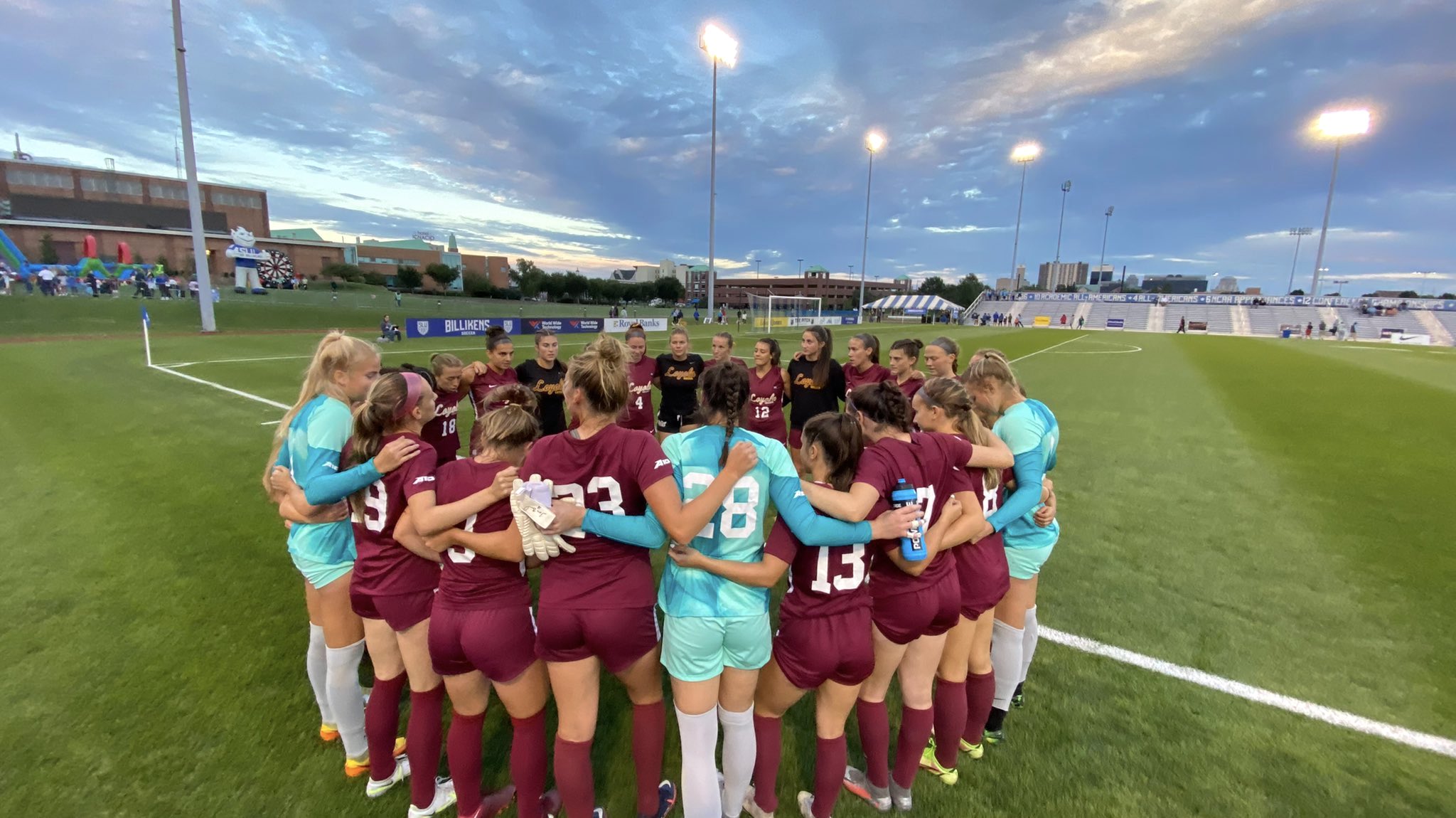 CHICAGO – Having recently completed his 12th season in Rogers Park, Loyola University Chicago head women's soccer coach Barry Bimbi announced his 2023 signing class.
The seven-member class of Skyler Bierker (Gibsonia, Pa./Hampton), Allison Deardorff (Itasca, Ill./Lake Park), Isabella Fritz (Rockford, Ill./Boylan Catholic), Jadyn Harris (Twinsburg, Ohio/Twinsburg), Zoe Hevey (Pewaukee, Wis./Pewaukee), Emily Rossi (Glen Ellyn, Ill./Glenbard West), and Maggie Schmidt (Loves Park, Ill./Boylan Catholic) have all signed National Letters of Intent and will be eligible for the Maroon & Gold at the start of the 2023 season.
"We are very excited about the quality and versatility of this class," Bimbi commented.  "These are players who are playing at the highest levels of youth soccer, and thriving in that environment, so the transition to the college game should be smooth.  We learned a lot in our first season in the Atlantic 10, and this group of players have the potential to help us reach our goals moving forward."
SKYLER BIERKER
Defender | Gibsonia, Pa. | Hampton | Beadling SC
A hard-nosed defender out of Gibsonia, Pa., Skyler Bierker lettered in all four years of her time at Hampton High School for head coach Bill Paholich.  Named a SoccerWire "Player to Watch", Bierker, who was selected for the Girls Academy Regional ID Camp, helped lead the Talbot to a sectional title.  She also made her mark in the offensive third at the school, picking up six assists.  Bierker also appeared on the club level for Beadling SC under the direction of coaches Arne Thomas and J.R. Little.
ALLISON DEARDORFF
Goalkeeper | Itasca, Ill. | Lake Park | Sockers FC
The first of four incoming signees to call the state of Illinois home, Allison Deardorff looks to add to an already stout group of goalkeepers for the Ramblers.  The Itasca, Ill. native appeared exclusively on the club level for coach Ahmed Gad's Sockers FC, backstopping the club to consecutive runner-up finishes in the National Girls Academy and a Mid-America championship.
ISABELLA FRITZ
Midfielder | Rockford, Ill. | Boylan Catholic | Rockford Raptors
An explosive threat out of the center midfield, Rockford, Ill. native Isabella Fritz has put up an impressive 25 goals and 18 assists during her stay at Boylan Catholic High School with coaches Taylor Meyers and Kiley Beck.  An All-Northern Illinois Conference (NIC) and All-Sectional honoree, Fritz won a pair of regional championships and helped the Titans to a berth in the Elite 8 of the Illinois High School Association (IHSA) 2A State Tournament.  A First Team NIC-10 Scholar-Athlete pick, she also played on the club level for the Rockford Raptors and coach Frank Mateus.
JADYN HARRIS
Forward | Twinsburg, Ohio | Twinsburg | Spire FC
Out of Twinsburg, Ohio, Jadyn Harris has proven to be an accomplished scorer in the offensive third at Twinsburg High School for head coach John Garber.  Harris burst on the scene as a freshman, putting up five goals and six assists en route to taking home her first of two Suburban League All-Conference nods.  She's racked up 37 goals and 27 assists for her career, highlighted by a terrific junior season that saw her find the back of the net 13 times in addition to dishing out five helpers.  Named to the Akron Beacon Journal Girls All-Star Team and an All-Star selection by the Akron Touchdown Club, Harris has won a pair of Ohio High School Athletic Association (OHSAA) district crowns.  Success followed Harris to the club level, where she played on Ohio State Cup championship sides in 2021 and 2022, also winning a Midwest Regional title in the latter year.
ZOE HEVEY
Forward/Midfielder | Pewaukee, Wis. | Pewaukee | SC Wave
Arriving in The Windy City by way of Pewaukee, Wis., Zoe Hevey adds another venerable goal-scoring threat in the attacking third.  Hevey has been all but automatic the last two seasons, putting up an astonishing 66 goals and 30 assists since the start of the 2021 campaign.  A two-time First Team All-Woodland Conference selection and Second Team All-State honoree, she won two national titles with coach Giuliano Oliviero's SC Wave in addition to capturing six state championships with the club.
EMILY ROSSI
Forward | Glen Ellyn, Ill. | Glenbard West | Sockers FC
A native of suburban Glen Ellyn, Ill., Emily Rossi featured exclusively on the club level for coach JJ Ruane and Sockers FC.   Twice tabbed to SoccerWire's "Players That Impressed" list, Rossi has enjoyed a wildly successful 2022 season with the club, winning a Mid-America Conference championship while also helping lead the club to a berth in the Girls Academy National Final.
MAGGIE SCHMIDT
Midfielder | Loves Park, Ill. | Boylan Catholic | Rockford Raptors
Maggie Schmidt was a four-year varsity play during her at Boylan Catholic High School.  A teammate of fellow incoming signee Isabella Fritz, Schmidt put up 28 goals and 11 assists this past season for the Titans, capturing conference, sectional, and regional titles.  An All-State pick as a junior, Schmidt, a Best XI selection at the United States Youth Soccer National Champion Series, also played alongside Fritz on the club level for the Rockford Raptors.
In addition to the seven newcomers, Bimbi is expected to return 20 letterwinners from this past season's team that finished 8-8-3 overall (4-5-1 A-10) in the program's inaugural season as a member of the Atlantic 10 Conference.