La Salle men's soccer introduces Taylor Thames as new head coach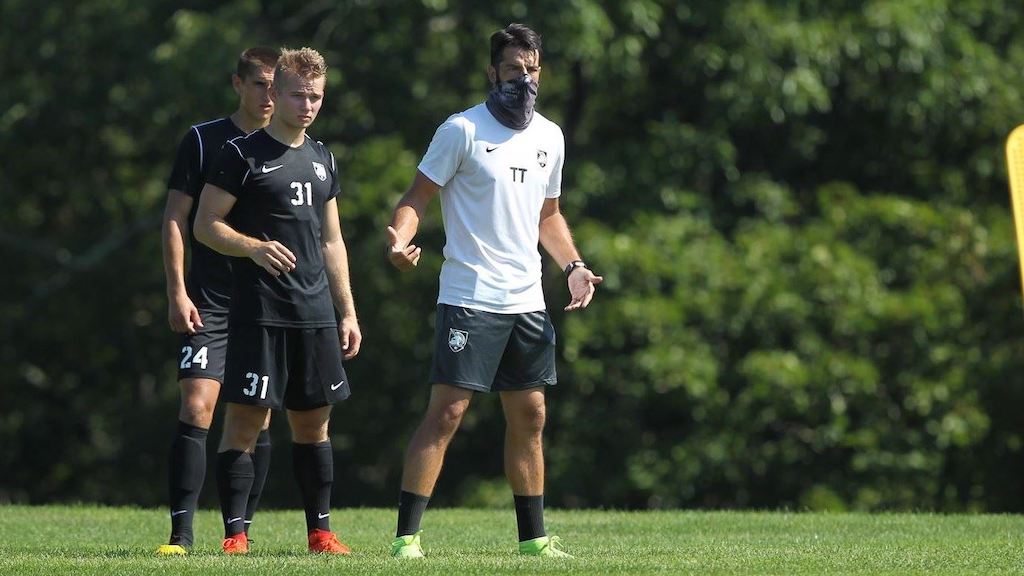 PHILADELPHIA – La Salle University has announced Taylor Thames as the new head coach for the Explorers' men's soccer program. Thames heads to 20th & Olney with over a decade of Division I coaching experience, most recently at Army West Point.
"We are pleased to have Taylor, his wife, Christine, and their three children join our La Salle family," Baptiste said. "Taylor impressed us with the amount of success he has had as a student-athlete and coach, as well as his thoughtful and engaging coaching philosophy. We look forward to our men's soccer student-athletes blossoming under his guidance."
During his two seasons with the Cadets, Thames was heavily involved in the program's recruiting efforts and was key in helping bring in a stellar 2020 class that was ranked 18th in the nation by Top Drawer Soccer, and the 2021 class that was ranked 19th in the country.
With Thames on the staff, two Cadets garnered Second Team All-Patriot League accolades in Zac McGraw and Keenan O'Shea. McGraw additionally was the first Cadet in program history to be selected in the MLS Superdraft after he was picked by the Portland Timbers in the third round.
During his time on the banks of the Hudson, Thames also played a pivotal role of the emergence and development of Jacob Suppiah. After missing nearly his entire rookie season due to injury, Suppiah returned as a sophomore and posted a pair of shutouts. He finished his season with a 0.88 goals-against average in seven matches played and was key in the draw against No. 19 Navy on Oct. 11 in the annual Army-Navy Cup at Talen Energy Stadium.
"I am extremely honored and humbled to lead the La Salle men's soccer team," Thames said. "My family and I are very excited to join the Blue and Gold. I want to take this opportunity to thank Brian Baptiste, Dan Lobacz, the entire search committee and La Salle University. It is an exciting time to be an Explorer and we will set the standard in the Atlantic 10. It is our mission to develop great men that strive for excellence in all areas. La Salle has a great soccer tradition and I look forward to stepping into McCarthy Stadium with the team to represent this institution."
Thames arrived at West Point with over nine years of coaching and playing experience after a four-year stint as an assistant coach at Cincinnati.
With the Bearcats, he coached a defense that posted 16 clean sheets and compiled 27 wins. During his second year on the staff, Cincinnati ranked inside the top five in the American Athletic Conference in goals against average, goals allowed, saves and shutouts. He also coached one First Team All-AAC player, five second team standouts and four all-rookie team selections while with the program.
Prior to his time in Cincinnati, he spent two years on the coaching staff at Stony Brook as an assistant. Thames assisted in recruiting, while overseeing equipment, travel, the program's budget and NCAA compliance records. He also prepared and executed the conditioning and recovery programs on top of team training with a specific emphasis on the goalkeepers.
Before heading out to Long Island, Thames served in a similar capacity at Mount St. Mary's in Maryland. In three seasons there, he oversaw recruiting, as well as the design and implementation of training with oversight of the keepers. In addition, Thames was responsible for community and alumni outreach and he worked with student-athletes to oversee their class schedules and provide academic support.
He also has extensive youth coaching experience and is currently the Director of Coaching at Cornwall United, a role he took on July 1, 2019. Thames previously spent time as the Director of Goalkeeping and was the head coach for Cincinnati Elite FC. He additionally was the at the helm of the senior age group Ohio Elite SA from 2015-18.
Before trekking west, Thames held the role of head coach for the Maryland State Youth Soccer Association's (MSYSA) U-17 team and for the F.C. Frederick's U-15 squad. He was instrumental in coaching the keepers with both groups, serving as the assistant director of goalkeeping for MSYSA and the director of goalkeeping at F.C. Frederick. While with F.C. Frederick, he also worked in the Olympic Development Program as the U-18 head coach for Maryland. Under his guidance, the team finished as a finalist in the regional tournament in 2013.
He has a Senior-A level coaching license from the United States Soccer Federation and a goalkeeping diploma from the National Soccer Coaches Association of America.
A native of the Washington, D.C., area, Thames played in the Washington Premier League (WPL), a semi-professional league, for Washington Elite F.C. from 2010-13.
Before embarking on his semi-pro career, he was a four-year standout at Delaware. With the Blue Hens, he finished his career ranked sixth in career shutouts, ninth in saves, fifth in goals against average and seventh in minutes played. Twice a Dean's List honoree, he graduated from Delaware in 2009 with a bachelor's degree in Political Science.