Kelly Farrell hired as head coach for University of Arkansas at Little Rock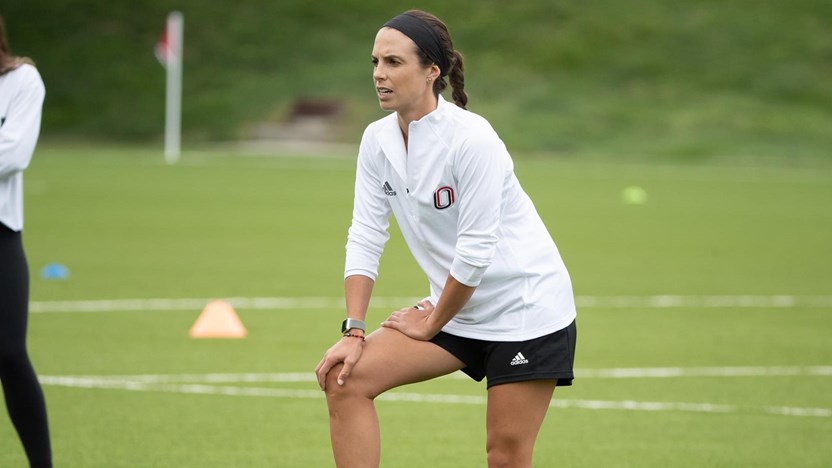 LITTLE ROCK – Little Rock Director of Athletics George Lee has announced Kelly Farrell as the new head coach of the Trojan soccer program. Farrell becomes the eighth head coach in program history as she will guide the Little Rock soccer program into the new era of the Ohio Valley Conference beginning in 2022.
"I'm excited to have Kelly join our department and to build on the success of our soccer program over the last few years," said Lee. "Kelly has a great vision for the future of this program as we join a new conference and I'm looking forward to her experience both as a coach and a player to help move our program forward."
Farrell comes to Little Rock after spending the past five seasons at the University of Nebraska-Omaha, including the past three seasons as the Mavericks' associate head coach. In her five seasons at Omaha, Farrell has helped guide UNO to back-to-back third-place Summit League finishes, advancing to the conference tournament in three of the last four seasons.
During her five years at Omaha, Farrell helped guide 19 Mavericks to All-Summit League honors, including a pair of major award accolades. Academics was also a focus for Omaha as well as the Mavericks were named to the United Coaches Team Academic Award in three-straight seasons.
"I would like to thank George Lee, Maggie Strange, and the rest of the search committee for their time and effort throughout this process and for entrusting me to lead the Little Rock soccer program," said Farrell. "I am excited and grateful for the opportunity and cannot wait to get started. Everyone I encountered at Little Rock made it clear that this is a special place and I look forward to building a championship culture on and off the field.
"I would be remiss to not thank Tim Walters for his mentorship over the last five years and for the opportunity to work with a first-class group of student-athletes at Omaha."
Prior to her time at Omaha, Farrell spent time at UAB, Georgia Southern and Monmouth. Farrell was the associate head coach at UAB in 2016 after spending three seasons in Statesboro and two at Monmouth.
An alum of Loyola (Maryland), Farrell got her start in coaching there as director of operations following a stellar collegiate career. A two-time team captain, Farrell was a four-time All-Metro Athletic Conference (MAAC) performer for the Greyhounds, including a first team all-conference selection as a senior.
During her playing career at Loyola, Farrell played in 78 games with 66 career starts, including each game of her final three seasons. She tallied 10 goal and 15 assists for the Greyhounds during her career. Her 15 assists is tied for fifth all-time in program history while her five game-winning goals is tied for ninth all-time, as she also ended her career sixth in shots attempted (168) and tied for sixth in shots on goal (72).
A native of Oceanside, New York, Farrell earned her degree in communications from Loyola in 2011 following a standout prep career at Oceanside High School where she earned 11 varsity letters in soccer, track and field and lacrosse.
Farrell holds a United States Soccer Federation (USSF) "B" coaching license and was named to the 2014-15 NSCAA 30-under-30 coaching program.
Farrell will take over a Little Rock program that continues to raise the bar, and will look to challenge for an Ohio Valley Conference title. The Trojans have qualified for the Sun Belt tournament in eight of the last nine years, advancing to the semifinals in each of its last five appearances, including the conference title in 2018.