University of Tennessee appoints Joe Kirt as women's soccer head coach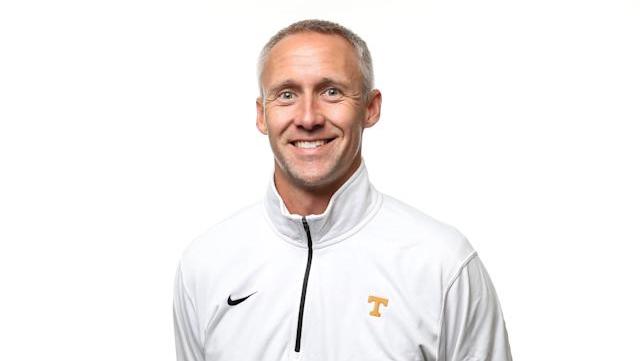 KNOXVILLE, Tenn. – Joe Kirt, a mainstay on the University of Tennessee sideline since 2007, has been named UT's women's soccer head coach, as announced by Vice Chancellor/Director of Athletics Danny White.
During his 15 seasons on Rocky Top, Kirt has helped guide the Lady Vols to two SEC Tournament championships, two SEC Eastern Division championships and seven NCAA Tournament appearances. As an assistant at Tennessee, Kirt played vital roles in goalkeeper development, technical and functional development for field players as well as constructing and implementing the program's game model.
"When I met with the student-athletes in our soccer program earlier this week, I asked what characteristics they valued in their next head coach," White said. "They talked about a leader who cares about their development beyond just athletics, someone who promotes a family-oriented culture, someone who empowers them to be themselves genuinely and someone who not only listens but truly hears.
"After examining several quality candidates, it became increasingly apparent that we already had the perfect fit right here in current associate head coach Joe Kirt.
"Joe has been an integral part of building Tennessee soccer into a championship-caliber program, and we're going to support it at a level that matches those championship ambitions. We can't wait to watch Tennessee soccer rise to new heights and compete for SEC and NCAA titles under Joe's leadership."
[+READ: Florida State hires Tennessee head coach Brian Pensky to lead women's soccer program]
During Kirt's tenure on staff, Tennessee has produced nine All-Americans and 33 All-SEC selections.
"First, I want to thank Danny and this administration for believing in me and giving me this opportunity," Kirt said. "I love this team and this program, and I'm so excited to see where we take it. The culture we've built here and the talent we have—with both returning and incoming players—is so special, and there's no other team I'd rather be on this journey with."
Kirt was instrumental in helping guide UT to its second straight SEC Eastern Division championship in 2021. The Vols went on to defeat top-seeded Arkansas 3-0 in the final of the SEC Tournament, bringing the trophy home for the first time since 2008 before advancing in the NCAA Tournament to the Round of 16. With a record of 20-3-0, it was the winningest team in program history.
The 2021 squad was stout defensively, posting a program-best 13 shutouts and setting a new UT shutout streak record of 633:53. Following the season, Tennessee's coaching staff was named Southeast Region Staff of the Year by United Soccer Coaches.
In 2020, Kirt helped lead Tennessee to an SEC East title, going 4-1-1 in divisional play and 4-3-1 overall in conference play. In the spring, the Big Orange recorded four more wins, three of which were shutouts, to finish the season with an 8-6-1 record and the program's the sixth-straight winning season.
Kirt mentored then-freshman goalkeeper Lindsey Romig to a record-breaking rookie campaign in 2019, as the Midlothian, Virginia, native finished the season with a 0.58 goals-against average—lowering the all-time program record set by Shae Yanez the previous season. Tennessee posted its fifth-straight winning season with a 9-6-3 record overall, and the Vols went 8-2 at Regal Soccer Stadium with shutout wins over SEC East rivals Florida, Georgia and Kentucky.
Tennessee's defensive unit saw one of the program's most successful seasons in 2018, as the Vols made their first-ever appearance in the NCAA quarterfinals. UT limited opponents to a program-best 15 goals on the season, while the Vols' 12 shutouts tied a then-Tennessee-record set in 2003.
Kirt guided Yanez to one of the program's greatest goalkeeping campaigns from a statistical standpoint in 2018, setting program records for the lowest goals-against average (0.66), highest save percentage (.856) and highest win percentage (.795) in a single season. The Downingtown, Pennsylvania, native broke UT's career record for save percentage (.820) and finished third on UT's all-time list with 21 solo shutouts, including 10 in her final year on Rocky Top.
In 2017, the Lady Vols returned to the NCAA Tournament for the first time in five years behind a defense that recorded 10 shutouts. UT conceded less than 20 goals for the third consecutive season, logging a 0.88 goals-against average as a team, with 19 goals allowed.
Kirt helped lead Tennessee to its eighth-straight NCAA Tournament appearance and its fourth SEC Tournament title in 2008. The Big Orange posted six shutouts and recorded a 1.23 goals against average during Kirt's second year on staff.
The 2007 season saw Kirt coach Johnson and the UT defense to 11 shutouts, a 0.88 goals-against average and a new program-record 457-minute shutout streak. The Lady Vol defense became a nearly immovable force at home, giving up just three goals in nine matches and shutting out the final six opponents it faced at Regal Stadium in 2007, including two NCAA Tournament matches.
In his first year in Knoxville, Kirt helped steer the Lady Vols to their seventh consecutive NCAA Tournament and fifth NCAA Round of 16 appearance. Tennessee that Fall also reached its highest NSCAA ranking in program history (No. 6).
Kirt joined the Tennessee soccer staff in July 2007 after spending three years as the Director of Goalkeeping for Challenge Soccer Club, a youth soccer organization comprised of 29 girls' soccer teams in Houston, Texas. During his tenure, the Challenge won a total of 14 state championships and earned a No. 14 national ranking from Soccer America magazine in 2005.
Prior to his time with the Challenge, Kirt was an assistant coach with the University of Houston from 2000-05.
Prior to joining the professional ranks, Kirt earned his degree in International Studies in 1998 from Wisconsin-Oshkosh, where he played both soccer and hockey. As a member of the Titans' soccer team, Kirt earned three varsity letters playing in goal. As a senior captain in 1997, he led the team to a 13-5-1 record, capping the season with a Wisconsin Intercollegiate Coaches Association first-team selection.
A native of Brookfield, Wisconsin, Kirt holds a National Soccer Coaches Association of America national goalkeeping diploma. Joe and his wife, Susan, an eighth-grade teacher, reside in Knoxville with their sons, Landon and Luke.