Pepperdine women's soccer signs 10 recruits for the incoming class of 2022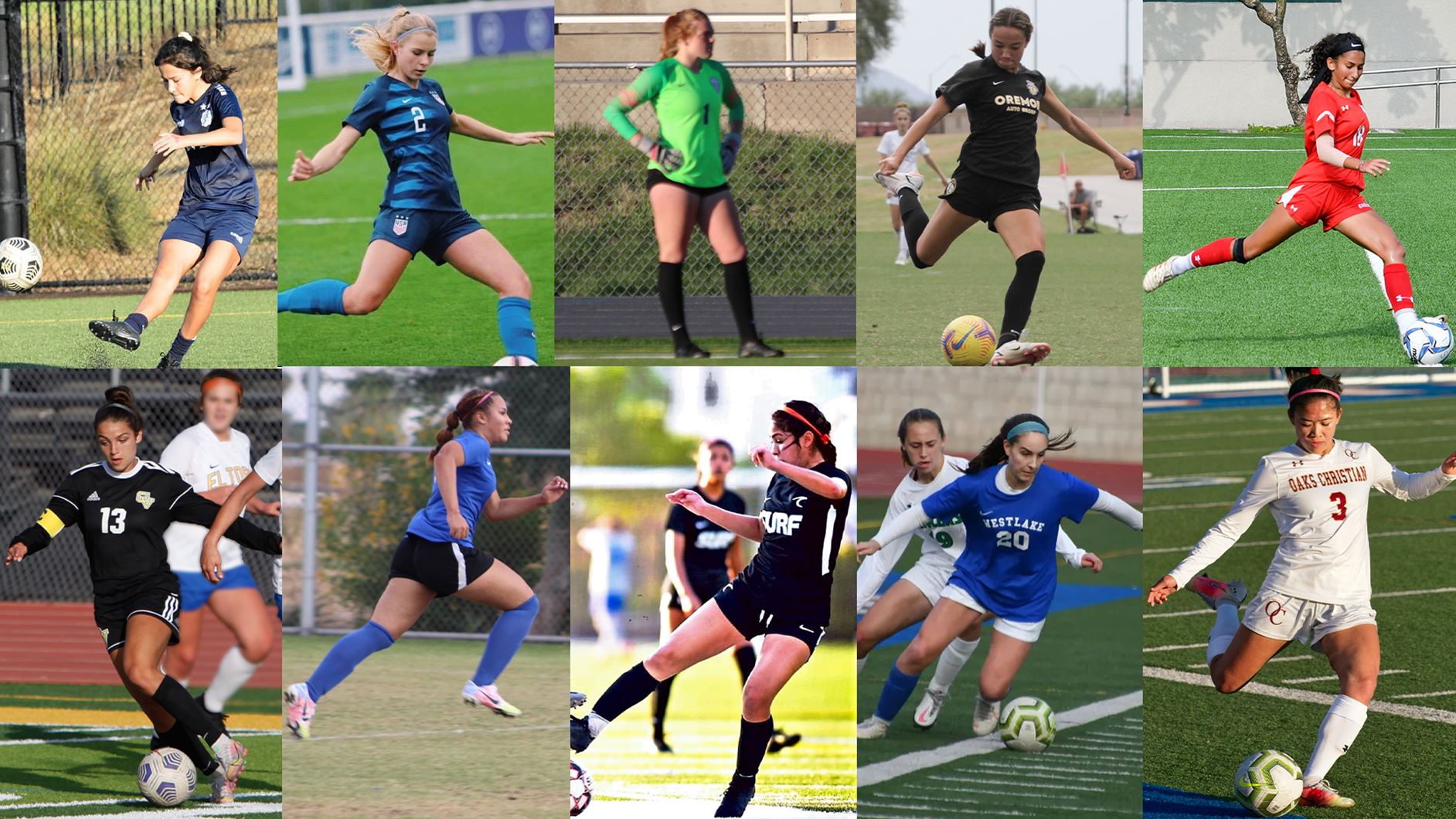 MALIBU, California – Head Coach Tim Ward of the Pepperdine women's soccer team announced that the team has signed 10 talented recruits to join the Waves for the fall season.
The signees, all incoming freshmen, are center back Taylor Bloom (Huntington Beach, Calif.), midfielder Cadee Borg (Los Gatos, Calif.), defender/forward Kendall Campbell (Palmdale, Calif.), right back Sarah Datta (Singapore), midfielder Karina Gonzales (Sanger, Calif.), goalkeeper Harlee Head (Castle Rock, Colo.), forward Melina Livadas (Mission Viejo, Calif.), midfielder Kyra Murphy (Riverside, Calif.), forward/midfielder Tatum Wynalda (Thousand Oaks, Calif.) and outside back Erin Zeile (Westlake Village, Calif.).
"We are so very excited about our 2022 recruiting class. In all my years, I'm not sure we've ever assembled such a talented and diverse set of student-athletes with such a wide array of skills," said Ward. "This group has been a long time in the making and we feel they will have an immediate impact on our group next fall as we look to ascend to the pinnacle of college soccer. Furthermore, we're planning on this particular set of women to join the foundation we are building for the next evolution of Pepperdine soccer."
Taylor Bloom – center back – Huntington Beach, Calif. – Orange Lutheran HS – Beach FC
Has won the Southwest DA conference championship … Made it to the semifinals for DA in 2019 … Was invited to play on the U16 U.S. GNT roster and represented the U.S. in England in 2020 … Helped Orange Lutheran HS to the Division 2 CIF Southern Selection Quarterfinals for the first time in 10 years … Named All-CIF first-team and All-CIF Southern Selection team … Her mom, Lisa Bloom, and dad, Ryan Bloom, are Pepperdine alumni … Mother is a former Waves volleyball player.
Bloom says: "I chose Pepperdine because I know I will receive a great education while getting to play at the highest level. The women's soccer staff and team is such an amazing group which I'm beyond excited to be a part of. I will also be able to further explore my faith in Christ as Pepperdine has a strong Christian community."
Ward says: "We're just so excited to welcome Taylor 'back home' to Pepperdine. Taylor is a legacy as both her mom and dad went to school here in Malibu and that connection to the Waves make her arrival here next fall that much more exciting. A remarkable athlete and player, we feel Taylor is an extra-special center back. Playing for her Beach FC club team, Taylor has become one of the premier defenders in the country and has been recognized for her quality by being named to a few of our country's youth national teams. Powerful, graceful and full of technical ability and poise, Taylor really does an amazing job providing a base of strength for the teams she plays on. She will provide immediate competition in the Waves back row and should be a mainstay for the Waves in the back for years to come. More than her quality on the field, it is the person she is off of the field that makes all of us so proud to call Taylor a Wave. We're so excited to have her join us here next fall."
Cadee Borg – midfielder – Los Gatos, Calif. – Leigh HS – MVLA
Was a four-year varsity starter at Leigh High School … Named BVAL Freshman of the Year… Captained the varsity team her junior and senior year … Two-time ECNL national champion in 2018 and 2021 … Took third place at the ECNL national championship in 2019 … Two-time Surf Cup champion in 2016 and 2017.
Borg says: "I chose Pepperdine for both academic and religious reasons. The campus is beautiful and the community is amazing. Speaking to all of the coaches made me realize that Pepperdine is the perfect place for me to continue playing soccer and there is no other place I would rather spend the next four years."
Ward says: "What a funny and talented young lady we have in Cadee Borg. Schooled in the wonderful ways of the storied MVLA soccer club in Los Gatos, Cadee played a key role in helping her club team win ECNL national championships in both 2018 and 2021 as well as helping them to a third-place finish in 2019. An intelligent holding or box-to-box midfielder, Cadee is excellent at conducting the tempo of a match while connecting her team via her excellent technical ability on the ball. Her high soccer IQ makes her a wonderful defender in the middle of the park as well as someone who is super easy to play with. Loved by her teammates, Cadee's sense of humor will be a wonderful addition to an already comical cast of Wave characters and she should provide immediate quality to an already talented Waves' midfield. As with all of our recruits, we're super excited to have her in Malibu full time."
Kendall Campbell – defender/forward – Palmdale, Calif. – Paraclete HS – LAFC SoCal
Was on the Cal South ODP state championship team in 2017 … Received an invite to the youth national team training center … Named all-conference second team in 2021 at Paraclete High School … Her dad played football and baseball at CSUN.
Campbell says: "I chose Pepperdine because I know I will be in the best environment to help me grow as an athlete, woman, and overall human. The connections I will make will continue to benefit me in the future. The coaching staff is amazing, and I am so excited to be a Wave."
Ward says: "Another defender to come into our ranks, the amazing Kendall Campbell joins us from the highly successful LAFC So Cal youth program. Kendall has been on our radar for years as she first caught our eye as a striker at the U-15 level. But over time, she has transitioned into the back row for her club team and become one of Southern California's finest. She is an intelligent, strong and impactful defender who was a part of the Cal South ODP state championship team in 2017. She possesses excellent athletic and aerial ability, as well as a strong technical base refined after years of playing in the Real So Cal youth setup. She is an exciting addition to an already talented Waves defensive unit and will be counted on to come in and provide quality straight away. Off of the field, Kendall is a wonderful student and a powerful woman of character. She is loved by her teammates and we couldn't be more excited to work with her in the years to come."
Sarah Datta – right back – Singapore – Singapore American School – JSSL FC (9), Eurosoccer Academy (10), Lion City Sailors FC (11, 12)
Was named to the IASAS All-Tournament team her freshman and sophomore year … Captained her club team JSSSL her freshman season and captained Eurosoccer Academy her sophomore season … Was the only non-Singaporean player to start on the Lion City Sailors … Was selected to be a part of four different Singapore National teams including the U13, U15, U17 and U19 teams.
Datta says: "None of the teams I have ever been on, besides my current team, has ever felt like a family. When I was on the field to see this year's team, watching everyone push each other to their growth point and hearing the encouraging words of the coaches who only want the best for their players, I knew that Pepperdine was the place I wanted to be for the next four years. My sister is also only a car ride away at Pitzer College, and my mom's side of the family is a bit further north in Santa Barbara. A minor detail, of course, is that when I'm not in class or on the pitch I'll be surfing."
Ward says: "We are really pleased to announce our final recruit in young Sarah Datta. Her journey is a little different than the other players as she is coming to us from overseas in Singapore. Sarah hadn't really been able to train 'normally' for the last year in Singapore due to COVID restrictions, but a couple of trusted friends put her and her family on our radar. She has a distinguished career playing for the Singapore American School where she was a standout defender and captain for championship teams. She has also been selected to be a part of the Singapore youth national team setup for the U13, U15, U17 and U19 squads. She was also able to train and play with one of the top women's teams in Singapore as an amateur prior to COVID shutting stuff down. An athletic and mobile defender with a huge thirst to grow, Sarah has the tools to be a wonderful addition to our defensive unit. She is also a very talented young woman off of the soccer field as she is quite musical and enjoys singing. We are so excited to get to know Sarah and her family better over the course of the next few years and want to welcome her to the Wave family."
Karina Gonzales – midfielder – Sanger, Calif. – Hallmark Charter School & Sanger HS – Surf Bay Area Club
Named Sanger High School Offensive Player and Midfielder of the Year junior and senior year … Was named All-CMAC first team twice … Led her high school team to a CIF Section II championship in February … Scored 37 goals her senior season … Helped the Girls Academy win the 2021 national championship and her former club team San Jose Earthquakes win the national championship in 2019… An honor roll student at Hallmark Charter School and Sanger High School.
Gonzales says: "Pepperdine University is a phenomenal place to learn, share, and reinforce Christian ideals that will aid my intellectual, moral, and soccer abilities development. The uniqueness of Pepperdine and why I chose it has a lot to do with the coaches. Coach Tim, Coach Max, and Coach Ariana create an environment that challenges players and focuses on improving us as soccer players and women ready to face the world."
Ward says: "What a blessing it is to have Karina join us from Nor Cal and her Surf Bay Area team. A gifted and intelligent midfielder/forward, success seems to follow Karina wherever she goes as she was instrumental in helping her team win the Girls Academy 2021 national championship as well as her previous San Jose Earthquakes team win a national championship in 2019. In addition to her club achievements, Karina was named her school's Offensive Player of the Year as she led her high school team to a CIF Central Section II championship this past February having scored 37 goals along the way. Karina is simply a really intelligent and talented player. Super versatile, and able to contribute in any row of the field, she is going to make an immediate impact here in Malibu! Besides being an outstanding soccer player, Karina is a lovely human being … a natural leader and woman of faith, we are super excited to have Karina join us here in Malibu."
Harlee Head – goalkeeper – Castle Rock, Colo. – Douglas County HS – Real Colorado ECNL
A Top Drawer Soccer top-10 goalkeeper … Led her previous club team, Colorado Rush, to the 2019 national championship game … Named All-Continental League her senior year … Was named the State Cup MVP and to the ODP Region IV All-Tournament team … Recently invited to the USYNT U21 virtual camp … An honor roll student at Douglas County High School.
Head says: "I chose Pepperdine because I loved the culture. I love that I am able to be whoever I want to be. I am also excited that I will be able to grow and learn in my faith and in God. I chose Pepperdine because of the atmosphere of the players that play at Pepperdine and the community. I am so excited to be a Wave."
Ward says: "We're excited to welcome another stellar Colorado goalkeeper to the Waves family in young Harlee Head. Harlee joins us from the nationally renowned Real Colorado ECNL program. Having led her previous club team, the Colorado Rush, to a national championship game in 2019, Harlee has continued that run of excellence with her current Real Colorado '04 team as they sit atop the Mountain West division. Recently invited to the USYNT U21 virtual camp, Harlee is that kind of good. She has a calm and confident presence in the goal that radiates to her team in front of her.  She possesses high-level shot stopping ability as well as excellent range with high balls. She also happens to be an outstanding passer of the ball and makes intelligent distribution decisions under pressure. Besides her on-field quality, Harlee continues the tradition of wonderful goalkeeper characters that the Waves have come to be known for over the years as she is a funny friend and sister. We can't wait to get to work with her on a regular basis in Malibu."
Melina Livadas – forward – Mission Viejo, Calif. – Capistrano Valley HS – So Cal Blues
Has been the top goal scorer and had the most assists the past six years with So Cal Blues … Finished fifth in the nation with USDA in 2018-19 … Captained the Capistrano Valley varsity soccer team her junior and senior year… Helped her high school team become two-time Sea View League champions … Was named to the All-Sea View League first team … A scholar athlete at Capistrano Valley High School.
Livadas says: "​​Pepperdine is the perfect fit for me because of the supportive academic community, top DI women's soccer program, and great Malibu location. With the help and guidance of Pepperdine's amazing coaching staff, I firmly believe I can attain my lifelong dream of playing professional women's soccer."
Ward says: "It is super exciting to bring another amazing SC Blues player into the Waves program in young Melina Livadas. We have had a number of brilliant players come to us from this storied club and Melina is, without a doubt, no exception.  She does the hardest thing in the game really, really well … and that is score and create goals for herself and her team. As a matter of fact, she has been one of the leading goal scorers in her age group in the entire DA/ECNL for the past few seasons.  Blessed with high-level athleticism and a fierce desire to excel, Melina is an absolute warrior and leader. She has a knack for running at and by defenders creating wonderful scoring moments for the teams she plays on and as a result, she has been called into multiple USYNT ID events over the last few years.  More than that, however, is the fact that Melina is also an extraordinary teammate and young lady of character. She is loved by her teammates and family and we are so very excited to have her join our Wave family."
Kyra Murphy – midfielder – Riverside, Calif. – Martin Luther King HS – Legends FC
Helped lead Martin Luther King HS to a Division 3 CIF-Southern Section championship and scored a goal in the championship game … Named to All-CIF Southern Section in 2020-21… Six-year starter for Legends FC … Ranked in the top 150 in Class of 2022 standings by Top Drawer Soccer … Also ranks in the top 100 nationally as a midfielder … Attended multiple National Training Center sessions from 2015-19.
Murphy says: "I chose Pepperdine because I felt supported, loved, and cared for by everyone as soon as I stepped on campus.  The team and staff are unbelievable people who I can trust to help me grow both on and off the field. Pepperdine has it all: amazing academics, superb soccer, and a lovely location."
Ward says: "What an amazing player and person we have in Kyra Murphy. Kyra was one of the last players we've added to this class and were absolutely stunned that she hadn't committed yet as she is an absolute gem of a player continuing our long legacy of fantastic Legends FC players coming to Malibu. Because of COVID, some incredibly talented players were still available later in the recruiting process and Kyra is one such athlete. Blessed with high-end pace and balance, Kyra ghosts by players and just makes the game look so elegant. She can impact the game as a box-to-box midfielder, can score goals as a striker or even do an incredible job as an attacking wide back. She is just one excellent and versatile soccer player. As a result, she has helped her club team become one of the best in the country as well as helping lead her high school team to a Division 3 CIF Southern Section championship in the 2020-21 season. Besides being super on the field, she is a wonderful young woman off of the field as well. We feel super blessed that she will be joining us next fall and can't wait to get to work with her on a daily basis."
Tatum Wynalda – midfielder/forward – Thousand Oaks, Calif. – Westlake HS – LAFC SoCal Youth Girls ECNL
Had the fastest goal scored in Westlake HS history, scoring 16 seconds into the game her senior year … Named Marmonte League Offensive MVP in 2021 and named to the All-Marmonte League first team … Collected All-CIF Southern Section first team in 2021 and All-Area first team in 2021 … Was named to the 2021 ECNL Girls National Selection team … Earned ECNL Southwest U17 All-Conference first team … Was the sixth-leading scorer in the nation in 2020 with 14 goals in 17 games … A scholar-athlete at Westlake High School… Uncle is Pepperdine head coach Tim Ward … Aunt Shelby Ward graduated from Pepperdine in 1997 and was a soccer student-athlete… Currently has a cousin, Nate Ward, that attends Pepperdine … … Mom, Amy Ward, and dad, Eric Wynalda, both played soccer at San Diego State … Dad is an American soccer legend who played in the 1990, 1994 and 1998 World Cups, scored the first goal in MLS history, was the first U.S. player in Germany, and was inducted into the National Soccer Hall of Fame in 2004 … Mom transferred to Cal Lutheran to play soccer and made an NCAA final four appearance… Mom was also named an Academic All-American.
Wynalda says: "I chose Pepperdine University not only for its academic/athletic excellence, but also because of the positive team culture, and the coaching staff's commitment to building women of character. With aspirations to play professionally, I know a program like Pepperdine can help me achieve my dreams."
Ward says: "We're so excited to have Tatum join us here in Malibu. A gifted goal scorer and creator, Tatum is a fierce competitor and a natural match winner coming from the local and successful Real So Cal/LAFC So Cal Youth set up. Having grown up with two parents that played at a really high level, she has a super-high soccer IQ and simply has a knack of being in the right place at the right time. She has been selected to be a part of different USYNT camps and training centers over the last few years as well as being selected to the ECNL All-Southwest first team last season. Building on that foundation, Tatum produced an amazing senior high school campaign leading her Westlake High School team to a 2021-22 league championship and along the way, picked up Marmonte League MVP, as well as Ventura County and L.A. Daily News Player of the Year' accolades. We're really excited to have Tatum at Pepperdine for off-the-field reasons as well as she continues a long line of family members to play and/or work at Pepperdine. She is a super fun young lady with a big personality and for me personally, the opportunity to coach my niece is something that I will cherish. So excited to welcome Tatum to the Wave family."
Erin Zeile – outside back – Westlake Village, Calif. – Oaks Christian HS – LAFC SoCal Youth
Played for Real/LAFC SoCal for 10 years … Captained the varsity soccer team at Oaks Christian High School her senior year … Helped lead Oaks Christain to a Marmonte League championship in 2021… Selected to the All-Marmonte League first team … Honored with the Lions Award at Oaks Christian for the player that best exemplifies what it means to lead with the heart of Christ.
Zeile says: "I chose Pepperdine because of the great coaching staff and the family atmosphere. I wanted to play with girls who will make me a better person on and off the field. I also love Malibu, especially the beautiful views."
Ward says: "We are so very excited to welcome Erin into our Wave family. A wonderful and versatile soccer player, Erin joins her Real So Cal/LAFC So Cal Youth teammates Kendall and Tatum in completing the trifecta of three local players to come to Malibu next fall. Erin is a fiercely competitive wide player that comes from a style of play that is so very similar to what we teach here in Malibu, so we believe she will be able to come in and compete right away. We feel that she will bring athleticism, composure and technical ability to our last line that will give us an immense amount of depth and competition in those spaces. Besides her club achievements, Erin just finished a wonderful high school campaign where she captained her Oaks Christian high school team to the Division 2 CIF Southern Section finals as well as the state tournament semifinals. She was selected to the All-Marmonte League first team and more importantly, was honored with the Lions Award at Oaks Christian for the player that best exemplifies what it means to lead with the heart of Christ. We are so excited to get to work with this wonderful young woman of character during the next four years in Malibu."