Two-time NCAA champion Kristina Lynch joins Notre Dame on transfer from Florida State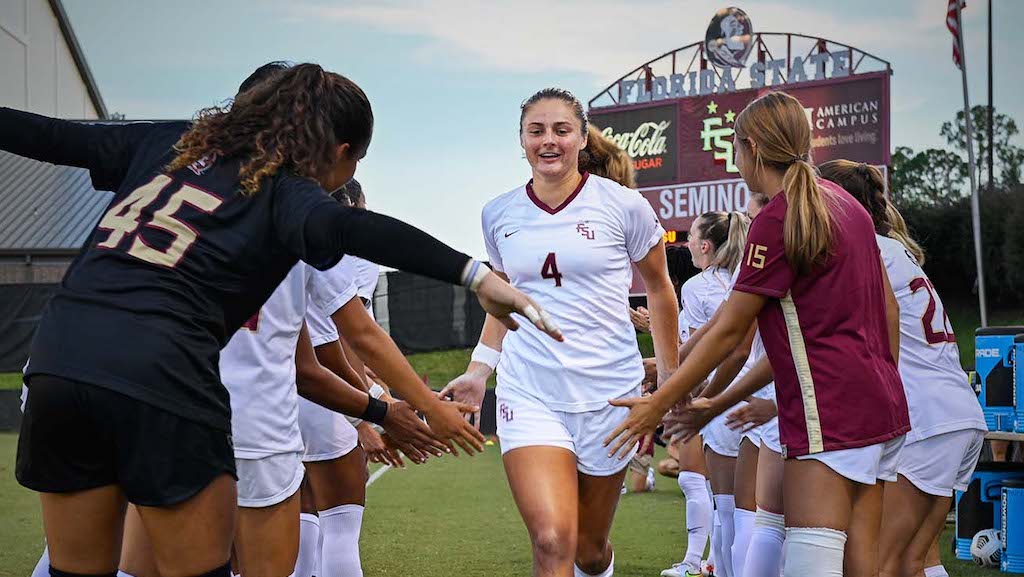 NOTRE DAME, Ind. – A two-time NCAA national champion will come home for her graduate season as Kristina Lynch will join the Notre Dame women's soccer team for the 2022 fall campaign. Hailing from Granger, Indiana, Lynch attended Penn High School and will be transferring in from Florida State.
"We are all very excited to add Kristina to our team," the Doug & Lisa Jones Family Head Coach Nate Norman said. "As she grew up in the area we have watched Kristina play since high school. I have always thought Kristina to be one of the most talented attacking players in the country.  She is going to be a huge addition to an already talented attacking team.
"She loves to run at players 1v1 , but also has the ability to combine and get behind defenders with her movement off the ball.  We can't wait to be able to work with her and are very happy she decided to come back home to finish her college soccer career."
Lynch played in 24 games, with 16 starts, amassing over 1,000 minutes for the Seminoles on their way to a 2021 national championship. Lynch tallied two goals, including one against No. 25 SMU in the second round of the NCAA Tournament.
Lynch also helped Florida State to a national title in 2018 as a freshman, where she totaled 10 points on four goals and two assists. In fact, one of her goals was the game-winner in the ACC Championship bout against No. 3 North Carolina.
All-in-all, Lynch boasts 12 career goals, including three game-winners. She's played in 77 games with 51 starts, totaling over 3,274 minutes on the pitch.
"I am so excited to play for Notre Dame this fall and finish out my college soccer career back home in front of family and friends. I remember attending multiple soccer camps growing up and watching numerous games at Alumni Stadium hoping to one day play for the Irish. It is really special to have this opportunity and I am so thankful to Coach Nate, Jason, and Dawn for believing in me and making the dream a reality. I look forward to playing with my new teammates and to the challenges and successes that lie ahead. Go Irish!"
Lynch also got it done off the pitch, being named a four-time All-ACC Academic Team member. Not to mention, she was the 2020-21 NCAA Elite 90 winner – given to the player with the highest G.P.A. at the College Cup.
For local Irish fans who might remember her high school career, she set Penn single-season records for goals (44), assists (26) and points (107), while also holding career records with 130 goals, 68 assists and 328 points. Lynch was both the 2017 United Soccer Coaches and TopDrawerSoccer National High School Player of the Year, along with the Indiana Gatorade Player of the Year.