Harvard women's soccer welcomes five newcomers ahead of 2022 season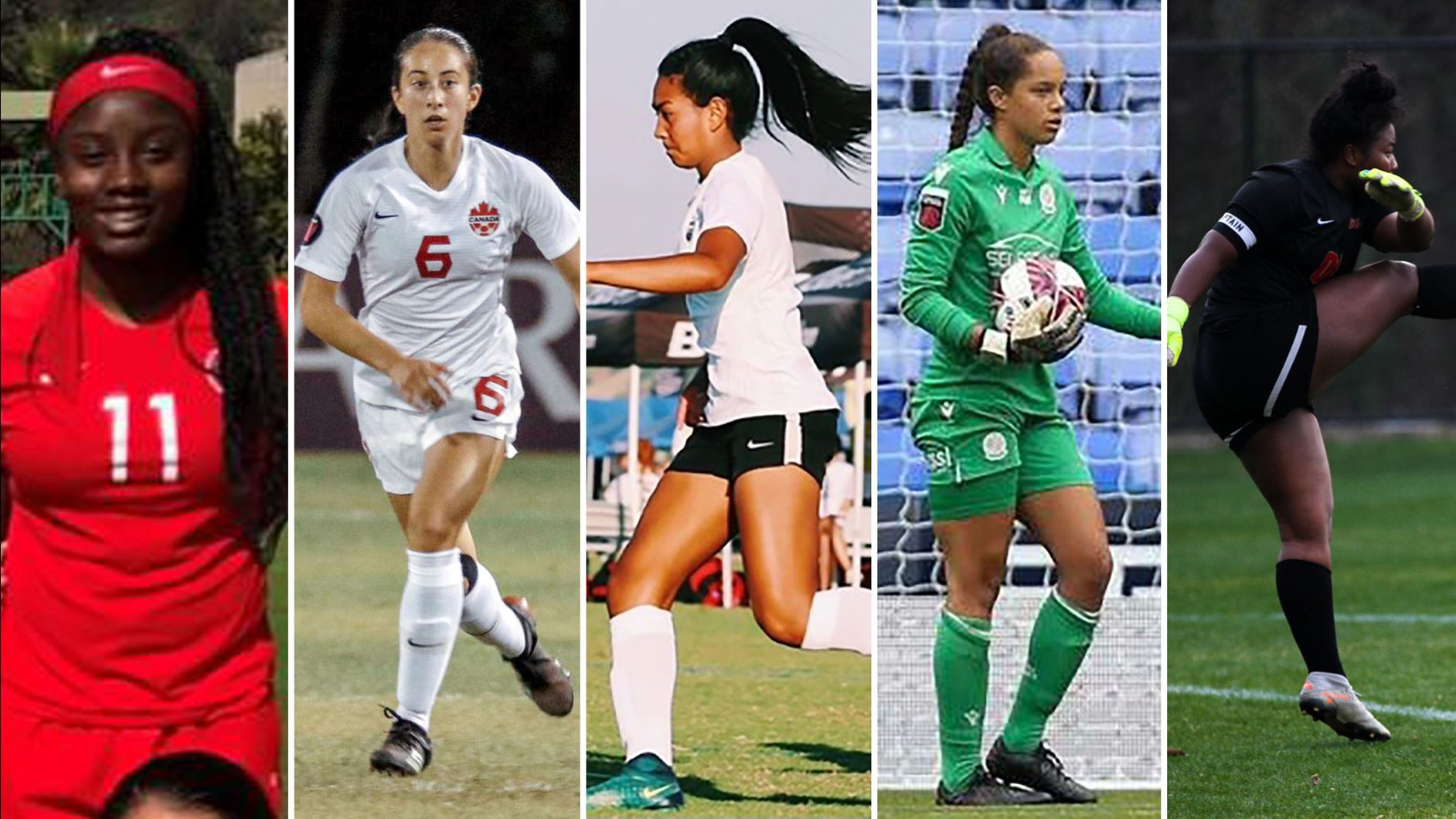 CAMBRIDGE, Mass. – Harvard University women's soccer will welcome five first-years to the program for the start of the 2022 season as part of the Class of 2026, announced Chris Hamblin, The Branca Family Head Coach for Harvard Women's Soccer.
Featuring multiple student-athletes who have competed for national team programs, the group includes two players from Canada, one from England, and two from the United States with one each from Georgia and Washington state. The class features one forward, one midfielder, one defender, and two goalkeepers.
"We are really looking forward to welcoming our first-year class to Cambridge," Hamblin said. "The class of 2026 perfectly complements our returning group and adds quality in all areas of the field. In addition to being outstanding students, the incoming class brings high quality soccer experiences at the club and international level."
The Crimson's Class of 2026 includes forward Audrey Francois (Laval, Quebec), midfielder Vanessa Frelih (Pickering, Ontario), defender August Hunter (Seattle, Wash.), goalkeeper Rhiannon Stewart (London, England), and goalkeeper Denver Tolson (Duluth, Ga.).
"I would like to thank Mike Calise, Mark McDevitt, Emma Clark, and Lauren Berman who have done another fantastic job of recruiting student-athletes to the program that are a great fit for our locker room and our style of play," Hamblin said. "We can't wait to see the 2022 team together this fall."
The group will join a Harvard program that has won 13 Ivy League titles and is coming off its 17th NCAA tournament appearance. In 2021, the Crimson earned national rankings as high as No. 4 in the NCAA RPI, No. 8 in the Top Drawer Soccer poll, and No. 16 in United Soccer Coaches rankings.
Audrey Francois
Position: Forward
Hometown: Laval, Quebec
High School: Vanier College
Before Harvard: U15-U20 Canadian National Team … Has competed in the Canada National Team program since 2016 … Made first national team camp at 13 years old in 2016-17 with the U15 and U17 teams … Competed with Canada's U15 team at the 2018 CONCACAF Championship and with the U17 team during its China tour in 2017 … Selected as one of the youngest players to enter the National High-Performance Center and Team Quebec in 2016 … Helped team reach the finals of the Quebec Games in 2016 … Advanced to the finals of the Canadian Championship with CS Monteuil in 2017 … Ranked as one of the top-three scorers in the Quebec Elite Soccer League from 2013-20 … Scored a career-high 43 goals in 17 games in 2016 … Competed on the club level for CS Monteuil and the National High-Performance Center (Female Excellence Program) … Won the Golden Boot in the Quebec Elite Soccer League in 2018 with 21 goals in 20 games … Dean Honor Roll student … Daughter of Josette Thelemaque.
Vanessa Frelih
Position: Midfielder
Hometown: Pickering, Ontario
High School: Bill Crothers Secondary School
Before Harvard: U15-U20 Canadian National Team … Helped Canada's U20 team qualify for the 2022 U20 World Cup, competing in the CONCACAF World Cup Qualifying competition and helping the team concede only one goal … Made Canada's U17 team in 2019, playing against Mexico … Selected for the Generation Adidas trip to train with the Olympique Lyonnaise U19 academy in 2019 … Won the National Gatorade 5v5 championship in 2019, competing in the global finals in Madrid, Spain and earning a spot in the All-Star game … Competed on the club level for Pickering Soccer Club and the Ontario Regional Excel Program; served both teams as a captain … Daughter of Glynnis and Frank Frelih … Cousin Vaughn Covil has played professionally in England with Forest Green Rovers.
August Hunter
Position: Defender
Hometown: Seattle, Wash.
High School: The Overlake School
Before Harvard: Attended U.S. Soccer U15 National Team camps in 2017 and 2018 … Selected for the 2017 Region IV Interregional Tournament Team … Competed at the Region IV Regional Camp and ODP National Camp in 2017 … Helped Region IV team reach the finals in 2017 … Made the Washington State ODP 2016 Region IV All-Tournament Team, helping Region IV team win the tournament title … Competed on the club level for Seattle Reign Academy (2016-20) and Seattle United (2020-22), serving as a captain for both teams … Served as a student leader on school's Student Equity Council and Black Student Union … Daughter of Risako Tanaka and Max Hunter … Sister, Smith, is a member of the Harvard women's soccer Class of 2024.
Rhiannon Stewart
Position: Goalkeeper
Hometown: London, England
High School: Elthorne Park
Before Harvard: U18-U19 England National Team … Made her debut in the Women's Championship at age 16 … Debuted in the Women's Super League at age 18 against Arsenal … Earned a debut win in the FA Cup against Brighton to help team advance through to the fifth round … Competed on the club level for Reading Women FC, the Millwall Lionesses, and the Chelsea RTC Academy … Attended John Madejski Academy and Elthorne Park for high school … Completed an EPQ project researching mental health in black communities in the UK … Daughter of Julie Aldred and Desmond Stewart.
Denver Tolson
Position: Goalkeeper
Hometown: Duluth, Ga.
High School: Greater Atlanta Christian School
Before Harvard: Ranked as the No. 2 goalkeeper in the South Atlantic Region in the IMG 150 … Selected to the Top Drawer Soccer Best XI Girls Academy Texas Showcase in February 2021 … Helped team reach the state finals in 2022 … Finished third at the 2021 Girls Academy U17 tournament … Reached the quarterfinals of the 2018-19 U.S. Soccer Development Academy tournament … Served team as a captain as a senior … Competed on the club level for Tophat Soccer … President's List, National Merit Commended Scholar, and an AP Scholar with Honor … National Honor Society member … Daughter of Audrey and John Tolson … Sister, Kennedy, played goalkeeper at Maryland from 2019-21.