James Madison University welcomes nine women's soccer recruits for 2022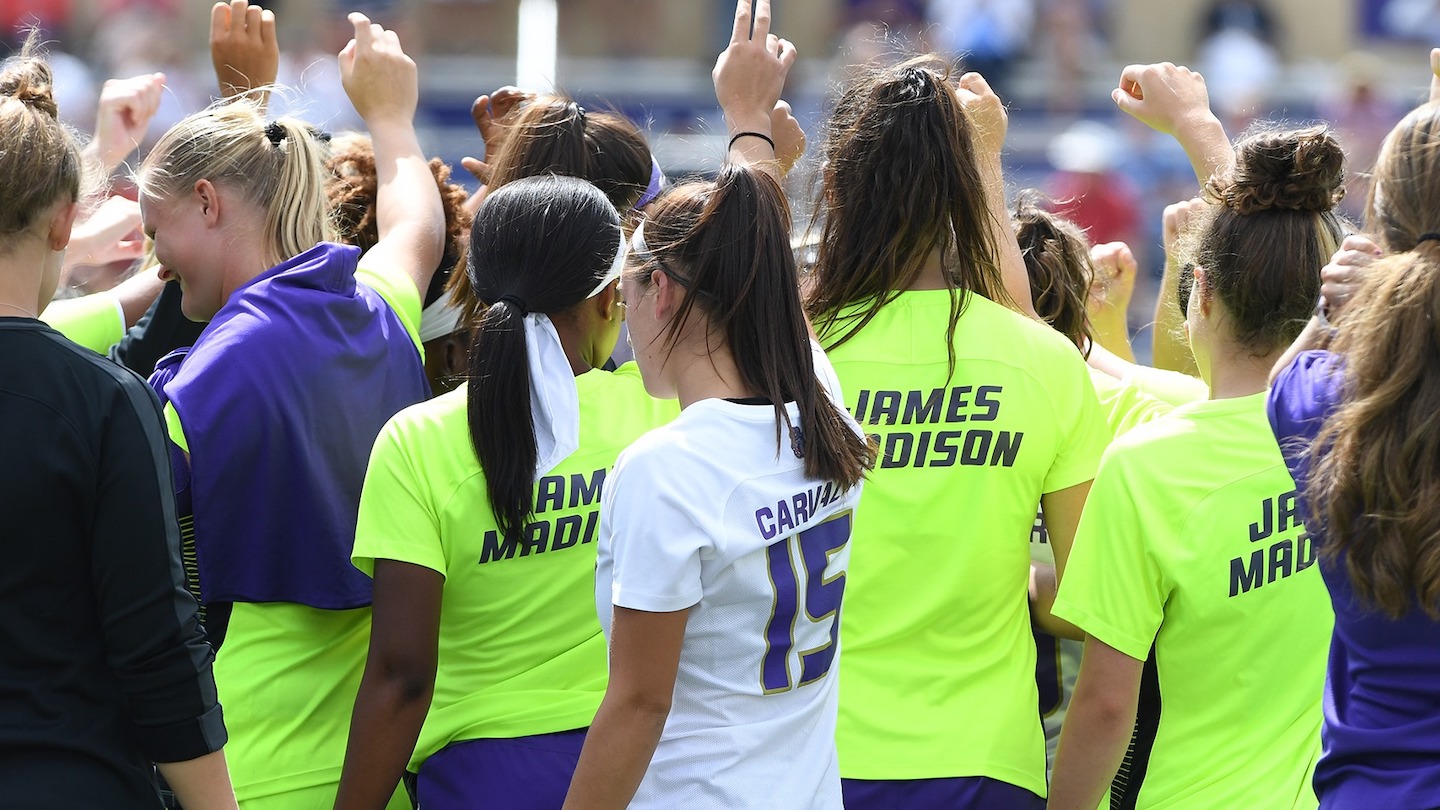 HARRISONBURG, Va. – The 2022 season for James Madison University women's soccer will include nine newcomers, head coach Joshua Walters, Sr. announced.
The signing class is the first class to be ranked nationally in program history, ranking as high as No. 35 by TopDrawer Soccer, and features a mix of versatility with seven freshmen and two transfers.
"I have very high expectations for this nationally ranked class", Walters said. "They all have accomplished so much both in the classroom and on the field and are ready for the transition to JMU. As our program grows and improves, we are attracting high character achievers who want to do something uncommon. They are entering a team that will be three semesters into our new game model of positional play where we have developed ideas, language and identity that is quite often different from anything they have experienced in their young careers.
Kat Cassidy
Hometown: Ashburn, Va.
Position: M/F/D
Club Team: FC Virginia
Coach Walters' thoughts: Kat was the first commitment in the 2022 class and the only one during the pandemic "no visit" phase because she had such strong ties to JMU. She grew up wanting to be a JMU Duke and it is awesome seeing that dream come true. Unfortunately, she will redshirt this fall recovering from an ACL tear in basketball this past winter. Kat is a great competitor and I have no doubt she will come back stronger. She is very versatile on the field and can play in almost any position.
Y-Van Nguyen
Hometown: Fairfax, Va.
Position: M/F/D
Club Team: VDA
Coach Walters' thoughts: Y-Van is a very cognitive attacking player. She really sees the game well and has the technical quality to control the ball with pressure. She can honestly play wide or central and turns any position she plays into an attacking position. One of my favorite qualities about Y-Van is that she makes those around her better and her teammates love playing with her.
Jordan Yang
Hometown: Clifton, Va.
Position: D
Club Team: FC Virginia
Coach Walters' thoughts: Jordan oozes leadership and responsibility, which I feel she gets honestly from both of her parents being former Navy officers. She is a fantastic decision maker on the field and is very clean with the ball. She does a good job scanning and solving problems at either wide back or center back. Also, she is a lefty which creates good balance on that side of the field. She has a big soccer IQ and lots of character.
Lizzie Gillen
Hometown: Toms River, N.J.
Position: D/M
Club Team: PDA Shore
Coach Walters' thoughts: Lizzie is a multi-sport athlete and she excels at all of them. She is a powerful and fast player that I think will thrive in the college game. This has led her to a successful prep career and we think she will add something unique to our program. We see her as a center back, but with her athleticism, outside back is not out of the question.
Jamie Swartz
Hometown: Palmyra, Pa.
Position: M/F/D
Club Team: Penn FC
Coach Walters' thoughts: Jamie is the definition of competitive. She wants to win and is willing to touch every blade of grass on the field to do so. She can impact the game in a variety of ways as she has elite pace, is very good in the air, is hard on the tackle and can score goals. She led her club team to a National Championship and played on all three lines (forward, midfield and defense) in doing so.
Alexa Aranias
Hometown: Emerson, N.J.
Position: D
Club Team: Match Fit
Coach Walters' thoughts: Alexa has this great warrior spirit that I love. She is a competitor with great technique and plays with a lot of courage. She is excellent 1 v 1 with and without the ball and for her size she has a very long throw-in that can be used as an attacking weapon. I loved watching her play as a youth player and think she will love our environment.
Soleil Flores
Hometown: Nokesville, Va.
Position: D
Club Team: VDA
Coach Walters' thoughts: Any time I walked up to a field that Soleil was playing on she was the first person I noticed. She has a great presence on the field and is super calm, cool and collected under pressure. She has sprinter recovery speed to defend when other teams get behind the back line. So much so, that we see her as an eraser, meaning she has the recovery pace to erase mistakes in the back.
Hannah Young
Hometown: Enola, Pa.
Position: M
Former Team: Nebraska
Coach Walters' thoughts: Hannah will bring a high level of competitiveness from her time in the Big 10. She is a hard working two-way midfielder that is always looking for that killer ball to put a forward in to score, but can also come up with big defensive stops. She has a coach's mentality on the field and loves the game. Her skillset on the ball and mentality off the ball will be a fantastic fit in our program.
London Lewis
Hometown: Prince Frederick, Md.
Position: D/F
Former Team: High Point
Coach Walters' thoughts: London transferred in from a successful positional play program that plays a brand of soccer very similar to us. She is athletic and loves to combine out of the back to get forward. She can play on the right or left side of the defense. Because of her experience, she will be able to pick up our game model quickly and I am excited to see her ideas. We are thrilled that London chose JMU to further her growth in college and we can't wait to be part of that growth.
"The key to this class's integration will be the ability to learn from the returning players, grasp the details to our style of play and to apply information," added Walters. "The leaders on our team are prepared and excited for this challenge to bring them into our family and culture that they have worked so hard to develop."