Ben Graham hired as head coach of Holy Cross women's soccer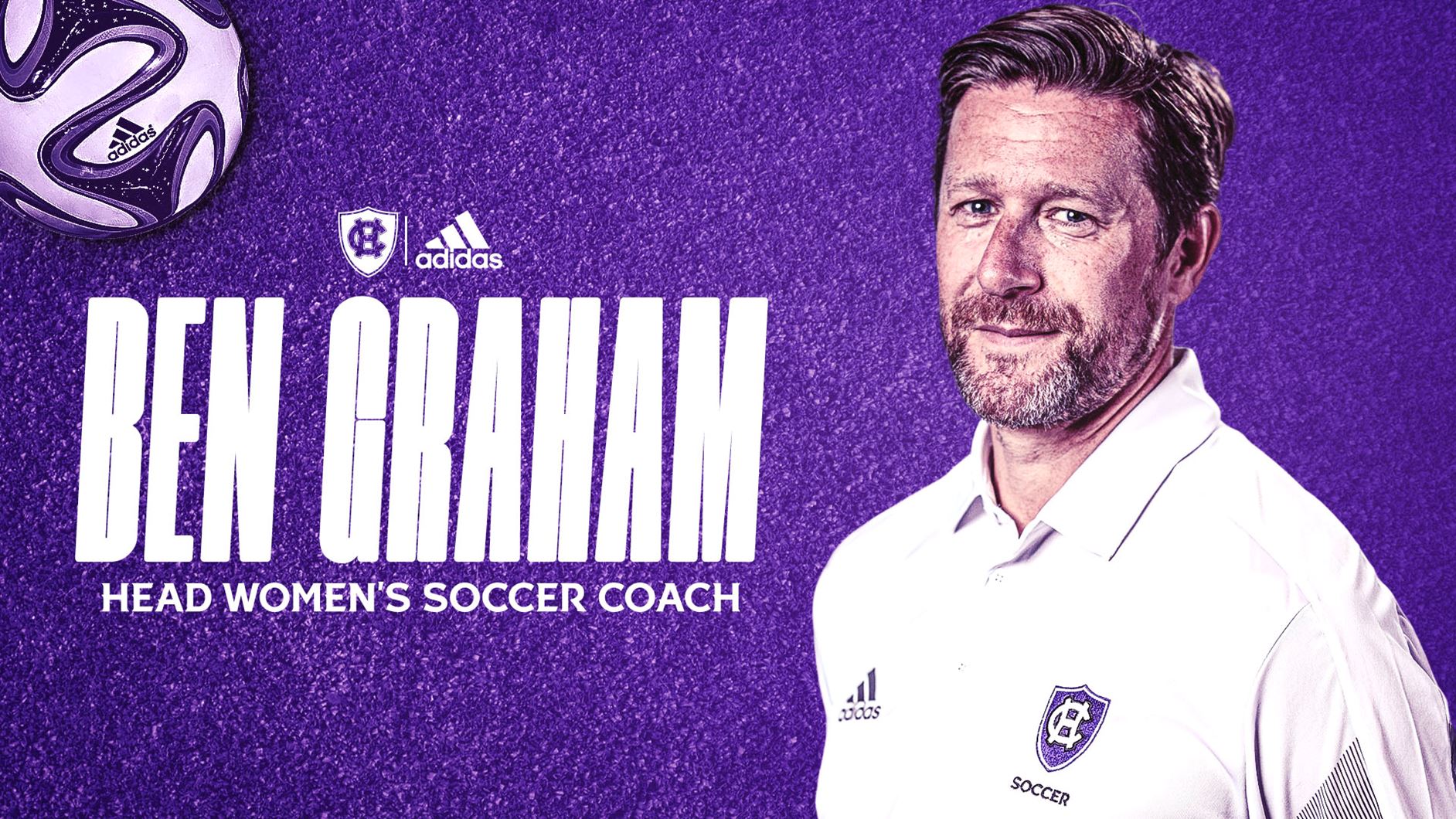 WORCESTER, Mass. – Holy Cross has named Ben Graham as the new head coach of its women's soccer program, as announced by Director of Athletics Kit Hughes.
The ninth head coach in program history, Graham served as the Crusaders' interim head coach during the spring of 2022 and takes over after spending six seasons on the staff of the Holy Cross men's soccer team, including the last four as associate head coach.
"Throughout an incredibly competitive search process it became clear that the ideal candidate to lead Crusader women's soccer into the future was right here in Worcester," Hughes said. "Ben Graham is a tireless leader and team builder who is ready to pursue excellence and fulfill the potential we all believe lies within this program. He has shown the ability to build strong, lasting relationships with student-athletes and peers, and I cannot think of a better person to represent our program and Holy Cross. The best is yet to come, and I am thrilled to have Ben leading the way."
Graham was the associate head coach of the Holy Cross men from 2018-2021, after spending two seasons as an assistant coach from 2016-2017. He helped the team to three Patriot League Tournament appearances during that time, with Holy Cross reaching the championship game in 2017, the semifinals in the spring of 2021 and the quarterfinals in the fall of 2021. Last year, the Crusaders went 8-8-3 overall for their most wins in a single season since 2013, and placed third in the Patriot League at 5-3-1 after being picked eighth in the preseason poll.
"I would like to thank Kit Hughes, Rose Shea and the rest of the search committee for entrusting me to lead the women's soccer program here at Holy Cross," Graham said. "I am excited to be working with this impressive group of young women after seeing all the hard work they put in this spring to improve themselves and the program. I look forward to continuing my association with Holy Cross and the Worcester community for many years to come, as we strive to return to the Patriot League Tournament and contend for a championship.
"I would also like to pay special tribute to head men's soccer coach Marco Koolman, who has been a fantastic mentor to me over the last six seasons. I look forward to watching the men's program continue to grow and get stronger over the coming years. "
Prior to his time at Holy Cross, Graham spent two seasons as an assistant men's soccer coach at Stanford from 2014-2015. He helped the Cardinal win the national championship in 2015, after the team advanced to the NCAA Tournament second round in 2014. Stanford also won back-to-back Pacific-12 Conference titles during his time on the staff.
Before heading to Stanford, Graham was an assistant men's soccer coach at Northeastern from 2012-2014, working with the goalkeepers in addition to assisting with recruiting and scouting opponents. He helped the Huskies to their first-ever Colonial Athletic Association title and an NCAA Tournament second round appearance in 2012.
From 2009-2011, Graham built the men's and women's soccer programs at Marymount (Calif.) College – the school's first varsity teams – from the ground up as they transitioned to fully accredited NAIA programs. In three seasons, he led the Mariners to 31 combined wins and matched a men's program-best with eight wins in 2010. Under Graham, three Mariners earned all-conference status and two were named NAIA Scholar-Athletes.
Prior to his time at Marymount, Graham was an assistant men's soccer coach at Cal State Bakersfield for two seasons from 2007-2008, assisting in the Roadrunners' transition from Division II to Division I. He also served as a graduate assistant at the University of Incarnate Word in San Antonio, Texas, from 2005-2006, helping the Cardinals to two NCAA Division II tournaments.
Originally from Newcastle-Upon-Tyne, England, Graham received his bachelor of laws and juris doctor degrees from the University of Sheffield (England) in 1996 and 1998, respectively. He played semi-professionally in the United Kingdom before coming to the United States to pursue coaching at the high school and club level in 2000. Graham won a high school state championship in Maine in 2002 and was named the NSCAA Coach of the Year in the state. He went on to receive a master's degree in teaching in curriculum and instruction from Cal State Bakersfield in 2009, and is pursuing his doctorate degree at the United States Sports Academy
Graham holds a USSF A license, a USSF National Goalkeeping License and an NSCAA Premier Diploma.