Groups unveiled for 2019 Super Y Finals U-16/17 Boys and Girls Divisions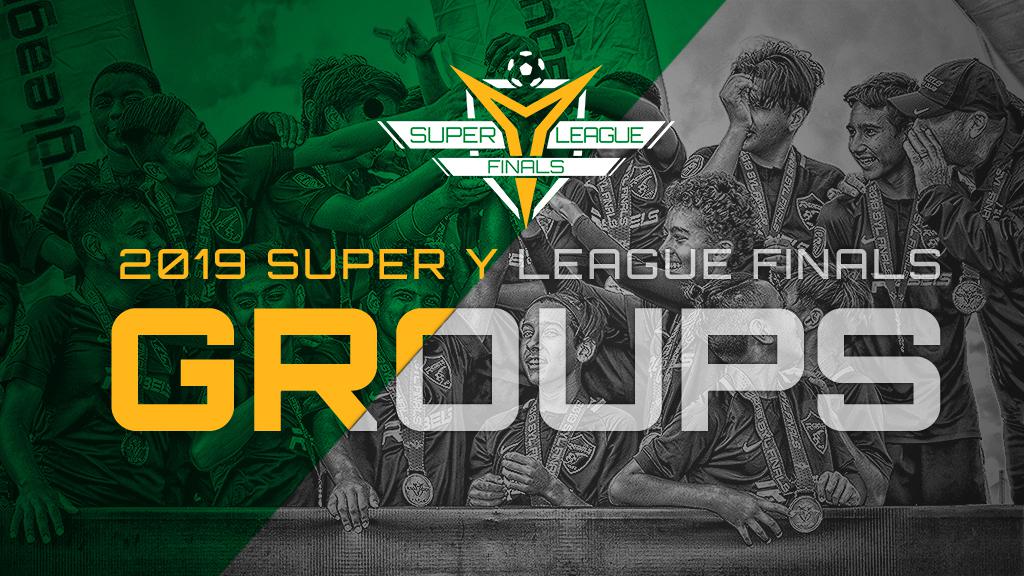 The 2019 Super Y Finals will take place from December 13-17 at the Hillsborough County Tournament Sportsplex in Tampa, Florida.
120 teams from across the country will take part in hopes of being crowned national champions in their division. Super Y League Finals follow a similar tournament format to many of the world's biggest soccer competitions, with the best teams in each group moving on to the knockout rounds. The scenarios for qualification to the knockout rounds are:
For divisions containing four groups, the four group winners will advance.
For divisions containing three groups, the three group winners will advance, as well as the best second-place team.
For divisions containing two groups, the two group winners and the two group runner-ups will advance.
During the week of September 23, the groups will be announced for one age group per day, beginning with U13 boys and girls. The full tournament schedule will be released on Friday.
See below for a look at the U-16/17 brackets:
U-16/17 Girls
Group A
North Virginia Majestics
Chicago City SC 1
Kalamazoo Kingdom SC
West Side Alliance
With 34 goals scored and only two conceded, Northern Virginia Majestics are one of the most dangerous teams at Super Y Finals. They'll face another undefeated group winner in Chicago City SC 1, while Kalamazoo Kingdom and West Side Alliance have enough talent to give anyone problems.
Group B
Nationals – TC Black
Calvert Soccer Association Cyclones
City FC – Storm Penna
FRAM SC 04
All four teams in Group B won their divisions during the regular season, and it's anyone's guess who will advance at Finals. Nationals – TC Black have a dynamic duo of two players who combined for 16 goals, while the other three teams in the group have lost only one game each.
Group C
Atlanta Metros FC
Chicago City SC 2
FRAM SC 03
Chicago Rush SC
Group C pits four evenly-matched sides against one another. Metros and FRAM both have one loss to their name, while Chicago Rush are undefeated thanks to two players combining to score 14 goals.
U-16/17 Boys
Group A
Chicago City SC
Indiana Elite FC
Westchester Flames 04
FRAM SC 03
Three group winners headline Group A. Chicago City will be a tall task for anyone to defeat. They posted a 9-1-0 record during the season, scoring 40 goals and allowing only four to post one of Super Y's best goal differentials. Indiana Elite also conceded only four times, and have talented striker Dane Richardson up front who tallied 10 goals on the year.
Group B
Evolution SC
Oceanside Breakers 04
Port Washington SC
United Futbol Academy – Predator
Group B is laden with quality teams. Evolution SC are one of the best teams on paper, with a +30 goal differential on the season. Port Washington scored 37 goals in eight games and have one of the nation's most potent attacks. Oceanside Breakers 04 will be tough to turn over, bringing an undefeated record to Tampa.
Group C
Atlanta Fire United – PSG
Crystal Lake Force
Elizabeth Youth Soccer Gunners
BYSC Corona United 03
Trying to stop Atlanta Fire United – PSG's attack is much easier said than done. The team is incredibly balanced going forward, with four players combining for 35 goals. Crystal Lake Force have a high-powered offense too, and the matchup between those two sides should be full of goals. The other two teams in the group have both lost just one time.
Group D
High Performance SC
Soccer Field Academy
FC Wichita
Manhattan SC
High Performance SC's young striker Matias Llontop Villavicencio is one of Super Y's most efficient finishers, averaging a brace per game. He'll be tested against a group full of excellent defenses – his own team allowed only three goals during the season, as did Soccer Field Academy. But those aren't even the group's best defenses – FC Wichita has conceded one goal so far this year.