Groups unveiled for 2019 Super Y Finals U-14 Boys and Girls Divisions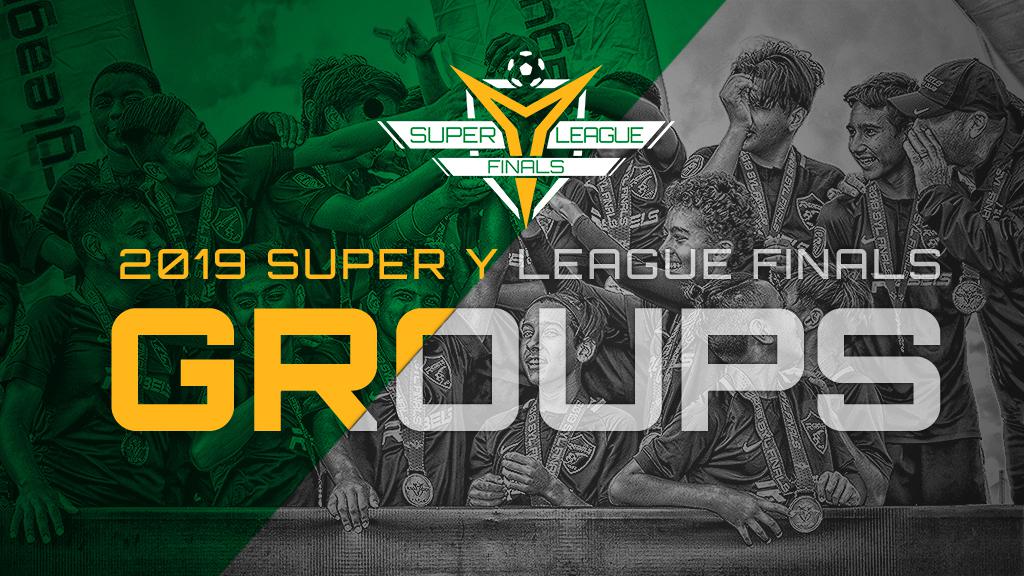 The 2019 Super Y Finals will take place from December 13-17 at the Hillsborough County Tournament Sportsplex in Tampa, Florida.
120 teams from across the country will take part in hopes of being crowned national champions in their division. Super Y League Finals follow a similar tournament format to many of the world's biggest soccer competitions, with the best teams in each group moving on to the knockout rounds. The scenarios for qualification to the knockout rounds are:
For divisions containing four groups, the four group winners will advance.
For divisions containing three groups, the three group winners will advance, as well as the best second-place team.
For divisions containing two groups, the two group winners and the two group runner-ups will advance.
See below for a look at the U-14 Girls and Boys groups:
U-14 Girls
Group A
Northern Virginia SC
Rebels SC
Chicago Soccer Academy
Morris Elite SC
Headlining Group A is Northern Virginia SC, with a record of 8-0-0 and a +38 goal differential. Their multi-pronged offense had three players combined for 24 goals. They'll have to face another undefeated team in Rebels SC, and another group winner in Chicago Soccer Academy.
Group B
Central Illinois Elite North
Northern Virginia Majestics Futbol
Stony Brook FC
Oceanside Breakers
Two of the nation's top offenses reside in Group B with Central Illinois Elite North (41 goals) and Northern Virginia Majestics (37 goals). The other two teams in the group will prove tough to beat, as they lost only a combined three of 13 games.
Group C
Parsippany SC
Chicago Rush SC
City FC – Bertelsen
Internationals SC
Undefeated Parsippany had a great season at both ends of the pitch. The team scored 38 goals, 13 of them coming from Scarlett Brookes, while allowing just three defensively. They'll be tested by two other undefeated group winners: Chicago Rush, whose duo of Eliana Egeland and Sarah DiGarazia combined for 18 goals, and City FC – Bertelsen.
U-14 Boys
Group A
Bethesda SC
BYSC Corona United
Massapequa SC
Liverpool FC – Michigan Central Academy
Bethesda comes to finals as one of the most dangerous teams in all of Super Y League. They scored more goals and had a greater goal differential than any team in any division across the league, scoring 54 and allowing zero across eight matches. The team is well-balanced, boasting three double-digit goal scorers and Super Y Golden Glove winner Nicolas Molineus at the back. They'll face their toughest tests yet in three other talented squads, including fellow undefeated side BYSC Corona United.
Group B
Ironbound SC Inter
Indiana Elite FC
Barcelona United
Atlanta Metros FC
Group B matches will be some of the most fun to watch at Finals, with multiple high-powered offenses on display. Though Ironbound boast an undefeated record, both Indiana Elite and Atlanta Metros scored more than 30 goals, while Barcelona United lost only two of eight games.
Group C
Liverpool FC – Michigan AA Academy
Maryland Rush Montgomery
Port Washington SC
City FC – Rodriguez
Liverpool FC – Michigan AA Academy has one of the nation's stingiest backlines, which allowed just two goals and helped the team to an undefeated season. Maryland Rush will provide a stern test for that defense, especially striker Magnol Jordany Profeta, who averaged 2.5 goals per game.
Group D
United Futbol Academy
Parsippany SC
Kalamazoo Kingdom SC
Calvert Soccer Association
Group D should see some close contests between quality sides, with two undefeated teams and three group winners in its ranks. United Futbol Academy has a goal differential of +24, while Parsippany's offense scored 30 goals with help from striker Andrew Fuenzalida, who scored 12 goals in only eight games.