Groups unveiled for 2019 Super Y Finals U-13 Boys and Girls Divisions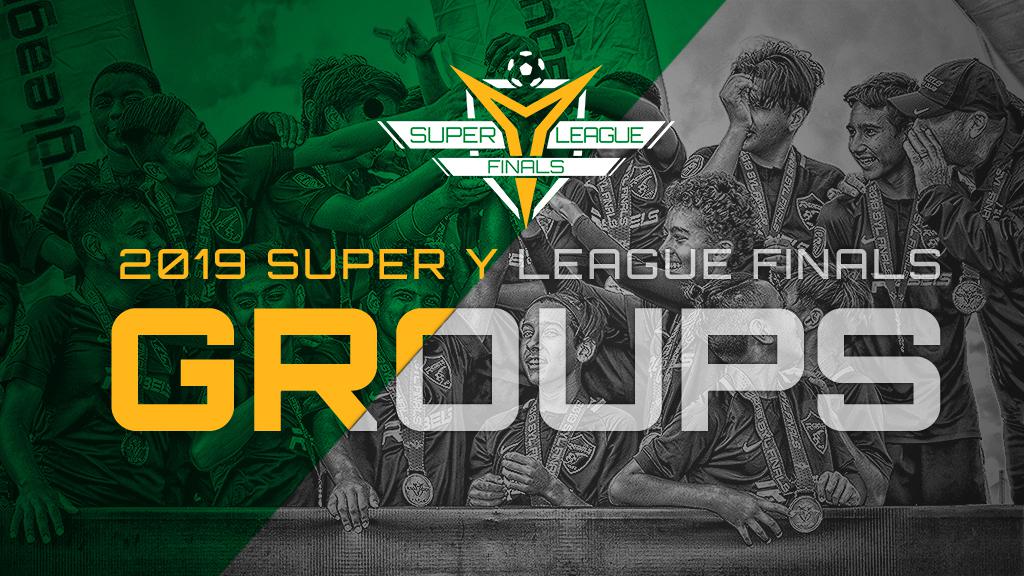 The 2019 Super Y Finals will take place from December 13-17 at the Hillsborough County Tournament Sportsplex in Tampa, Florida.
A total of 120 teams from across the country will take part in hopes of being crowned national champions in their division. Super Y League Finals follow a similar tournament format to many of the world's biggest soccer competitions, with the best teams in each group moving on to the knockout rounds. The scenarios for qualification to the knockout rounds are:
For divisions containing four groups, the four group winners will advance.
For divisions containing three groups, the three group winners will advance, as well as the best second-place team.
For divisions containing two groups, the two group winners and the two group runner-ups will advance.
During the week of September 23, the groups will be announced for one age group per day, beginning with U13 boys and girls. The full tournament schedule will be released on Friday.
U-13 Girls
Group A
Arguably one of the most balanced groups in the field, all four teams in Group A can make a deep run at the tournament. FC Virginia – Loudoun is dangerous because of their balance. They have two players with 14 goals each, and Super Y Golden Glove winner Meredith Fisher between the posts. Internationals SC went undefeated, scoring 33 goals and allowing 3 in six games. Chicago Soccer Academy's Simran Sharma averages 2 goals per game, and Arlington boast an impressive tally of 21 goals across six games. The games in Group A should be some of the most exciting to watch.
Group B
Nationals – Oakland Black
Atlanta Metros FC
West Side Alliance
Liverpool FC – Michigan AA Academy
Group B features three group winners with just one combined loss between them. West Side Alliance's defense is very tough to get past, allowing just one goal so far this year. They'll be tested against Nationals and Atlanta Metros, both of whom bring high-powered offenses down to Tampa.
Group C
Central Illinois Elite North
Tri-State Elite
Davidsonville FC Black
Florida Premier FC
One of Super Y's elite strikers will look to make her mark in Group C. Golden Boot Winner Kiara Desiderio leads a lethal attack for Central Illinois, which scored 38 goals and allowed only two on its way to an undefeated season. They'll face another team who has yet to lose in Tri-State Elite. That matchup pits an incredible offense against a lights-out defense, as Tri-State has let just one goal past them in six games.
U-13 Boys
Group A
Liverpool FC – Michigan Central Academy
West Side Alliance
Soccer Field Academy
Cedar Stars Academy Hudson Valley
Group A figures to be competitive. Liverpool FC – Michigan Central Academy never lost across 10 matches, and West Side Alliance is also undefeated thanks to a solid defense which allowed just two goals all season.
Group B
Midwest United FC
Parsippany SC
Atlanta Metros FC
Waldorf SC
Group B features two teams without a loss. Midwest United posted an impressive +28 goal differential, scoring 30 goals and conceding just two in eight games. Jack Riebel accounted for 10 of those strikes. Parsippany also has yet to be defeated. Atlanta Metros bring one of the nation's most dangerous offenses to finals, led by the dynamic duo of Sheku Bangura and Landon Shaffer who have 26 goals between them.
Group C
Morris Elite SC
Calvert Soccer Association
Chicago City SC
SCOR – Meulensteen
Group C looks to have four evenly-matched sides, all with plenty of quality throughout their rosters. Calvert Soccer Association's Nathan Kennedy will try to continue his excellent scoring form this season, in which he's scored 13 times in only seven games.
Group D
Bethesda SC
Ironbound SC
Michigan Lightning
DDYSC Wolves
Group D is stacked with top-notch teams. Bethesda is undefeated, scoring 35 goals and allowing four so far this year in Super Y play. They'll face off with Ironbound SC, who have an excellent balanced offense. Christopher Runde, David Lopes and Ethan Geronimo have 27 goals between them, making it hard for opposing defenses to focus on any one of them.