Florida Atlantic University welcomes 10 women's soccer newcomers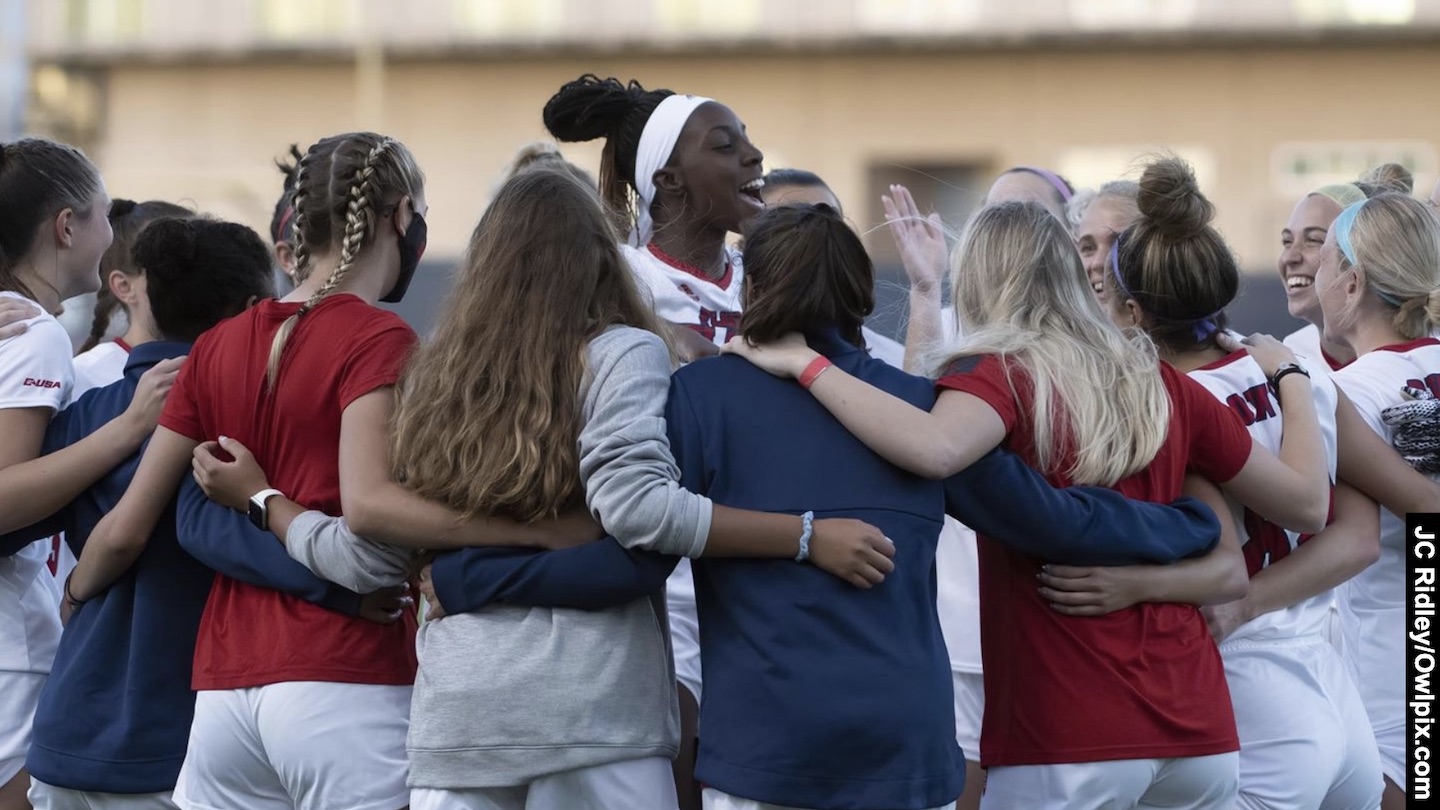 BOCA RATON, Fla. – With the season opener coming up this week, a total of 10 Florida Atlantic University women's soccer players have their first match as a member of the program on tap for Thursday night.
Of the incoming players, six are true freshmen and four are transfers, including two grad students. Six of the 10 hail from the Sunshine State originally, including two of those aforementioned transfers, coming back near to where they starred in high school.
In addition to the 10 brand-new fresh faces, freshman midfielder Fabiola Menendez did not participate in the spring, and freshman defender Teagan Duenkel sat out due to injury, so they could ostensibly make their Owl debut this season as well. These 10 newcomers join 22 returnees from this past spring.
Here is a breakdown of the 10 newcomers, by position group:
Defenders (3): Kendal Johnson, Jodi Smith, Amanda Squitieri
Midfielders (5): Emma Chaffin, Mackenzie Gorski, Lauren Holland, Erin McRae, Sofia Voldby
Forwards (2): Bri Austin, Kaylin Johnston
And here is more on each of the newcomers, listed below alphabetically:
#3 Austin – 5-7 Grad Forward – Miami, Fla. (Villanova)
Austin played four seasons at Villanova, with 50 matches played and 32 starts in her career, recording nine goals (including four-game winners) and two assists. She played her high school soccer at Gulliver Prep, where she was three-time Team MVP and First Team All-State in 2017.
#16 Chaffin – 5-9 Freshman Midfielder – Tampa, Fla. (Plant)
At Plant, Chaffin earned the team's 2021 "Above and Beyond" award. The Panthers were 18-2 her senior season and made it to the Class 7A final four.
#23 Gorski – 5-7 Freshman Midfielder – Estero, Fla. (Estero)
Gorski set a school record at Estero with 48 goals in just 16 matches, including another team mark of five in a game, eventually earning her First Team All-State honors. She was also finalist for Player of the Year.
#22 Holland – 5-9 Sophomore Midfielder/Defender – Skokie, Ill. (Minnesota)
Prior to starting her collegiate career at Minnesota, Holland was a four-year varsity starter at Niles North High School. She was twice chosen to the Illinois ODP State Team, and gained experience at the US Girls Soccer Training Center as well.
#26 Johnson – 5-6 Sophomore Defender – Jacksonville, Fla. (Mississippi State)
Johnson played in four matches in her only year with the Bulldogs. She made her way to Starkville from the Providence School, where she led the team to three district titles and starred in track as well, holding the fastest 200 meter hurdle time in the nation in 2016.
#00 Johnston – 5-9 Freshman Forward – Medford, N.J. (Holy Cross Prep)
Johnston (original signing release HERE) helped her high school squad to a NJ SWE Regional Championship as a senior, and made the NJ All-Group All-Second Team. The year prior, she was Burlington County Scholastic League All-First Team, and part of the BCSL Patriot Division champions.
#19 McRae – 5-4 Grad Midfielder – Charlotte, N.C. (Stetson)
McRae started all 43 matches in her Hatters' career, and graduated from the school in just three years. She began her career there by being named Atlantic Sun Conference All-Freshman. Prior to college, at Mallard High School, she was three-time All-Conference and two-time All-Region.
#17 Smith – 5-7 Freshman Defender – Pembroke Pines, Fla. (Monsignor Pace)
Smith (original signing release HERE) actually spent the spring with the Owls – during the regular season as it turned out – as she enrolled early in school. She started all four years at Monsignor Pace, and in club, was part of a region championship-winning squad.
#6 Squitieri – 5-3 Freshman Defender – Lakewood Ranch, Fla. (Manatee)
Squitieri was a member of the FHSAA Florida All-Star Team, and played in the FACA girls' All-Star Classic, after a season where she scored 22 goals and had 13 assists. She also graduated in the top 4% of her class.
#18 Voldby – 5-6 Freshman Midfielder – Halmstead, Sweden (Aspero Idrottsgymnasium)
Voldby (original signing release HERE) played club soccer for IS Halmias and had the opportunity to attend a national camp held by the Swedish Soccer Association for the F18 national women's team. She was also part of the 2019 Gothia Cup U18 gold medal-winning squad, in Göteborgs DFF.