Eight Central Florida clubs join EDP Orlando Metro League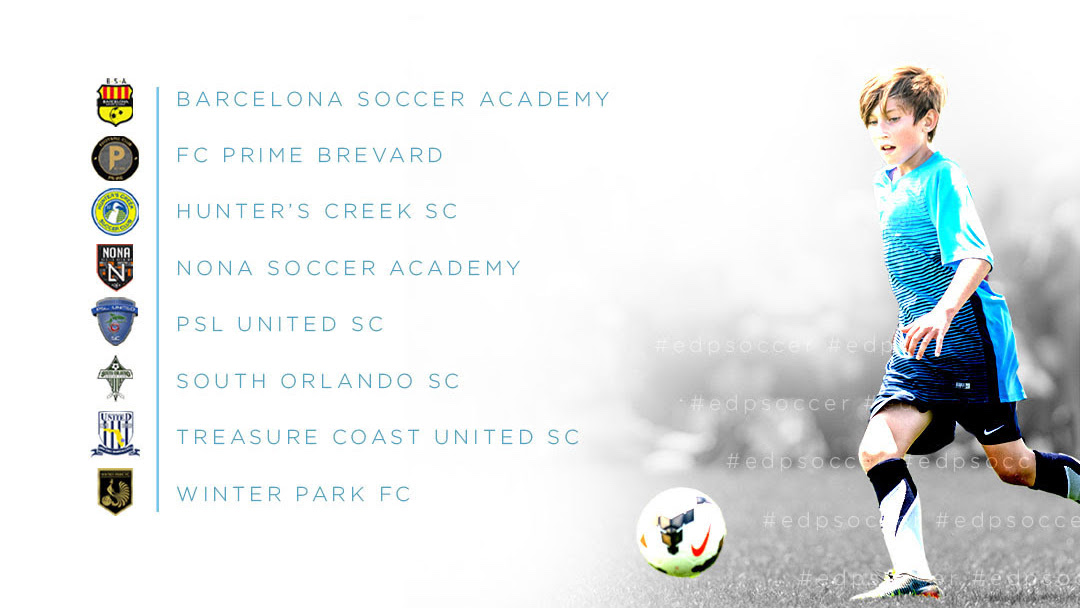 Orlando, Florida — The new EDP Florida Competitive Leagues program today announced that 8 clubs in the Central Florida area have committed to play in the inaugural season of the Orlando Metro League.
It is one of three EDP Florida Metro Leagues being formed for competition to start in the fall. The other two planned Metro Leagues are in Tampa and in Miami.
The 8 clubs in Central Florida are:
Additional clubs that will be part of the EDP Orlando Metro League will be announced shortly.
According to EDP Technical Director Simon Collins, what distinguishes the EDP Soccer leagues in Florida is that teams playing within this structure — like the EDP Orlando Metro League — are part of a connected system of leagues. Teams have the opportunity to earn their way to the appropriate level of competition that best suits their abilities.
"Involvement in a league with like-minded clubs whose priority is player development can only be positive. Pairing that with an opportunity for players to access higher levels of competition within the US Youth Soccer Leagues Program gives clubs, teams and their players exciting opportunities," said Collins. He added, "Ensuring standards on and off the field will set our member clubs apart within their respective markets. We look forward to supporting and being part of their growth."
"We are excited to be part of this new platform and for the opportunity to work with like-minded clubs to shape the future of youth soccer in Florida. We support the approach that EDP Soccer has taken in launching this platform and are eager to continue our collaborative efforts to bring a great product to market."
Jose Luis Ramirez
Sports Director – Barcelona Soccer Academy
"We are excited about EDP coming into Florida. Their reputation as a top class league organizers in other markets precedes them and we believe there is a major need here.  Being able to tell our families that we have options for their players to start in a local developmental league and grow to the national ranks without having to leave to another program will be a significant factor in keeping players in the club."
Dan Tidmarsh
Executive Director – FC Prime Brevard
"Hunter's Creek Soccer Club is excited to be one of the founding clubs in EDP Florida. We're looking forward to having our players participate in a league that focuses on their development while playing alongside like-minded clubs looking to provide some of the highest-level soccer opportunities in the state."
Mickey Briscoe
Executive Director – Hunter's Creek SC
"We are looking forward to being part of this exciting new platform. We are in good company with other forward-thinking organizations who have made a commitment to this platform and have enjoyed the collaborative process of working with them, as well as with the team at EDP Soccer, to help shape this league into something that will best serve our membership."
Fabio Silva
President – Nona Soccer Academy
"South Orlando Soccer Club is proud to partner with EDP and other Central Florida soccer clubs whose primary goal is player development for greatness on and off the field. The new league provides a pathway for our players and teams to reach a national platform within US Youth Soccer."
Cris Whittaker
President – South Orlando SC
"We are pleased that EDP staff have established a permanent league option in Florida. When clubs have a say in league formatting and feel the league has their best interests in mind, it's a winning formula. We are looking forward to it."
Seth Duston
President -Treasure Coast United SC
Winter Park FC is extremely excited to be a part of the inaugural EDP season. After speaking with the team at EDP, I quickly realize that player development and the children's well-being are always at the forefront of this product. We are looking forward to joining a forward-thinking platform that has made the coaches feel a part of the process every step of the way."
Paul Robins
Executive Director – Winter Park FC