Champions crowned at 2020 Jefferson Cup U10-U15 Boys Weekend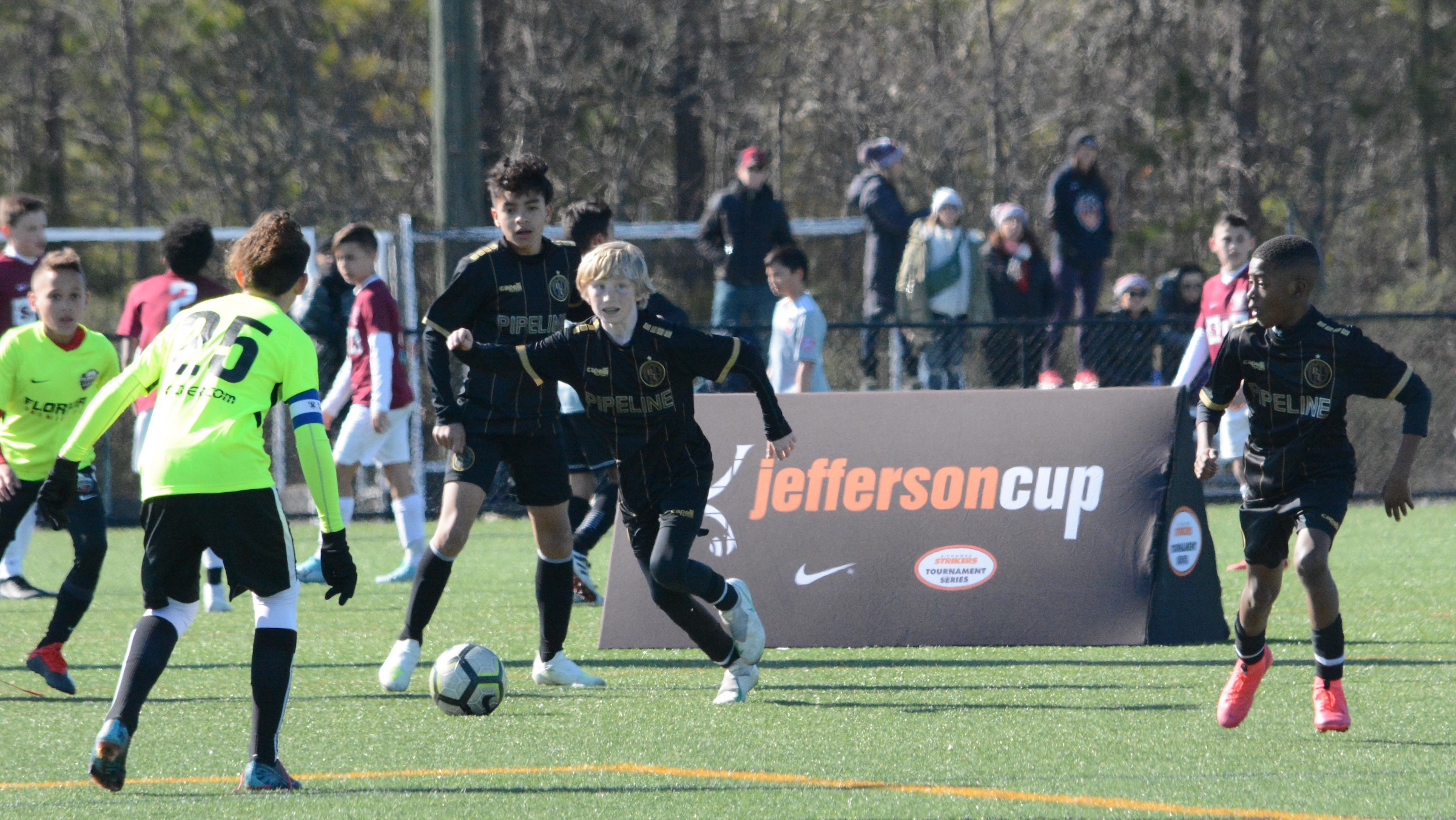 Follow the Jefferson Cup:
Twitter | Facebook | Instagram
Championship Division Previews:
Girls: U14 | U15 | U16 | U17 | U18
Boys: U16 | U17 | U18
Richmond, Va. – Division championships were decided on Sunday at the 2020 Jefferson Cup U10-U15 Boys Weekend. A total of 448 teams from throughout the United State and Canada competed across 52 divisions in the prestigious spring kickoff event hosted by the Richmond Strikers.
After kicking off the weekend with a pair of group games on Saturday, teams earned their way into the championship matches with a decisive final group game or a semifinal victory on Sunday morning. When things were all said and done on Sunday afternoon, 44 different clubs from 12 different U.S. states and a pair of Canadian clubs had at least one team go home as Jefferson Cup champions.
North Carolina FC led all clubs with three division championships, taking top honors in the U-13 Platinum White Division, the U-14 Platinum Black Division and the U-15 Elite Division. The club also had five more teams place 2nd in their respective divisions, going home as finalists.
Maryland club Pipeline SC and New Jersey's STA-MUSC both managed the improbable feat of having two different teams win Championship Division titles on the same weekend, the highest possible honor in each age group.
Pipeline SC Pre-Academy sides won it all in the U-11 and U-13 Championship Divisions, both winning four straight games against a series of high-level opponents. Pipeline's U-11 team racked up 19 goals on the weekend, including a 4-goal outburst in the final against North Carolina FC 09 Pre-DA South. Pipeline's U-13 squad outscored opponents 13-2 overall, culminating with a 2-0 clean sheet victory against Wake FC 07 Blue in the title match.
The STA-MUSC Boys ECNL program shined at the event, as the ECNL Northeast Conference squads came out on top in the Jefferson Cup's U-14 and U-15 Championship Divisions. In a testament to the Jeff Cup's history of well-balanced competition, both STA-MUSC teams faced major challenges in group play, as the U-14s went 2-0-1 and the U-15s advanced to the final on tiebreaker after posting a 2-1-0 record in Group A.
In addition to Pipeline and STA-MUSC, four more clubs had two teams each win division titles: Bethesda SC, CT Rush, PA Dominion FC and United Mount Pleasant.
Maryland's Bethesda SC had teams claim the U-11 Juniors Division and the U-12 Championship Division titles. CT Rush sides won the U-12 Premier Division and U-15 Platinum Black Division. PA Dominion FC took top honors in the U-13 Classic Division and U-15 Superior Division. South Carolina club United Mount Pleasant had teams capture the U-10 Elite Division and U-13 Superior Black Division championships.
See below for a look at the full list of champions and finalists from opening weekend, or click here to view all results from the event.
Champions and Finalists:
U-10
Championship Division
Champion: FC Athletico Dortmund (NC)
Finalist: Loudoun Soccer Red (VA)
Elite Division
Champion: United Mount Pleasant Galaxy (SC)
Finalist: North Carolina FC Junior Elite North (NC)
Superior Division
Champion: Barca Academy Northern Virginia (VA)
Finalist: Richmond Strikers Elite Orange (VA)
U-11
Championship Division
Champion: Pipeline SC Pre-Academy (MD)
Finalist: North Carolina FC 09 Pre-DA South (NC)
Elite Division
Champion: Severna Park Premier Green (MD)
Finalist: West-Mont United SA United 09 (PA)
Superior Division
Champion: Auburndale 09 Blast (NY)
Finalist: GPS Boston Metro Elite Red 09 (MA)
Platinum Division
Champion: Valencia CF Academy 09 Orange (NY)
Finalist: YMS 09 Warriors (PA)
Classic Division
Champion: Barca Academy Charlotte 09 (NC)
Finalist: Pennsylvania Rush 09 (PA)
Premier Division
Champion: Triangle United 09 Barcelona (NC)
Finalist: FC Europa 09 Elite (PA)
Gold Division
Champion: Great Falls Reston SC 09 Napoli (VA)
Finalist: North Carolina FC 09 Red South (NC)
Silver Division
Champion: Arlington SA 09 White (VA)
Finalist: West Virginia FC 09 (WV)
Juniors Division
Champion: Bethesda SC Academy 1 (MD)
Finalist: Concorde Fire Central Black (GA)
U-12
Championship Division
Champion: Bethesda SC Academy Blue 08 (MD)
Finalist: Baltimore Union SC Elite 08 (MD)
Elite Orange Division
Champion: Bayside FC 08 RDL-Graham (RI)
Finalist: GPS Elite White RDL 08 (MA)
Elite Black Division
Champion: Alexandria 08 Red (VA)
Finalist: Vienna Youth Soccer Eagles 08 (VA)
Superior Division
Champion: PWSI Courage VDA East 08 NPL (VA)
Finalist: French Football Academy Kante (NY)
Platinum Division
Champion: PSA Princeton Elite 08 (NJ)
Finalist: VSA 08 NPL Elite / VDA West (VA)
Classic Division
Champion: Brentwood SC 08 Manchester City (NY)
Finalist: Great Falls Reston SC 08 Napoli (VA)
Premier Division
Champion: CT Rush Elite 08 (CT)
Finalist: Metro FC 08 Rapids (OH)
Gold Division
Champion: Burlington 08 Cardinal (NC)
Finalist: North Carolina FC 08 Red South (NC)
U-13
Championship Division
Champion: Pipeline SC Pre-Academy (MD)
Finalist: Wake FC 07 Blue (NC)
Elite Division
Champion: Achilles FC 07 (MD)
Finalist: NJ Premier F.C. 07 (NJ)
Superior Orange Division
Champion: Piedmont Triad FC 08 Black (NC)
Finalist: Manhattan SC Roma ECNL (NY)
Superior Black Division
Champion: United Mount Pleasant 07 Elite (SC)
Finalist: Dutch Connections FC Academy 07 (CND)
Platinum Orange Division
Champion: FC Europa 07 Elite (PA)
Finalist: Inter Atlanta FC Elite 07 (GA)
Platinum Black Division
Champion: Fishtown AC Rowdies (PA)
Finalist: SYA Cardinals 07 Red (VA)
Platinum White Division
Champion: North Carolina 07 Elite (NC)
Finalist: Barcelona United Academy 07 (OH)
Classic Division
Champion: PA Dominion FC 07 (PA)
Finalist: Arsenal FC of PA 07 Premier (PA)
Premier Division
Champion: Sterling Orange 07 (VA)
Finalist: Pennsylvania Rush 07 (PA)
Gold Division
Champion: Player Progression Academy 07 Green (MD)
Finalist: Baltimore Union SC Select 07 (MD)
U-14
Championship Division
Champion: STA-MUSC 06 ECNL (NJ)
Finalist: SOCA Charlottesville 06 Elite (VA)
Elite Division
Champion: Woodbridge Strikers 06 OPDL (CND)
Finalist: Beadling SC 06 Showcase (PA)
Superior Orange Division
Champion: GPS Academy Canada Black (CND)
Finalist: HMMS Eagle FC Chelsea (PA)
Superior Black Division
Champion: Doradus 06 Elite (VA)
Finalist: SYC Lions 06 Blue (VA)
Platinum Orange Division
Champion: NJ Premier F.C. 06 (NJ)
Finalist: Wake FC 06 Blue (NC)
Platinum Black Division
Champion: North Carolina FC 06 Gold South (NC)
Finalist: Barcelona United Academy 06 (OH)
Platinum White Division
Champion: FC DELCO ECNL 06 (PA)
Finalist: Calvert United 06 (MD)
Classic Orange Division
Champion: BG Elite 06 (KY)
Finalist: FC Revolution Knights (PA)
Classic Black Division
Champion: SCS United Black (PA)
Finalist: Michigan Tigers FC 06 Gold (MI)
Premier Division
Champion: Oakville 06 OPDL (CND)
Finalist: Chantilly 06 Purple (VA)
Gold Division
Champion: Vienna Youth Soccer Eagles (VA)
Finalist: Great Falls Reston 06 Elite NPL (VA)
U-15
Championship Division
Champion: STA-MUSC 05 ECNL (NJ)
Finalist: GPS New York 05 NL EDP (NY)
Elite Division
Champion: North Carolina FC 05 ECNL (NC)
Finalist: Pitt Greenville SA 05 (NC)
Superior Division
Champion: PA Dominion FC 05 (PA)
Finalist: North Carolina FC 05 Elite (NC)
Titanium Division
Champion: Wake FC 05 Blue (NC)
Finalist: TSF Academy 05 USYS NL (NJ)
Platinum Orange Division
Champion: PDA Shore 2005 Shearer (NJ)
Finalist: Future SA 05 (NJ)
Platinum Black Division
Champion: CT Rush Elite 05 (CT)
Finalist: Next Level Soccer Ajax 05 White (MD)
Platinum White Division
Champion: SJEB Rush 05 Academy (NJ)
Finalist: CRUSA FC Bucks 05 ECNL (PA)
Classic Orange Division
Champion: Aztec 05 NPL (MA)
Finalist: United Futbol Academy 05 Premier (GA)
Classic Black Division
Champion: United FC Michigan 05 (MI)
Finalist: United Philly Soccer 05 (PA)
Classic White Division
Champion: DC Stoddert Blue Metros 05 (MD)
Finalist: Nitro SC 05 Elite Volt (PA)
Premier Division
Champion: Bowie Youth 05 Stampede (MD)
Finalist: Century 05 Gold (PA)