Bryan Ciesiulka departs Marquette men's soccer coaching staff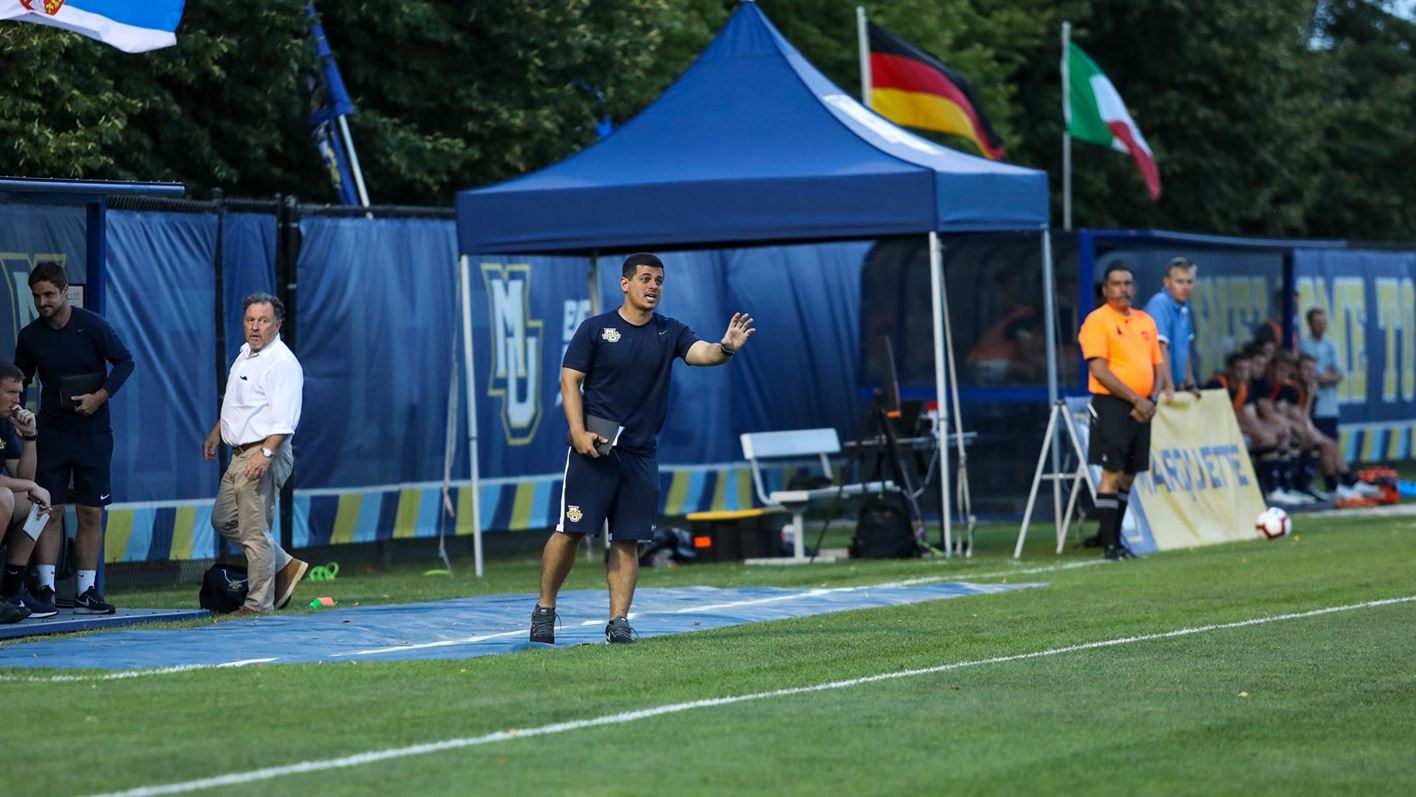 MILWAUKEE – Former Marquette-great Bryan Ciesiulka ('13), who served as an assistant coach on head coach Louis Bennett's staff from 2018-20, will be leaving his position with the Marquette men's soccer team to pursue another professional venture outside of coaching.
"I'm really going to miss being a part of the Marquette men's soccer program," Ciesiulka said. "Being a Golden Eagle is really special because of the outstanding support in the department and how much care the student-athletes receive. I'm going to miss being around the guys and helping the team continue to grow into a championship program."
One of the most decorated men's soccer student-athletes to step foot at Marquette University, Ciesiulka was a key contributor during the program's successful run from 2011-13, leading the Golden Eagles to back-to-back NCAA tournament appearances, including a run to the Sweet 16 in 2013 in addition to a BIG EAST title.
After collecting numerous accolades on and off the pitch, "B" was the second MU player ever to be selected in the MLS SuperDraft following his fourth-round selection by the Chicago Fire in 2014. He finished his playing career with 69 games played (63 starts), nine goals and 17 assists.
"B was a great hire for us back in 2018 and we really appreciated his time serving as an assistant," Coach Bennett said. "We were very fortunate to have him for over two years. He was also able to get two degrees from MU in his undergrad and master's degrees. There's certainly mixed emotions, but we're very happy for him and we'll obviously miss him."
Ciesiulka began his coaching career at the high school level, leading the Hinsdale Central girls' soccer team to a six-win improvement from the previous year and a run to the regional final. He received his coaching start in 2017, taking the reins of the Proviso East High School boys' team in 2017. He helped MU reach back-to-back BIG EAST tournament's in 2018 and 2019 and played a key role in developing Patrick Seagrist and Luka Prpa into MLS SuperDraft selections in January.
He was a two-time All-BIG EAST performer and claimed the league's co-midfielder of the year award in 2013. That same season, he was a Senior CLASS Award finalist and first team All-American, in addition to being selected as the BIG EAST Scholar Athlete Sport Excellence award winner. He was a CoSIDA Academic All-American Second Team honoree in 2012 and an NSCAA (now United Soccer Coaches) Scholar All-American Third Team pick in 2013.
"Even though my time as an assistant coach has come to an end, I'm still going to be at every home game supporting the team in any way I can," Ciesulka said. "I have been so invested in the success of our student-athletes and the program, so it's really hard to say goodbye. At the same time, I know the program is going to be very successful in the future and compete for championships."
The Golden Eagles will begin preparations for their 2020 season in the first week of August.