BIG EAST Preseason Coaches Poll and All-Conference Team unveiled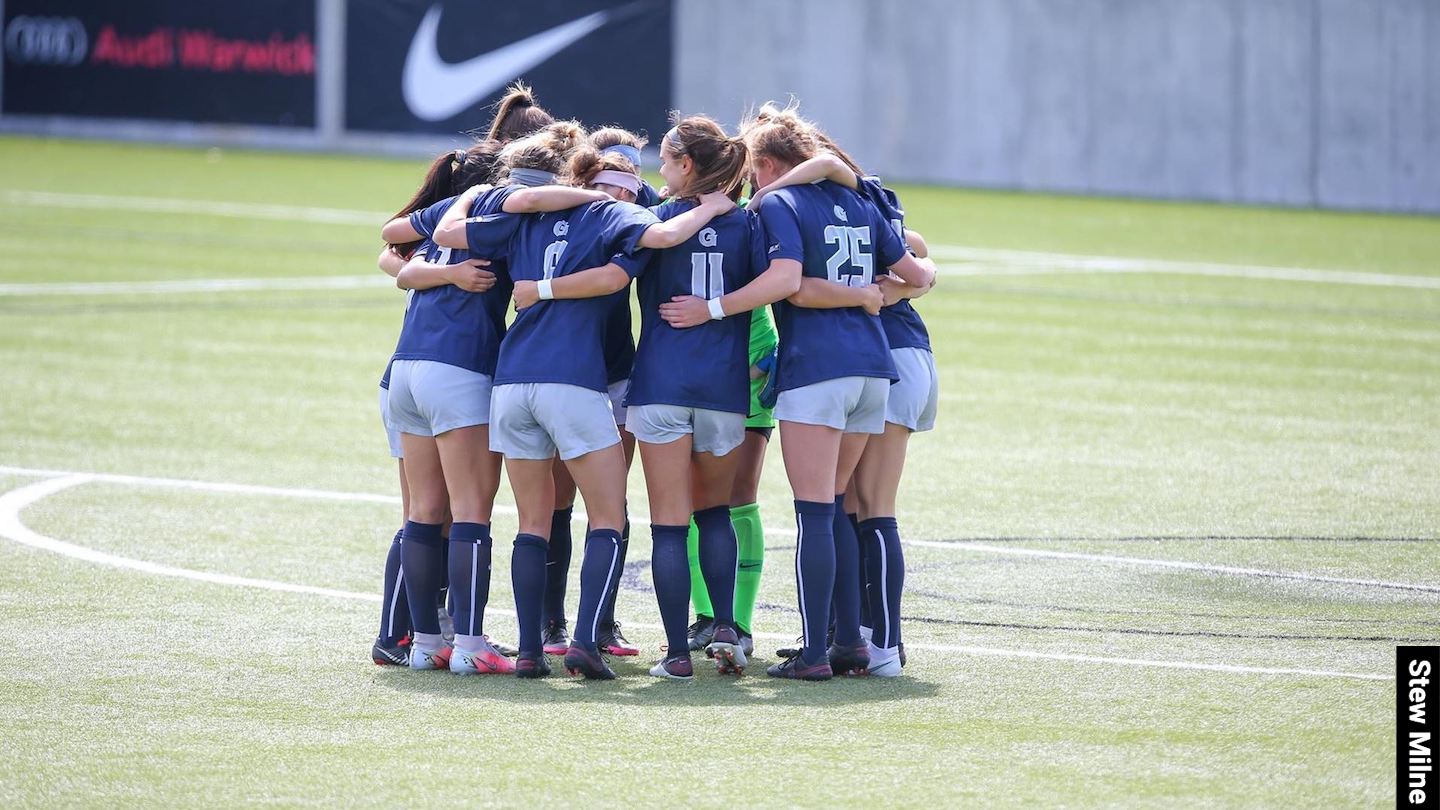 NEW YORK – With the start of the 2021 season just a week away, the results of the BIG EAST Preseason Women's Soccer Coaches' Poll were unveiled on Thursday.
Coming off its fourth BIG EAST Championship title in the last five seasons, Georgetown was the unanimous favorite to win the crown again this fall. Hoya senior defender Kelly Ann Livingstone was voted BIG EAST Preseason Defensive Player of the Year, while St. John's graduate student forward Zsani Kajan was tabbed BIG EAST Preseason Offensive Player of the Year. Butler graduate student Stephanie Rodriguez rounded out the major award winners as the BIG EAST Preseason Goalkeeper of the Year. The poll, major awards and Preseason All-BIG EAST Team are decided by a vote of the league's head coaches who are not permitted to vote for their own teams.
Georgetown, which went 7-0-1 in East Division play this past spring, collected all 10 available first-place votes to total 100 points. The Hoyas were followed in the BIG EAST Preseason Poll by Spring 2021 Midwest Division leader Butler, which finished runner-up in the BIG EAST Championship in April. The Bulldogs, who went 6-1-0 against Midwest competition in the spring, totaled 88 points in the preseason poll. UConn followed in third with 74 points, while fourth-place Providence earned one first-place vote and 65 points. Coming off its first BIG EAST postseason appearance, Creighton was slotted fifth with 64 points. Teams six through nine were separated by a total of just six points as St. John's was picked sixth with 47, Xavier in seventh with 45, Marquette in eighth with 43 and DePaul in ninth with 41. Villanova (27 points, 10th) and Seton Hall (11, 11th) rounded out the poll.
Livingstone, Kajan and Rodriguez were also named to the 11-member Preseason All-BIG EAST Team. They were joined by Butler's Anastasia Savich and Katie Soderstrom, UConn's Jessica Mazo, Creighton's Aida Kardovic, Georgetown's Daisy Cleverley and Julia Leas, Providence's Meg Hughes, and St. John's Jessica Garziano. Savich and Soderstrom were unanimous preseason all-league selections.
Georgetown went 12-0-2 overall this past spring, advancing to the third round of the NCAA Championship before being edged in penalty kicks by TCU. The Hoyas' winning percentage of .929 finished No. 1 among Division I teams. With a 7-0-1 East Division mark, Georgetown went unbeaten in BIG EAST action for the second time in the last three seasons, while its BIG EAST Championship title was its fourth over the last five years. The Hoyas' averaged a league-best 2.50 goals per conference contest, while surrendering just one score during regular-season play. Georgetown is ranked No. 11 in the United Soccer Coaches National Preseason Poll.
Livingstone anchored a Georgetown defense which was among the best in the nation this past spring. The Hoyas posted the top goals against average in Division I at just .275, while its shutout percentage of .714 listed fifth nationally. GU outshot 12 of 14 opponents and held an advantage in corner kicks in all but two matches. No team managed to score more than one goal against the Livingstone-led defense. The Hoyas opened the spring campaign by holding their opponents scoreless for more than 615 straight minutes. Livingstone is the reigning BIG EAST Defensive Player of the Year after earning the honor this past April, and garnered United Soccer Coaches All-America status after being named to the second team in May.
The 2019 BIG EAST Offensive Player of the Year, Kajan was a Second Team All-BIG EAST performer this spring, tallying four goals over 11 matches for the Red Storm. The Budapest, Hungary, native led the Johnnies offensively during conference action, converting on a team-high three goals to tie for fourth in the BIG EAST. She was named a CoSIDA Academic All-American this summer. Kajan is the BIG EAST's active leader in conference points (33) and goals (15) entering the 2021 fall campaign.
Rodriguez was named BIG EAST Co-Goalkeeper of the Year this past spring after finishing Midwest Division play with a 0.42 goals against average and .906 save percentage, collecting four shutouts and a 6-1-0 record. Among conference goalkeepers with at least 500 minutes in the cage, Rodriguez was first in GAA, shutouts and save percentage. She totaled nearly 1100 minutes on the season and earned 10 wins and five clean sheets overall.
BIG EAST teams were placed into geographic divisions during the 2021 spring campaign, playing a double-round-robin schedule against division foes. The BIG EAST will return to its 10-match, single-round-robin format for the fall of 2021, eliminating the use of divisions. The top six teams in the standings at the end of the regular season will earn bids into the BIG EAST Championship. All regular-season conference matches not selected for national television will stream live on the BIG EAST Digital Network, available on FloSports.
BIG EAST Women's Soccer Preseason Coaches' Poll
1.      Georgetown          100 (10)
2.      Butler                     88
3.      UConn                    74
4.      Providence            65 (1)
5.      Creighton               64
6.      St. John's               47
7.      Xavier                     45
8.      Marquette             43
9.      DePaul                    41
10.   Villanova                27
11.   Seton Hall              11
(first-place votes)
BIG EAST Preseason Offensive Player of the Year
Zsani Kajan, St. John's, Grad., F
BIG EAST Preseason Defensive Player of the Year
Kelly Ann Livingstone, Georgetown, Grad., D
BIG EAST Preseason Goalkeeper of the Year
Stephanie Rodriguez, Butler, Grad., GK
Preseason All-BIG EAST Team
Stephanie Rodriguez, Butler, Grad., GK
Anastasia Savich, Butler, Sr., F*
Katie Soderstrom, Butler, Sr., F*
Jessica Mazo, UConn, Jr., M
Aida Kardovic, Creighton, So., M
Kelly Ann Livingstone, Georgetown, Grad., D
Daisy Cleverley, Georgetown, Grad., M
Julia Leas, Georgetown, Jr., M
Meg Hughes, Providence, So., F
Jessica Garziano, St. John's, Jr., M
Zsani Kajan, St. John's, Grad., F
*unanimous selection