Santa Clara upsets Florida State to capture NCAA Women's College Cup title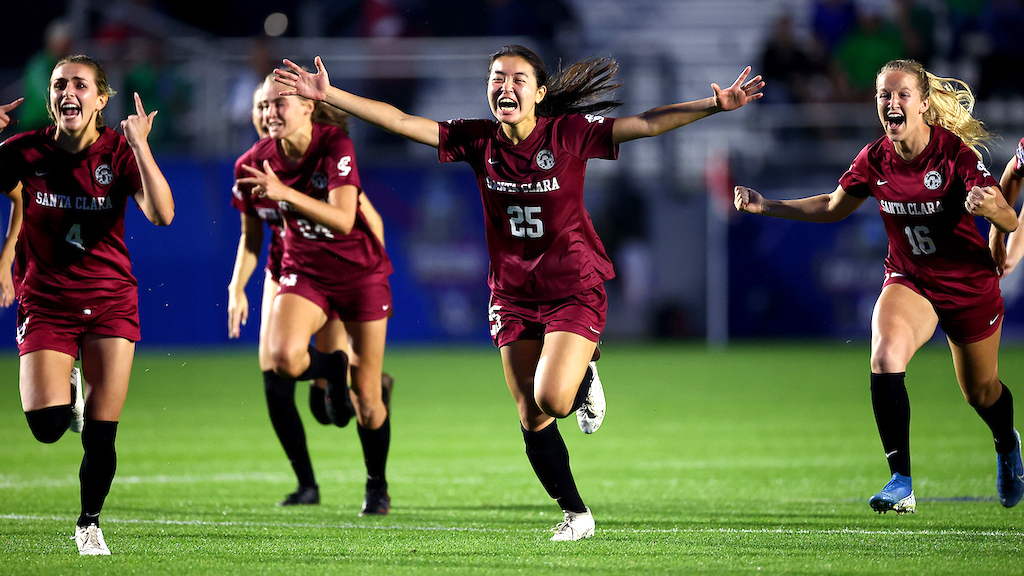 CARY, N.C. – Once again, Santa Clara is on top of the women's soccer world.
The Broncos (11-1) finished their run to a second national championship with a 4-1 decision in penalty kicks, after a 1-1 tie, over top-seeded Florida State (13-1-2) Monday evening in the NCAA Tournament final in Cary, North Carolina.
Santa Clara, playing in its third national title game and first since 2002, converted all four of its penalty kicks, the final clincher by Izzy D'Aquila after successful attempts by Julie Doyle, Sally Menti and Kelsey Turnbow, while the Seminoles missed their first two attempts before converting on their third.
In regulation, Florida State got on the board in the 63rd minute when Yujie Zhao fed a ball to Jenna Nighswonger who hit a shot off the left post and bounded into the right corner of the net. It was the first time the Broncos trailed all Tournament.
The Broncos, who won the national championship in 2001, turned up the pressure after the goal and started to get some offensive momentum. They drew even in the 84th minute thanks to a Florida State mistake. A turnover went to Turnbow who was able to make it around some defenders before finishing with her left foot to make it 1-all and send the match to overtime.
"The game was a tough game. [Florida State] plays like a pro team. We conceded possession in their half of the field and limited their chances. That was certainly part of our game plan," said Broncos head coach Jerry Smith. "When you have lethal attacking players like we have … we don't need a lot of chances to score goals. Thankfully, Kelsey put one in for us. I'm really proud of our group for sticking to the game plan for sure."
𝗖𝗟𝗨𝗧𝗖𝗛 🙌@KelseyTurnbow#StampedeTogether #CollegeCup pic.twitter.com/BUGy2xsGO5

— Santa Clara Women's Soccer (@SCUWomensSoccer) May 17, 2021
In the first overtime, Florida State outshot the Broncos three shots to none. Zhao had an opportunity to end the match when she nearly snuck one under the cross bar with less than a minute remaining.
This match marked only the sixth time that the national championship went to overtime, including just the third that went to penalty kicks.
Florida State outshot Santa Clara 8-6 with both teams putting two shots on frame.
"Sometimes you can't just X and O the thing. You've got to gut it out and play with a little heart. Our kids did that today," said Smith.
𝐌𝐀𝐓𝐂𝐇-𝐖𝐈𝐍𝐍𝐄𝐑‼️#StampedeTogether #CollegeCup pic.twitter.com/aG9SvAqVc8

— Santa Clara Women's Soccer (@SCUWomensSoccer) May 18, 2021
2020 NCAA Women's College Cup All-Tournament Team
• Brianna Pinto, North Carolina, M
• Rebecca Jarrett, Virginia, F
• Lia Godfrey, Virginia, M
• Jenna Nighswonger, Florida State, M/F
• Emily Madril, Florida State, D
• Yujie Zhao, Florida State, M
• Clara Robbins, Florida State, D
• Sally Menti, Santa Clara, F
• Julie Doyle, Santa Clara, M
• Offensive Most Outstanding Player: Kelsey Turnbow, Santa Clara, F
• Defensive Most Outstanding Player: Alex Loera, Santa Clara, M