Belmont University men's soccer signs four more newcomers ahead of 2022 season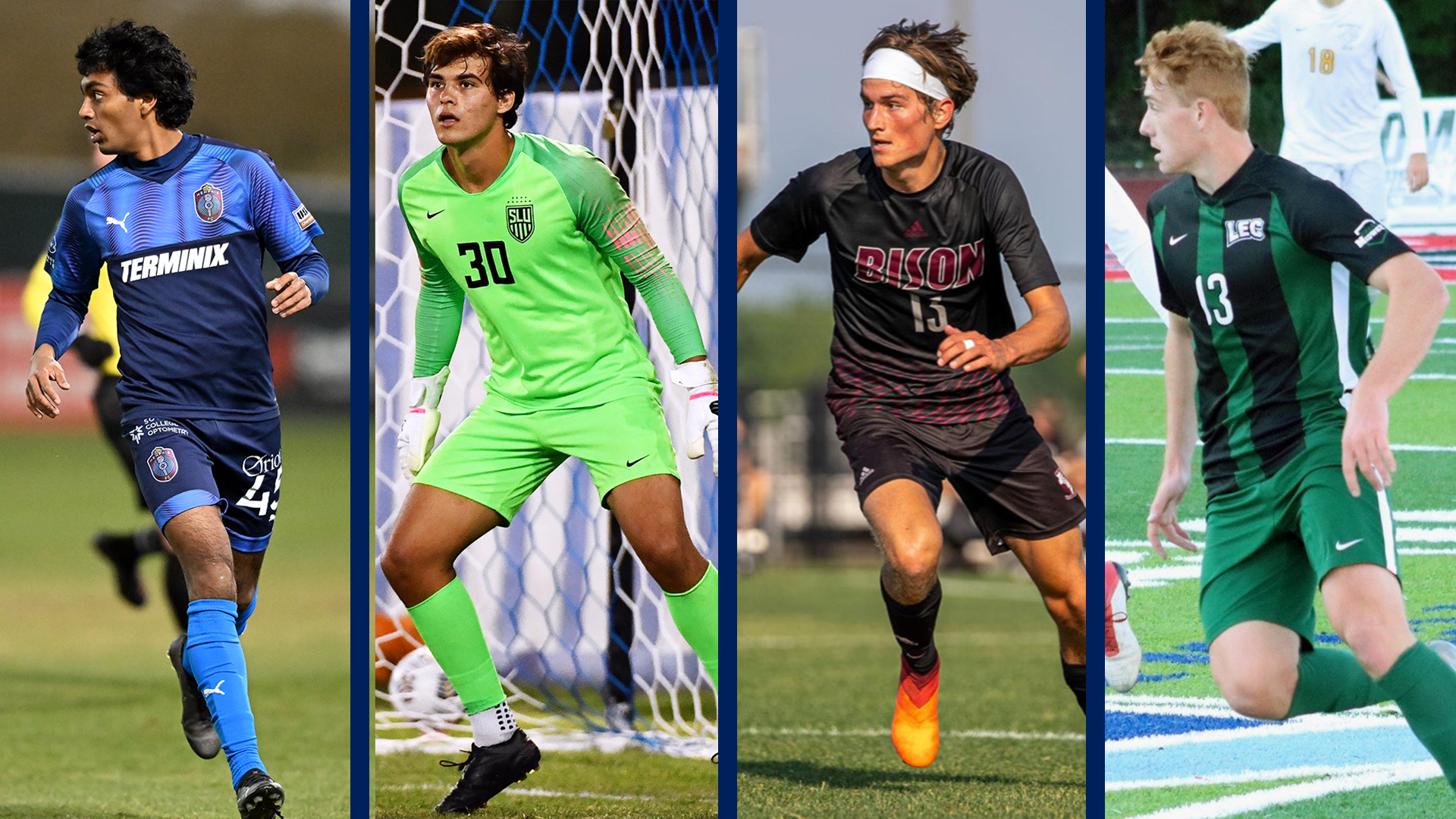 NASHVILLE, Tenn. – With preparations well underway for the Belmont University men's soccer team's fast-approaching 2022 fall campaign, the Bruins have added four more newcomers to their squad.
Head coach David Costa announced the addition of Simeon Betapudi, Grant Calvert, Ethan Schlegel and Ayden von Essen to Belmont's now eight-man 2022 signing class.
Both Calvert and von Essen will arrive in the Music City as transfers, while Betapudi and Schlegel will begin their collegiate careers in Nashville.
Betapudi, Calvert, Schlegel and von Essen join spring enrollee transfers Sam Rowan and Jansen Wilson (midfielders), along with freshmen Riley Clothier (defender) and Brock Kiper (forward), to make up the Bruins' incoming class.
Belmont adds even more depth to its experienced roster by welcoming midfielder Betapudi, goalkeeper Calvert, midfielder Schlegel and forward von Essen.
"The new additions to this class will continue to strengthen our program in every way," commented coach Costa. "This group of incoming student-athletes all possess the character and quality that will enhance our program's culture and allow us to compete for championships as we move into the Missouri Valley Conference."
A native of Collierville, Tennessee, on the outskirts of Memphis, Betapudi enjoyed a highly-successful youth career playing club soccer for Memphis FC and prepping at Memphis University School. He became only the second-ever academy product to sign with Memphis 901 FC of the USL Championship league in May of 2021 and re-signed as an academy player with the professional club this spring. Picking up the sport at four years old, Betapudi has been a part of the Region III Olympic Development Program since 2019. He also played futsal with the Futsal Academy.
As a junior, Betapudi was named to the Memphis Commercial Appeal All-Metro First Team after leading Memphis University School to the Division II-AA state quarterfinals with 12 goals and seven assists on the season. He was a finalist for Tennessee Male Soccer Player of the Year and once again led the Owls to a state quarterfinal appearance his senior year.
Betapudi, who chose to become a Bruin because of the tight-knit community on and off the field at Belmont, is also quite the scholar in the classroom. Earning first place in the Senior Individual Paper division of the West Tennessee History Day regional competition with his paper, "Shaking Washington to Its Core: A. Philip Randolph and his Courageous Communication", Betapudi was a William Randolph Hearst Scholar. He was also a National Merit Scholarship finalist and a member of the Cum Laude Society.
Transferring from 2021 NCAA Championship quarterfinalist Saint Louis University, Calvert brings two seasons of collegiate experience to the Music City. A part of the Billikens' undefeated regular season last fall where Saint Louis went 16-1-4 en route to Atlantic 10 Conference regular season and tournament championships, Calvert trained alongside fellow Bruin Sam Rowan who arrived at Belmont in January. An A-10 Commissioner's Honor Roll member following the 2020-21 academic year, Calvert's true freshman season did not count against his athletic eligibility.
Calvert, a 6-foot-2 keeper from Stilwell, Kansas, was a member of the Sporting Kansas City Academy for three seasons and was Kansas State Cup champion with KC Fusion. He won an honorary ESPY from ESPN through Sports Radio 810 WHB for his outstanding varsity career at Blue Valley High School, claiming the most fan votes for KC Male High School Athlete of the Year. Setting the single-season program record for saves (163), Calvert led the Eastern Kansas League and was second in the state. Named KAMO All-Tournament First Team, Calvert captained Blue Valley and participated in the 2018 Generation Adidas Cup. His Sporting KC Academy team reached the 2018 U.S. Soccer Development Academy (USSDA) Playoffs.
"Belmont is a top school with a challenging academic environment and is paired with being a great fit for my soccer aspirations," said Calvert. "Additionally, after speaking with the coaches and meeting the players on my visit, I immediately knew this is the place that I belong."
A local product from nearby Gallatin, Tennessee, Schlegel starred at Station Camp High School and Tennessee United Soccer Club under former Bruin defender Nat Hubert. Tabbed Main Street Preps Midfielder of the Year following his junior campaign, 6-foot-3 Schlegel has captained both his Station Camp squad and his club team as a senior. A Tennessee Secondary School Athletic Association (TSSAA) Class 3A state runner-up as a true freshman in 2019, Schlegel helped lead the Bison to a Class 3A Region 5 championship in 2021 and another regional title match appearance in his final prep season.
Schlegel won a state championship in 2018 with his Tennessee United SC team and aided the club to the 2022 U19 South Atlantic Premier League title this past February.
"I signed with Belmont because I want to be a better player and person," spoke Schlegel. "The standards at Belmont are high and I wanted a program that would challenge me. I also want to grow in my faith in God."
Hailing from Newcastle, New South Wales (NSW), Australia, von Essen spent three seasons at Division II Lake Erie College in Painesville, Ohio, where he was the Great Midwest Athletic Conference Offensive Player of the Year this past fall. A two-time All-GMAC First Team selection, von Essen captured first-team all-region recognition from the Division II Conference Commissioners Association (D2CCA) and second-team all-region honors from United Soccer Coaches following his junior year.
Named GMAC Offensive Player of the Week during the season, von Essen helped lead the Storm to their first-ever GMAC championship and a NCAA Division II Championship Round of 16 appearance during the fall 2021 season. He co-led Lake Erie in goals (9), tied for third in the GMAC in points (23) with five assists and led the league in game-winning goals (5). Von Essen's 1.94 shots on goal per game as a junior ranked 15th nationally and he was also among Division II leaders in game winners, points per match (1.44) and goals per game (0.56).
As a true freshman at Lake Erie in 2019, von Essen was second on the team in points (20) with seven goals and six assists. Making 17 starts, von Essen's Storm went 18-3 and reached the second round of the NCAA Division II Championship. Over his three seasons at Lake Erie, von Essen scored 21 goals, recorded 15 assists and accumulated 57 points. He tallied 75 shots on goal out of 114 total shots, registering a shot-on-goal percentage of .658.
A two-time member of Lake Erie's Dean's List, von Essen graduated from St. Francis Xavier's College in Hamilton, NSW, Australia. Von Essen's club team in Australia was Adamstown Rosebuds FC and he most recently competed for FC Arizona of the National Premier Soccer League in Chandler, Arizona.
"Coach Costa made a true effort to get to know me as a person as well as a player, in addition to my family, which is very important to me," remarked von Essen. "After long and extensive talks across different time zones, I came to the conclusion that Belmont was the best fit for me. The team had an impressive previous season and showed a lot of hunger and determination to win. A lot of competitiveness and drive. I love that. I truly believe Belmont is a place I can succeed both on and off the field as it has brilliant academic resources as well."
The Bruins went 13-5-1 overall last season and reached their second consecutive Southern Conference Championship title match after setting the single-season program record for wins, shutouts (9), consecutive shutouts (4) and consecutive victories (6). Completing its first undefeated home slate, Belmont received a vote in the final United Soccer Coaches Top 25 Poll of the regular season for the first time in school history. The Bruins ended the fall ranked No. 9 in the ultra-competitive South Region, also a program first.