Santa Clara men's soccer announces seven-player recruiting class for 2022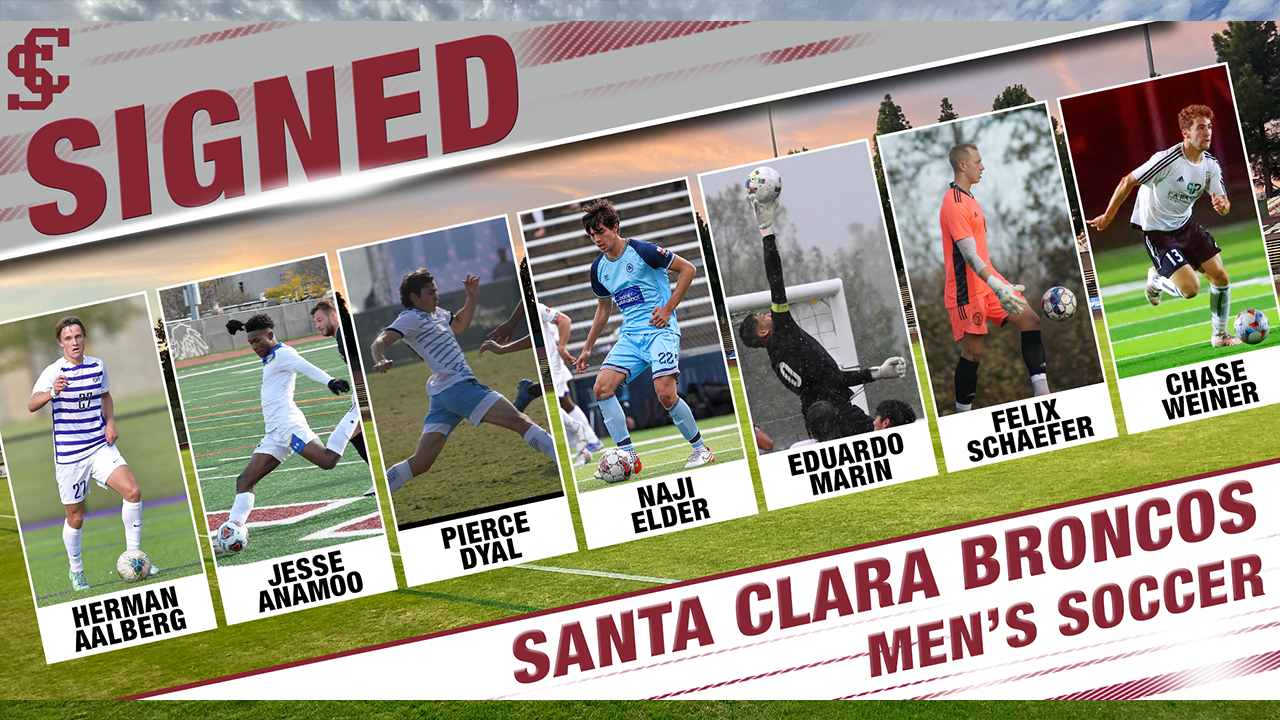 SANTA CLARA, Calif. – Santa Clara men's soccer announced the signings of seven players, encompassing from four countries, for the 2022 recruiting class.
The class includes two goalkeepers – Felix Schaefer (Berlin, Germany) and Eduardo Marin (Oakley, California); two forwards – Jesse Anamoo (Accra, Ghana) and Chase Weiner (Fresno, California); two center midfielders – Herman Aalberg (Trondheim, Norway) and Pierce Dyal (Los Gatos, California); and a center back – Naji Elder (Dearborn, Michigan).
"The recruiting class for this year provides great depth and a range of experience and ability much needed for our team," said Broncos head coach Cam Rast.  "We have players adding quality in every line and will battle to be on the field to help our pursuit of another WCC Championship and NCAA playoff run."
HERMAN AALBERG – MIDFIELDER – NIAGARA UNIVERSITY (NIAGARA, NEW YORK) – TRONDHEIM, NORWAY
Attended Malvik Videregående Skole school in Norway.
Played two seasons (2020 & 2021) at Niagara University.
2021: Tallied a goal and two assists in 12 matches logging 583 minutes.
Multi-sport athlete, having competed in handball, did track and field and did cross-country ski.
Club: Strindheim TF
Reason for choosing Santa Clara: "The coaches, the team, the location and the opportunity to go to the NCAA tournament."
JESSE ANAMOO – FORWARD – NORTH PARK UNIVERSITY (CHICAGO) – ACCRA, GHANA
Attended Niles North High School in Skokie, Illinois.
Played one season (2021) at North Park University where he tallied 12 goals and five assists in 22 matches.
Named First Team All-College Conference of Illinois and Wisconsin.
Credited with four game-winning goals, a mark that had him second in the conference.
Reason for choosing Santa Clara: "Choose those who choose you."
PIERCE DYAL – MIDFIELDER – BELLARMINE COLLEGE PREPARATORY – LOS GATOS, CALIFORNIA
Part of the Central Coast Championship team in 2020-21 season.
Club: De Anza Force (2019-2022)

MLS Next U19
US Development Academy U17
 #4 seed, 2021 MLS Next Playoffs

San Jose Earthquakes (2016-2019)

US Development Academy U13, U15, U17
Academy showcase standout (2016)
Academy showcase Best XI (2016)

U.S. Soccer:

National Training Center Program: 2015-2018
Reason for choosing Santa Clara: "Santa Clara offers an amazing opportunity to grow and compete on the soccer field, while getting a world class education in the heart of Silicon Valley."
NAJI ELDER – CENTER BACK – DEARBORN HIGH SCHOOL – DEARBORN, MICHIGAN
Ranked in the top 150 players by TopDrawerSoccer.
Ranked 10th among center backs in the class of 2021.
Club: Vardar Academy
Reason for choosing Santa Clara: "I chose Santa Clara University because of the prestigious academics and soccer program.  I felt like it was the best fit for me academically and athletically. They have a great coaching staff, very good soccer program, a good group of guys, and outstanding facilities/location. I believe Santa Clara is the best pathway for me to take my game to the professional level."
EDUARDO MARIN – GOALKEEPER – FREEDOM HIGH SCHOOL – OAKLEY, CALIFORNIA
Varsity captain at Freedom High.
Second Team All-League selection.
Helped lead the Falcons to the Bay Valley Athletic League championship.
Reason for choosing Santa Clara: "I chose Santa Clara for the opportunities it presents to me. I believe that it the best fit for me as I see myself improving academically, athletically, and as an overall person."
FELIX SCHAEFER – GOALKEEPER – GRAND VIEW UNIVERSITY (DES MOINES, IOWA) – BERLIN, GERMANY
Attended John F. Kennedy School in Berlin.
Played two seasons (2020 & 2021) at Grand View University.
Second Team Heart of America Athletic Conference selection in 2021.
Through 16 games, logged 1,369 minutes and recorded seven shutouts.
Had 63 saves and ranked 24th in the nation with a goals against average of 0.79.
Club: Varsity Berlin Selectional Team/ All Region U14-U19
Reason for choosing Santa Clara: "I chose Santa Clara because I want to win trophies while studying in one if the most beautiful parts of the United States."
CHASE WEINER – FORWARD – BULLARD HIGH SCHOOL – FRESNO, CALIFORNIA
2021 (Senior): Named County Metro Athletic Conference Player of the Year; CMAC Offensive Player of the Year; North All-Star participant; Central Valley Fresno Bee All-Star.
2020 (Junior): First Team CMAC; CMAC Offensive Player of the Year; North All-Star participant.
2019 (Sophomore): Harold Young tournament champion
2018 (Freshman): CMAC champion; Harold Young tournament champion
Reason for choosing Santa Clara: "I chose Santa Clara University because it was a great fit for me, the coaches and the program that they have built is incredible and it's not too far from home so my family can come watch me play."